How To Afford a $1 Million House When That's All That Is Available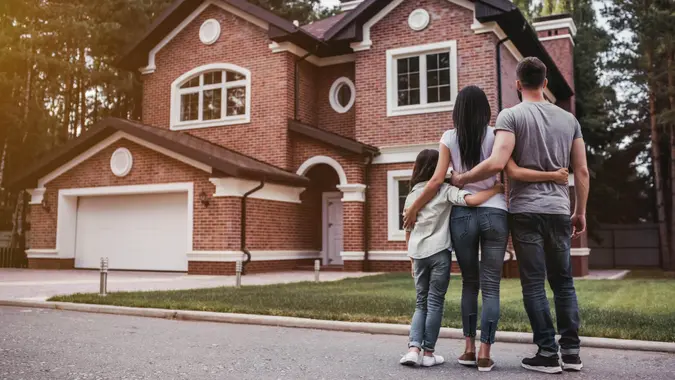 4 PM production / Shutterstock.com
Your eyes are not deceiving you if you've noticed there seem to be a lot of homes worth $1 million in the United States. In August, Redfin shared key findings from an analysis conducted estimating current home values. Over 8% of U.S. homes are worth $1 million or more, and a lack of inventory is the culprit for increasing prices.
If you want to buy a home and the only options in your area cost $1 million or more, what should you do? GOBankingRates spoke to David A. Krebs, a mortgage broker who specializes in jumbo and super jumbo loans, to find out how to afford a home when $1 million price tags are the new normal.
Also see what a $1 million home looks like.
Four Ways To Afford a Million-Dollar Home
Buyers who want to put in offers on million-dollar homes will be able to afford them using these strategies.
Robust Down Payment
According to Krebs, a good starting point is a 20% down payment (at least) for a million-dollar home. (If a home is for sale for $1 million, this would mean putting down a minimum of $200,000.)
The bigger the down payment, the lower the loan-to-value ratio. As a result, Krebs said buyers will receive lower monthly mortgage payments and better loan terms.
Jumbo Financing
Those who want to buy a million-dollar home are advised to look into jumbo and super jumbo mortgages. This type of financing is specifically designed for higher-priced homes. 
Jumbo financing, Krebs said, offers a tailored financing option for seven-figure properties. Those who want to apply need to keep in mind there are stringent credit requirements to use this funding.
Equity Release From Current Property
If you already own property, Krebs said, you can tap into the existing equity. This amount can go toward a 20% or higher down payment or even be used to purchase a million-dollar home outright.
Investment Liquidation
"This is a comprehensive review of your investment portfolio, which may identify assets that could be liquidated to fund your purchase," Krebs said.
When choosing an investment liquidation, Krebs recommends meeting with a financial advisor for a consultation to assess the tax implications.
Affording a Million-Dollar Home on a Budget
Buyers who do not own property or assets they can liquidate from their investment portfolios may wonder whether they can still purchase million-dollar homes. For budget-constrained buyers, Krebs recommends exploring the following two options.
Shared Equity Programs
In a shared equity program, Krebs said, a buyer can partner with an investor who provides part of the down payment. In return for their funding, the buyer gives the investor a share of the property's future value. 
Co-Borrowing
A co-borrowing situation means the buyer would have a family member or friend co-sign the mortgage. This helps the buyer qualify for a higher loan amount and purchase the million-dollar home.
However, Krebs said choosing to co-borrow requires careful planning and a clear agreement between both parties. 
Should You Wait or Buy a Million-Dollar Home Now?
It's a million-dollar decision. Should you wait for homes $1 million or more to decline in price or take the plunge and buy now? Krebs said waiting to buy is more than a gamble. It can be riskier to wait, especially if your desired market has an increasing number of million-dollar homes available. 
More From GOBankingRates