12 Ways To Prepare for a Housing Bubble, for Buyers and Sellers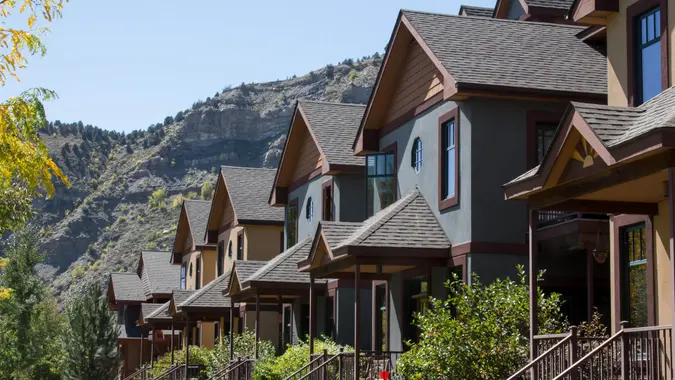 KaraGrubis / Getty Images/iStockphoto
When the housing market is hot and home prices continue to rise, people become nervous that we're entering a housing bubble, which is where home prices reflect "unsustainable growth," according to the National Association of Realtors. At the breaking point of a housing bubble, a huge correction will usually ensue and prices will drop, with home owners potentially losing equity along with other negative financial consequences.
While real estate experts claim we are not in a housing bubble, it's important for buyers and sellers to be prepared for an eventual one — just in case. Here, experts suggest the best ways both buyers and sellers can prepare.
For Homebuyers
Research and Educate Yourself: If you're planning to buy a home, you should stay informed about the local real estate market, economic conditions and trends, according to Willie Smith, Realtor, real estate industry professional and founder of Smith and Associates Real Estate Solution. "Understand the factors that contribute to a housing bubble, such as rapid price increases, excessive speculation, and easy credit availability."
Maintain Financial Readiness: Be financially prepared by saving for a larger down payment, improving credit scores and reducing debt, Smith said. "This will increase your chances of securing a mortgage with favorable terms, even during a market downturn."
Take a Long-Term Perspective: Housing prices move in cycles, and maybe you don't need to purchase immediately. "Consider your long-term goals and evaluate the affordability and sustainability of the property you intend to purchase," Smith said. "Avoid overextending yourself financially and focus on finding a home that meets your needs rather than making speculative investments."
For Home Sellers
Monitor Market Conditions: Sellers also need to stay informed about the local real estate market and pay attention to indicators that may suggest a housing bubble, Smith said. These indicators can include "rapid price growth, excessive inventory, or a decline in demand."
Price Realistically: Sellers may have an ideal price in mind, but you have to match the market. Smith urged, "Set a realistic listing price based on recent comparable sales and market conditions. Avoid overpricing, as it may result in extended time on the market, which can be detrimental during a housing bubble."
Prepare for Market Shifts: It's also important for sellers to have a contingency plan in case the market experiences a downturn, Smith explained. "Be flexible with your selling strategy, consider staging your home to enhance its appeal, and be open to negotiation to attract potential buyers."
For Both Sellers and Buyers
A true housing bubble may be preceded by several factors, Smith said, so be aware of the following:
Rapid and unsustainable price increases in the real estate market
Speculative buying and flipping becoming prevalent
Easy availability of credit and relaxed lending standards
High levels of housing inventory and a decline in demand
Diversify Investments
Preparing for a housing bubble means securing your finances in general. According to Neha Gharpande, real estate professional with Elite Properties, "To safeguard your financial well-being, diversify your investment portfolio."
This means allocating your assets across various investments like stocks, bonds and real estate in different regions or markets. "Diversification helps reduce your exposure to a single market's volatility, mitigating potential losses during a housing bubble," she said.
Buy Within Your Means
One way to protect against a housing bubble, according to Gharpande, is to buy a property you can comfortably afford. "Avoid stretching your budget to its limits, as this leaves you vulnerable to market fluctuations. Aim for a property that aligns with your long-term financial goals and lifestyle."
Consider a Fixed-Rate Mortgage
One way to shoot for security is to opt for a fixed-rate mortgage, Gharpande said, which offers stability in a volatile market. "Unlike adjustable-rate mortgages, fixed-rate loans ensure that your monthly payments remain constant. Also, it shields you from sudden interest rate hikes."
Know That Timing Matters
Keep your eyes open and stay wise, Gharpande urged. Successful real estate transactions, especially for sellers, depend on timing. "If you suspect a housing bubble is imminent, consider selling your property before the bubble bursts. However, timing the market perfectly is challenging and can be risky. Consult with a real estate agent to assess the best course of action based on your local market conditions."
Consult With Real Estate Professionals
Remember that experienced real estate agents and financial advisors are set up to help with these sorts of concerns. "They can offer tailored insights and guidance specific to your circumstances. Collaborating with professionals who have a deep understanding of the market can help you make well-informed decisions," Gharpande said.
More From GOBankingRates