I'm a Real Estate Agent: Buy Real Estate in These 5 Countries To Be Rich in 10 Years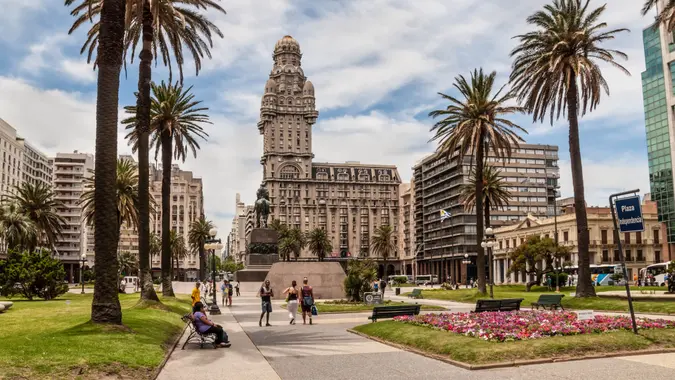 vale_t / Getty Images
A strong dollar, high domestic interest rates and a turbulent U.S. housing market are pushing more and more Americans to buy properties overseas — and for many, the gamble is paying off.
Publications like the New York Times and the Wall Street Journal have reported on U.S. buyers spending less money for more house in foreign markets that offer a high quality of life for a low cost of living — and many who don't want to move are tapping into lucrative investment markets abroad.
The trick is knowing where to buy now for a major payoff in 10 years.
GOBankingRates talked to a variety of experts from both the U.S. and overseas who offered insight into which countries provide the best opportunities in the current global real estate market.
United Kingdom
According to Entrepreneur, "Investing in property in the U.K. is highly profitable, and once you know how, rather straightforward."
Reece Pape, a property writer with RWinvest, a property investment firm in the United Kingdom, agrees.
"For anybody looking to make money from real estate investment, one of the best countries to invest in right now is the U.K.," he said. "Yes, 2023 has seen rapidly growing mortgage rates and falling house prices are expected to continue throughout the year, but the future tells a different story. Depending on where you invest, you could see capital appreciation as high as 11.7% in the next five years alone."
Pape believes today's falling prices present a perfect opportunity to buy the dip and ride the surge when the inevitable rebound arrives.
Entrepreneur recommends buying investment properties in lower-priced areas, as higher home values in the U.K. don't always translate to equally high rents. If you're investing for cash flow, stick to the north and midlands, where properties are comparatively cheap and rents are comparatively high. If you're in it for capital appreciation, London is still the place to be.
Argentina
Americans who think they suffered during last year's inflation, which peaked at 9.1%, should spend some time in Argentina. There, the inflation rate is over 100%, among the highest in the world.
Brian Davis, a real estate investor and founder of SparkRental, has spent the last four years living in South America, first Brazil and now Peru. He's intimately familiar with Argentina and its ongoing economic crisis — and he sees opportunity in the chaos.
"Sellers list properties for sale in U.S. dollars because the Argentinian peso is so unstable," said Davis. "In most cases, buyers can't borrow a mortgage, leaving only cash buyers. That depresses property values, making Argentinian real estate a great bargain right now."
Davis knows an investor who is launching a real estate crowdfunding platform there and has been buying studios and one-bedrooms in the trendy Palermo district in Buenos Aires for just $100,000.
"Buenos Aires is my favorite city in South America," said Davis. "A beautiful, vibrant city that people often call the Paris of South America. Eventually, Argentina will get its economic house in order, and when mortgages become available again, real estate values will skyrocket. In the meantime, you can enjoy excellent cash flow."
Uruguay
Davis might see opportunity in the economic chaos engulfing Argentina, but he recommends Uruguay for precisely the opposite reason.
"It's the Switzerland of South America," he said. "It's economically stable, politically centrist and balanced, historic and charming."
The key benefit, however, is that there aren't many wealthy European and North American expats living there because, Davis believes, they simply haven't discovered it yet.
"Buy there not because it's a mess right now, but because it has a rich history of stability and I have no doubt that it will be just as lovely a decade from now," said Davis, who added that the vineyards alone are reason enough to move there. "Try a Uruguayan Tannat if you love bold, complex red wines."
France
One famous European destination is attracting buyers because it offers something most of the world no longer can — affordable loans.
"France is one of the best countries to buy property in at the moment due to its lower mortgage rates," said Dave Sayce, founder and director of the relocation site Compare My Move. "At the end of 2022, France had a mortgage rate of just 1.91%, which was the second lowest in Europe."
According to Statista, only Denmark was lower at 1.69%.
Circumstances have changed in 2023, but France is still home to some of the cheapest mortgages in Europe — particularly for foreign buyers. According to 56Paris Real Estate, French banks are currently averaging 3.1% for domestic buyers and 3.4%-3.7% for foreign buyers, compared to 4.48% in Germany, 5.72% in the U.K., 6.45% in Australia and nearly 7% in the U.S.
"As well as this, France is a big country with a lot of space," said Sayce. "Because of its size, France is the only country to cover both northern and southern Europe, giving property buyers a choice in the climates they want to live in."
Germany
Another excellent opportunity in Europe is right next door to France.
"One country that I believe holds strong potential for wealth creation is Germany," said Joshua Findlater, managing director of property management software firm Landlord Vision, who has more than a decade of experience in the residential property industry.
"This economic powerhouse has a stable and robust property market, making it an attractive option for investors. Germany's strong economy, low interest rates and affordable property prices in certain regions provide a solid foundation for long-term growth," Findlater said. "The country's strict regulations and strong tenant protection laws ensure a secure rental market, making it a favorable destination for buy-to-let investors."
Seth Williams, a real estate broker and owner of Reference Real Estate, concurs with Findlater's assessment.
"With a strong economy and stable political environment, Germany has become an appealing choice for real estate investors," he said. "Major cities like Berlin, Munich and Frankfurt offer a robust rental market and potential for capital appreciation. The country's pro-tenant laws provide security to investors and attract a steady flow of renters."
More From GOBankingRates