I'm a Top Real Estate Agent: These Will Be the Worst Months in 2024 To Buy a House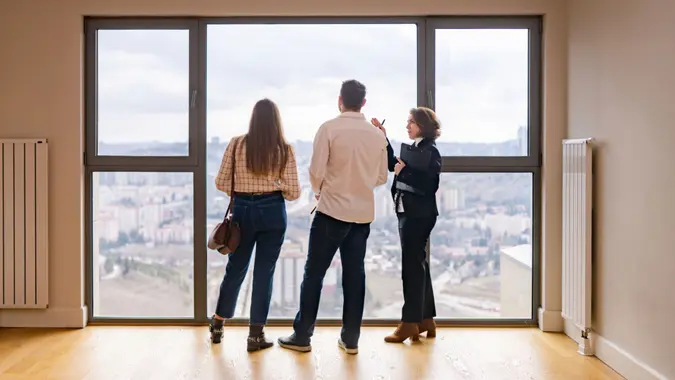 recep-bg / Getty Images
The housing market has seen its fair share of ups and downs over the past few years. Elections, pandemics, and skyrocketing interest rates aside, there are ways to move into 2024 with enough knowledge about when is the best time to buy a home.
To that end, GOBankingRates talked to two top real estate agents with decades of experience under their belts, who said they're often asked about the best time to buy a house. While timing the housing market is notoriously difficult, there are certainly months that tend to be worse for buyers than others.
As we look ahead to 2024, here are some of the months that industry experts are predicting will be the most challenging for homebuyers next year.
Volatile Interest Rates Make Any Month a Gamble
One of the biggest factors impacting the housing market is fluctuating mortgage rates. Alex Caras — a veteran realtor based in Chicago — warned that interest rates will likely remain volatile in 2024.
"With interest rates still very volatile, it would most likely be a mistake to wait to buy a house in 2024," said Caras.
"The worst month to buy a house is the month after the current one. This might sound kind of odd, but with the rates changing and no one really knowing where the Fed will take them. So for that reason, if you feel comfortable buying a home at the current rate in a month in 2024, that is the right month to buy a home."
Caras' advice indicates that trying to time the market around interest rates will be quite futile in 2024. The months with the highest rates won't necessarily follow any predictable pattern. So, if you find a rate you're comfortable with, act fast, because it could spike the next month. With so much uncertainty, buyers are better off monitoring rates closely and being ready to jump when the time is right for their budget.
Low Inventory During Election Season
Another potential challenge for buyers in 2024 will be low inventory levels later in the year. Maureen McDermut — a leading realtor with Sotheby's International in Santa Barbara — predicts that the uncertainty of the 2024 presidential election could deter sellers from listing their homes in the fall.
"2024 might be a strange year, but if the end of 2023 is any indication, buying a home in Q4 of 2024 would probably be the worst time," said McDermut. "There will be a lot of uncertainty surrounding the presidential election, and this uncertainty can lead people to hold off on listing their home. As a buyer, your choices will probably be severely limited in a market that has been characterized by low inventory."
So, while fall is often considered a good time to buy with ideal weather conditions, next year it may bring slim pickings for buyers. The dip in sellers listing their properties could significantly reduce buying opportunities through November and December 2024. Savvy buyers may want to get their home search wrapped up before election season goes into full swing.
Navigating a Volatile Real Estate Market in 2024
Though timing the market perfectly is never guaranteed, 2024 does look to be a particularly volatile year for buying a house. So what's the best way forward for buyers in this climate? Our experts have some tips:
"If you want to buy a home in the coming year, I would attempt to pay cash if possible. If not, bring a large down payment, as mortgage rates are going to most likely be unpredictable, if 2023 is any indication," advised McDermut.
Caras also encouraged buyers to stay nimble. "Be ready to act quickly when you find the right home at an interest rate you can afford," he said. "Gather all your paperwork, get pre-approved for a mortgage, and move fast when the right opportunity comes up, regardless of the month."
With smart preparation and an adaptable strategy, buyers can still find success even in 2024's fluctuating housing market. Monitoring rates closely, saving up a large down payment, and being ready to act when the perfect home presents itself will go a long way. Though some months may bring more challenges than others, with the right tools and mindset, you can make your homeownership dreams happen.
More From GOBankingRates