12 Important Questions To Ask Before Hiring a Contractor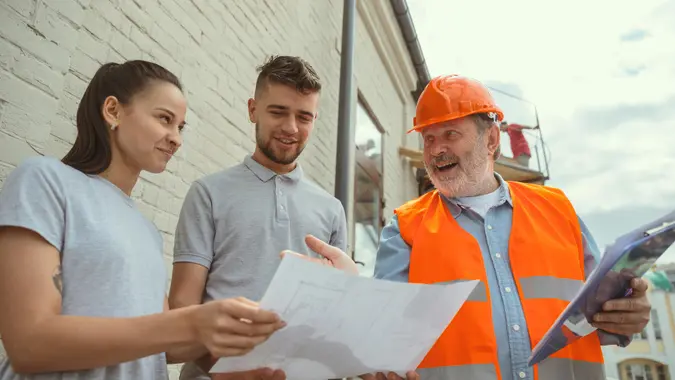 ©Shutterstock.com
Building and renovating a home can be an expensive, time-consuming and complex process that no homeowner should go alone. Hiring a licensed, professional contractor is your best bet, but if you've never done so — or you don't even know where to start — trying to find the right one for your project can feel daunting.
Even when you do find a few who seem like they will work, you'll need to narrow them down. So, we've asked experts to help us compose 12 important questions to ask before you hire a contractor.
Can I see your references?
Renovations or new builds are significant investments of both time and energy for homeowners. "The best way to understand a contractor's work is to review photos, reviews and references from their work," according to former contractor, Joe Raboine, director of residential Hardscapes at Belgard.
"They should be happy to share the contact information for happy customers that can answer any questions about their work." Any hesitation there should be seen as a red flag.
Can I see proof of insurance?
Raboine also urges homeowners to ask for a copy of the contractor's insurance and be sure it includes workman's compensation and general liability. "If the project is large in scope, you may want to also check and see that they are bonded. This is standard practice, and a good measure to ensure you are covered in case there are any mishaps on your property."
Will you pull proper permits?
One of the most vital questions to ask the contractor before hiring them, according to realtor Bill Gassett, founder of Maximum Real Estate Exposure, is whether they will be pulling permits for the work with the local county, city or municipality.
"So many contractors will avoid this step due to the time and cost involved," Gasset said, yet it's a mistake the homeowner will pay for later.
Without permits, he warned, "You can be stuck going through a very expensive post-approval process. You may actually find yourself opening up walls for inspectors to look at electrical and plumbing systems. This certainly won't be a cheap process."
Is your work warranted?
Another crucial question to ask is whether the work will be warranted/guaranteed and for how long, Gassett said. "It is not unusual even with a new project for something to break down. The best contractors will put their good name behind their work."
What is your experience with projects like mine? 
It's important to hire a contractor who has worked on a project like yours, according to Whitney Hill, the co-founder and CEO of SnapADU, an accessory dwelling unit (ADU) construction company. "Work with a builder that has a good reputation or find someone through referral. If you don't have a connection, consider working with someone that has significant experience building in your area and ask to see examples of their past projects." 
What is included in the bid?
You've likely heard it's wise to secure two to three bids on a project, Hill said. Be wary if one bid is much lower than the rest, she urged, and "double check that there are no key components missing from the bid. A good contractor should want to minimize surprises so that clients are happy with the experience and want to refer others."
What are your payment terms?
Don't let yourself be caught off guard when it comes time to make payments, Hill said. "Be sure to ask about payment schedules and find out how much, if any, money will be required upfront. To the extent possible, you should be paying for work as it is completed."
Is the price of my project going to change?

You don't want to be surprised by price increases, Hill stressed. "At the same time, construction prices are volatile and we cannot build projects at a loss, which is why contractors do sometimes have to make the tough decision to increase prices. Ask how your builder will update prices to reflect the latest material and labor costs."
How do you handle increasing materials prices?
On that same note, general contractor Kevin Jefferson said there is a very timely question homeowners should be asking contractors right now, due to supply chain issues and inflation: "How do they handle increasing material costs? For example, if they give you a bid for $100,000, but then suddenly the price of timber doubles, do they charge you, or do they eat that increase?"
The answer to this question enables homeowners to select materials they can afford and budget properly.
Can you put a 'buffer' into the budget?
One way to ensure you won't be paying more than you expect is to ask the contractor if they can put a "buffer" into the budget to cover unexpected costs and repairs that may pop up during the build or remodel process, according to Melanie Hartmann, owner of Creo Home Buyers. "This additional amount is typically 5-10% of the original budget, at a minimum, and should only need to be used if there was an unexpected problem or change to the initial plan."
Will this project impact any other elements of my home?
Renovation has a funny way of starting out small and growing large, because one thing leads to another. Raboine suggests finding out up front how one project can impact another.
"Depending on your project, there may be implications for other areas of the home, including lighting, electrical and technology. Your contractor should help you think of these other elements to ensure you're thinking through all of the potential challenges and opportunities. For example, if you're designing an outdoor living room, it is much easier to install hardscape lighting and electrical outlets in the initial design vs. adding it on later."
What challenges do you anticipate?
It's important to ask about any expected challenges the contractor anticipates, said Robin Antill, Director at Leisure Buildings. "It's a long-term commitment that requires serious effort from everyone involved."
Perhaps a kitchen remodel means replacing all the pipes in the house, for example, or a simple bathroom renovation means new wiring. Knowing these details up front can help you both plan and budget accordingly.
More From GOBankingRates