More Than Half of Americans Put Less Than 20% Down on Their Homes: Is This a Viable Option for You?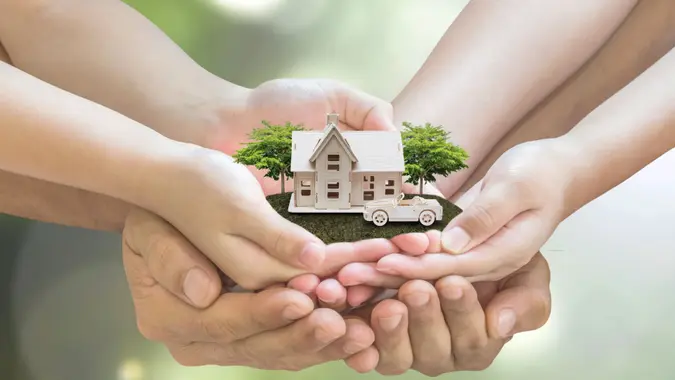 Although 20% is the "standard" down payment amount, most homeowners don't actually put that much down. A recent GOBankingRates survey found that, in fact, more than half of homeowners (54%) put down 15% or less — 12% put less than 5% down, 21% put between 5% and 10% down, and 21% put between 10.1% and 15% down. An additional 15% put between 15.1% and 20% down.
If you want to buy a home but don't have enough saved up for a 20% down payment, that doesn't mean you can't make your homebuying dreams a reality. Here's a look at what your options are if you want to put less than 20% down on a home.
Seek Out Loans That Require a Lower Down Payment
Some mortgage products allow you to secure a loan with 3% to 5% down, and some may allow you to put down even less.
"The mortgage market isn't as scary as it had been in the past decade. There are many new products that offer as little as 0% to 3% for a down payment," said Ralph DiBugnara, president of Home Qualified.
Apply For Government Assistance Programs
Depending on your income and location, you may qualify for homebuying assistance programs.
"As an example, Federal Housing Administration (FHA) loans require only 3.5% percent down payment, while the U.S. Department of Veterans Affairs (VA) loans may not require any money down," said Ashley Moore, community lending manager at Chase Home Lending.
There are also programs specifically for first-time homebuyers.
"These programs work to help first-time home buyers to put less down in order to give them access to their first mortgage," said Sebastian Jania, owner of Manitoba Property Buyers. "Many of these programs require as little as 5% down and can be a viable option for someone that cannot afford to put down 20%, but is able to afford the mortgage payments."
Work Out a Deal With the Seller
If you can't afford a 20% down payment, Jania recommends working out a creative financing approach with the seller.
"When there is a creative financing approach, the terms of the loan, including the time frame, the interest rate and the down payment amount are all negotiable," he said. "By opting for this approach, someone can get the terms that they need, such as a low down payment, in exchange for the desired purchase price of the seller."
When It May Be a Good Idea To Put Down Less Than 20%
The amount of money you should spend on a down payment depends on your situation, Moore said.
"Putting less than 20% down on your home may be a good idea if any of the following situations apply to you," she said. "(1) You have a good household income but haven't had time to save up for a down payment, (2) a large down payment will almost completely deplete your savings or (3) a large down payment is the only thing preventing you from buying a home."
More From GOBankingRates
Methodology: GOBankingRates surveyed 1,004 Americans ages 18 and older from across the country between May 26 and June 5, 2023, asking 19 different questions: (1) When do you expect to buy your next house?; (2) How much do you plan to spend on your next house?; (3) How much did you spend on your current house?; (4) How much (as a percentage of the home cost) did you put as a down payment?; (5) How much is your monthly mortgage payment?; (6) What is the most you are willing to spend on a monthly mortgage payment in your current financial situation?; (7) How long did it take to save for your down payment?; (8) When you bought your house, did you pay more than you originally planned/budgeted for?; (9) How much do you spend on yearly maintenance for your house?; (10) When buying your current house, which costs were more expensive than you expected? (Select all that apply.); (11) How much do you have saved in an emergency fund for house repairs/maintenance?; (12) What is holding you back from buying a house? (Select all that apply.); (13) How much did you spend on home renovations in the last year?; (14) Do you expect a housing market crash to happen in the next two years?; (15) Do you think that homebuying will become easier or harder over the next 10 years?; (16) Are you currently using real estate/buying properties as a way to build wealth?; (17) How much did you spend on your vacation home?; (18) Where would you most want a vacation home?; and (19) Which of these fast-growing big cities would you consider relocating to? GOBankingRates used PureSpectrum's survey platform to conduct the poll.