Is Owning a Home a Financial Necessity or a Lifestyle Choice?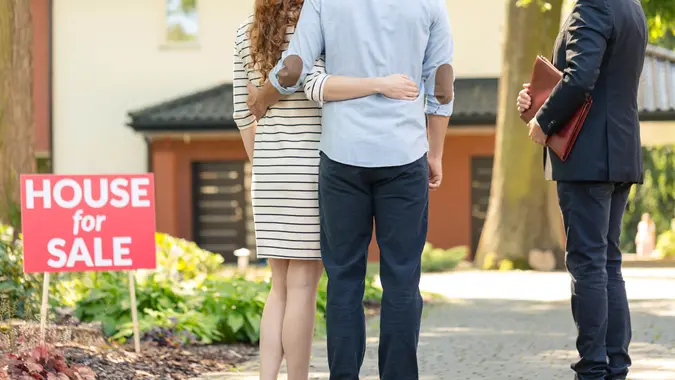 KatarzynaBialasiewicz / Getty Images/iStockphoto
Although 90% of Americans believe that owning a home is part of the American dream, many no longer believe it's an essential part of life, a recent IPX1031 survey found. Only 33% of Americans believe owning a home is a necessity; the other 67% say it is a lifestyle choice.
But what do the experts say? Can you have a financially secure life without owning a home? Here's what financial pros told GOBankingRates.
Buying a Home Doesn't Make Sense for Everyone
"While the old adage says that owning a home is the way to wealth, it does not fit everyone," said Jay Zigmont, Ph.D., CFP, founder of Childfree Wealth.
For example, in an increasingly remote world, many people are no longer tied down to a particular place for their jobs and may want to take advantage of this location independence.
"If you are more mobile or a bit of a nomad, buying a house may not be a good idea," Zigmont said.
In this case, you may look to alternative avenues for investing in real estate.
"You can still get exposure to real estate investing through REITs or other tools without owning a house," Zigmont said.
Homebuying Makes Sense If You Want a Home
Paul Peeler, financial advisor at Integrated Financial Group, said that buying a home can be a good investment, but only if you are looking for benefits that go beyond the financial.
"Homeownership is not essential to ensuring financial security, but it can definitely be a valuable long-term wealth-building tool," he said. "I encourage people to do the math for themselves. Generally speaking, owning a property for a long period of time outstrips the value of investing the down payment and paying rent, even after taking into account taxes, insurance costs, property maintenance and rent increases."
However, this shouldn't be your main motivation for purchasing a home.
"Most people don't purchase a home because of the financial benefits, but because of the intangible benefits that a home provides," Peeler said.
The Bottom Line
Experts agree that homebuying is a choice rather than a necessity, but that it can be a wise decision if buying a home fits in with your lifestyle and budget.
"Right now, owning a home is a lifestyle choice, as renting is always an option," said Matthew Locke, national mortgage sales manager at UMB Bank. "However, owning your own home still makes great financial sense for most people. By owning your home, it allows you to buy an asset that will typically appreciate over time, and rental costs are also increasing greatly over the past few years. Most studies indicate that people who own their homes have higher overall net worths as compared to renters."
"The act of owning a home is not completely essential to financial security, but doing so allows you to better control your financing variables," he continued. "When you buy your home, you have the option to lock in the cost of your housing, as opposed to renting being controlled by a landlord."
More From GOBankingRates