It Now Takes 13 Years To Save for a House in Austin, Texas — Here's How Much Cash You'll Need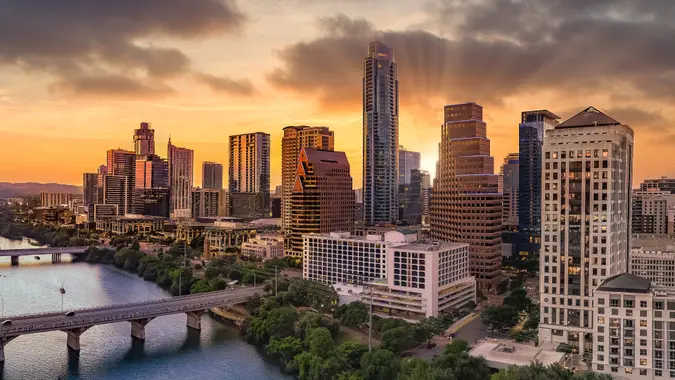 Jonathan Ross / Getty Images/iStockphoto
If you've been thinking about moving to Texas or some other Sunbelt state to escape the high home prices found in other parts of the country, you might be in for a rude awakening. In Austin, Texas, for example, it now takes nearly as long to save for a down payment as it does in New York City.
See: 2023's Housing Correction Could Be The Largest Since Post-WWII
Find: 3 Things You Must Do When Your Savings Reach $50,000
The amount of time it would take to save enough to put 10% down on a typical home in Austin rose from eight years in 2019 to 13 years in 2022, Bloomberg reported, citing a new analysis from Zillow. Austin was listed among the Sunbelt cities where home prices soared during the COVID-19 pandemic, partly as a result of booming tech industries.
As Bloomberg noted, Zillow analyzed how long it would take if you saved 5% of the median household income every month to put aside a 10% down payment on a typical home. In Austin, a 10% down payment on a median-priced home was $56,653 in 2022 — not too far below the $61,074 required in New York City.
A steep rise in average home prices in recent years means it can take a decade or more to save up for a 10% down payment no matter which part of the country you live in.
"You can see that it's gotten harder and longer to save for a down payment over time," Zillow chief economist Skylar Olsen told Bloomberg.
The amount of actual time it takes to save for a down payment depends on a number of factors, including your income, debt load and other expenses. But it's getting harder to save up even in regions not normally associated with the high home prices that have long plagued West Coast and Northeast cities such as Los Angeles, San Francisco, Seattle, New York, Boston and Washington, D.C.
As for Austin: there could be some good news for would-be home buyers. In December 2022, the typical home value in Austin fell 4.2% from the previous month, Zillow reported last month. That's well above the national average decline of 0.2%.
Meanwhile, Zillow also described the Austin housing market as "ice cold," KXAN recently reported. That opinion was based on research showing that homes in the Austin area spent a median of 68 days on the market as of December 2022 — up from 22 days a year earlier and more any other major U.S. metro area. Only 11% of listings in Austin sold for higher than the asking price vs. 47% the year before.
Zillow's report didn't sit too well with the Austin Board of Realtors.
"Year-over-year comparisons are helpful in understanding where we were and where we are now in terms of raw numbers, but comparing our market to the past two years of anomaly conditions isn't a true comparison," board CEO Emily Chenevert told KXAN in a statement. "To write off Austin as an 'ice cold' market is not painting an accurate picture of the state of our market and misrepresents the facts on the ground that there is still incredibly high demand, not enough inventory and a looming affordability crisis."
Take Our Poll: What Are Your Financial Priorities in 2023?
Homebuying Amid Inflation Survey: Nearly All Millennials' Plans Upended as They Struggle To Save in New Ways
Austin has seen its ranking among the hottest real estate markets fall to No. 30 this year from No. 10 in 2022 and No. 1 in 2021. A fellow Sunbelt city — Charlotte, North Carolina — now ranks at the top of the list.
More From GOBankingRates