8 Money Traps To Avoid When Buying a House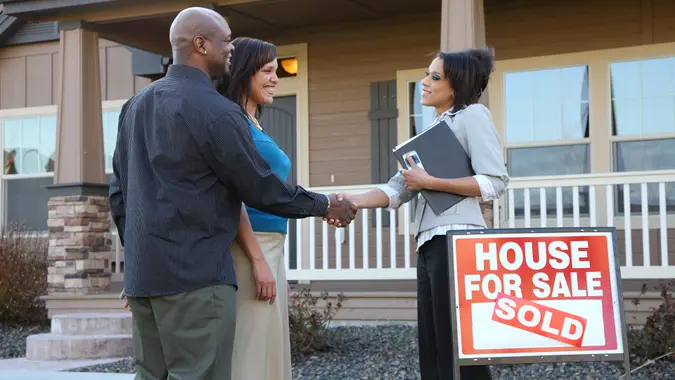 lewkmiller / iStock.com
Buying and owning a home can be expensive. Yet many people need to be better informed and prepared for the process. Before buying a house, avoid these eight money traps that could cost you hundreds or thousands of dollars. 
Limited Income History
Lenders want to see at least nine months to a year of consistent income before they approve you for a mortgage. This proves that you have some income stability. That means if you recently started a business, it might not be the best time to purchase a new home. Of course, sometimes the timing doesn't always work out, but waiting to buy could save you money in interest rates over the long term. 
Not Knowing Your Credit Score
Your credit score is essential to your mortgage eligibility and the interest rate you'll receive. The better your credit score, the lower the interest rate you will qualify for. Before you start your house search, you should know your credit score. Many banks provide their customers with free credit scores. 
You'll also want to check your credit report to verify that everything is accurate. You can get a free copy of your credit report once every 12 months from each credit reporting bureau (Experian, Equifax and TransUnion). 
Miscalculating How Much You Can Afford
Many people calculate how much they can afford for their monthly mortgage payment and then base their home search on that overall sale price. However, there are many other costs associated with owning a home. On top of the mortgage payment, you must pay insurance, utilities, taxes, maintenance and repairs. 
For many families, especially ones without student loans or other debt, spending 30% of their income on housing falls within budget. However, some families may prefer to spend less. Limit your mortgage payment to 20% of your income if you have student loans or other debt.
Fixer-Upper Overestimation
If you're thinking about purchasing a home that needs a little work, it's essential to understand the costs involved. Not knowing exactly how much everything will cost can get you into trouble. 
"A hidden money trap can emerge when buyers underestimate the true costs of renovations for a fixer-upper," said Ritika Asrani, founder and head broker at St Maarten Real Estate. "While the idea of customizing a home is enticing, the expenses involved in structural improvements, permits, and unexpected complications can spiral. Engaging a contractor for a thorough estimate before purchase can provide a clearer picture of the financial commitment."
Not Doing Your Research on the Market
Don't just go off the seller's asking price on the home. You should research to determine if the seller's asking price is too high, too low or pretty average compared to similar homes in the area. Without research, you could easily bid too much, fail to make a competitive offer and lose out on the house. Hiring a qualified real estate agent can help you ensure you're not doing anything that will cost you financially in the long run. 
Not Getting an Accurate Inspection
An inspection is a very important part of the homebuying process. The seller may only want to voluntarily tell you about some of the problems of the home, so it is up to you to get an accurate inspection done by a professional. 
Your inspector should be able to give you a report that includes all items that need to be fixed and may also be able to provide approximate costs. You can then make the final contract contingent upon the inspector's report. Depending on the market, you may be able to negotiate based on the inspector's report, either by requiring the seller to take care of those items before closing or by negotiating the sale price. 
"Aesthetically pleasing interiors might conceal structural issues, outdated wiring, plumbing leaks, or pest infestations," said Brian Quigley, founder at Beacon Lending. "You gain valuable insights into a property's true condition by engaging a certified home inspector. This empowers you to negotiate repairs or price adjustments, preventing unforeseen expenditures down the road. Relying solely on the seller's disclosures can be risky, as they might not be aware of all underlying problems."
Doing an inspection as early as possible in the process allows you enough time for these negotiations and to make any necessary decisions based on the inspection report results. 
Hidden Costs in the Process
Make sure to review all transactional costs ahead of time. You don't want to be surprised by a fee during closing. Underwriting fees and loan disbursement charges can be added after the "sub" total. You can request that your lender projects total charges for you in writing before closing to get a better idea of the total cost. 
Using Your Emergency Savings for a Down Payment
If you can afford it, making a 20% down payment is ideal when purchasing a home. However, this shouldn't come at the expense of your emergency savings. You should always have three to 12 months of expenses in your emergency fund. This is especially important when you own a home because emergency repairs could come at any time and be very costly. Even after the down payment, you should have enough money in your emergency fund to cover these costs should they come up. 
The Bottom Line
Buying a house is one of the biggest, and likely most expensive, financial decisions you will make. Avoiding these issues won't guarantee you will get a great home at a great price, but they could help you avoid falling into a money trap with your home. 
More From GOBankingRates