Mortgage Rates Hit 8% — Is It Safe To Buy Real Estate Right Now?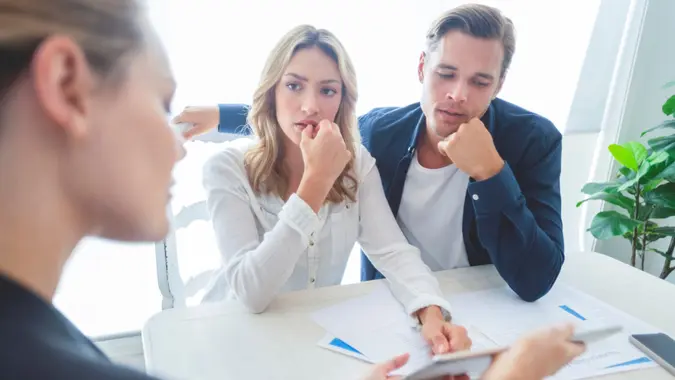 courtneyk / Getty Images
In continuing bad news for homebuyers, the average 30-year fixed mortgage rate reached 8% on Oct. 18, according to Mortgage News Daily. That is the highest level since the mid-2000s, per CNBC.
To place this latest figure in context: The 30-year fixed mortgage rate was at 7.22% for the corresponding week in 2022, at 3.19% for the corresponding week in 2021 and at 3.04% in 2020, according to Mortgage News Daily data.
Low Inventory Plagues the Housing Market
Mortgage rates have a domino effect on housing supply, as many homebuyers feel "locked in" with lower mortgages they secured a few years back and are hesitant to sell.
"With mortgage rates at 8%, the cost of borrowing money for a home purchase is at least 25% higher than the 90% of existing mortgages with a 6% rate or lower," said Danielle Hale, chief economist for Realtor.com.
This is an important factor holding back housing supply — a Realtor.com survey of online traffic showed that as many as one in seven homeowners who weren't planning to sell cited their existing low mortgage rate as the reason.
Hale added that homeowners with a low-rate mortgage have a perfectly rational reason to stay put.
"This mortgage rate lock-in effect comes after a decade of underbuilding in the housing market that had left the market under-supplied by several million housing units and driven down vacancy rates to historic lows," she said. "These challenges were years in the making and it's likely to take years to unwind, especially since we've yet to start making headway."
Jeremy Foster, chairman of alternative lending solutions provider Calque, also noted that if every existing mortgage in the U.S. were forced to refinance at current rates, the total increase in interest expense to borrowers in the U.S. would be well above $400 billion per year.
In turn, he said that homeowners will sit tight until either the gap between their current mortgage and a new mortgage at least narrows a bit or they are forced to move because of living circumstances.
Will Rates Decline and Should Homebuyers Wait?
According to Hale, while the Fed currently expects to begin reducing the Fed funds rate sometime in 2024, it also anticipates that the rate will remain above neutral all the way through 2026. At that time, the Fed expects inflation will finally be back to the 2% target.
"Based on these expectations, mortgage rates are likely to peak in the next six months, before beginning a gradual descent," she said.
Home Prices Continue To Soar
Of course, another factor that is leaving many homebuyers on the sidelines is that home prices have been rising. Indeed, for the second quarter of 2023, the median home price was $416,100, up from $322,600 in 2020, according to Federal Reserve Bank of St. Louis data.
"Homebuyers face rising rates, intense competition, escalating home prices, and limited inventory," said Sipho Simela, CEO and founder of Matrix Rental Solutions. In turn, he said that buyers should be aware of the importance of financial preparedness, long-term planning and flexible home buying strategies in this challenging market.
Impact on the Rental Market
The impact of rising mortgage rates and supply constraints in the for-sale housing market may also lead to a ripple effect on the rental housing market, Simela suggested.
"As more potential homebuyers face affordability challenges, we anticipate increased demand for rental housing," he added.
What Should Homebuyers Do?
Hale said that with home prices and mortgage rates both high, it's harder than ever for homebuyers to stick within their budget. Nonetheless, doing so remains vital — she recommended leveraging online tools such as affordability calculators to stay on track.
"Also, to help with the challenge of saving up for a down payment, potential buyers should explore assistance programs to see if they qualify for help. Buyers can find resources while shopping on Realtor.com, so they should be sure to explore the option," she said.
Other experts suggested it might be wise to stay put for the moment.
"Inflation will make homeownership an unachievable goal for many first time buyers. Plus, the general economic atmosphere might see lenders tightening their belts and making loan approvals harder to come by," said Shannon Feick, owner of ASAP Properties.
Feick indicated that homebuyers may need to be patient over the next year.
"Let's wait until some things in our world calm down before purchasing a home," he said. "Mortgage rates will eventually come down a bit and housing prices will settle."
More From GOBankingRates