10 Most Affordable New York City Neighborhoods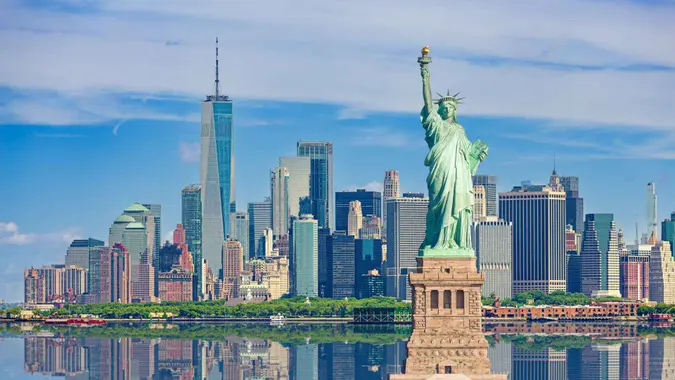 OlegAlbinsky / Getty Images/iStockphoto
New York City conjures images of sky-high rents and luxury penthouses. But the Big Apple still offers pockets of somewhat affordability if you know where to look. We scoured the boroughs to identify ten budget-friendly NYC neighborhoods for your next apartment hunt.
Inwood, Manhattan
Northernmost Manhattan has lower rents than more central areas. A studio averages around $1,500, and one-bedrooms about $1,800. The spacious Inwood Hill Park offers wooded trails, lush lawns and waterfront access along the Hudson. Columbia University's athletic facilities are here too. A burgeoning arts scene, mom-and-pop shops and ethnic restaurants add exciting local flavor. The Cloisters Museum provides a dose of medieval charm. Commuting is a breeze with the A train connecting to Midtown.
Jackson Heights, Queens
This vibrant Queens nabe draws foodies seeking authentic global cuisine. But it remains budget-friendly, with studio rents averaging $1,600. One-bedrooms go for $1,800-$2,000. The diverse community hosts the annual Viva La Comida festival, celebrating Latin American culture and cuisine. Residents appreciate easy transit access via several subway and bus lines. Drivers jump on the BQE, Grand Central Parkway or Queens Boulevard. Family-friendly attractions include parks, a public library and the historic King Manor Museum. 
Kew Gardens, Queens
Sandwiched between Forest Hills and Richmond Hill, Kew Gardens delivers suburban tranquility just minutes from Manhattan. Rents range from $1,500 for studios to $1,800 for one-bedrooms. The scenic Kew Gardens Hills neighborhood provides a peaceful escape beside Kissena Creek. Asian and European groceries add international flavors. Forrest Hills' tennis stadium hosts the annual US Open tournament. The LIRR whisks commuters straight to Penn Station. Kids enjoy Flushing Meadows-Corona Park (and its super fun playgrounds!) nearby.
Bedford-Stuyvesant, Brooklyn
With studio rents from $1,500, Bed-Stuy balances old Brooklyn charm with upscale touches like craft breweries and wine bars. Row houses give the area a historic feel. Herbert Von King and Tompkins Parks provide green space. Commuting is a cinch via the A, C, G and J trains. The beloved community supports growth while retaining local businesses and culture. Mosques and brownstone churches anchor the neighborhood. Enjoy events like the Bed-Stuy Block Association Home and Garden Tour.
Sunset Park, Brooklyn
This thriving, diverse neighborhood still sports relatively low rents under $2,000. Sunset Park harbors Brooklyn's Chinatown, with Asian groceries and eateries. Industry City draws visitors to its art exhibits and artisanal shops. The park boasts one of NYC's largest public pools — an excellent place to cool off in the summer. Commuting is convenient via the N and ​R trains. Residents take pride in Sunset Parks' strong sense of community across generations and cultures. The area balances industrial and residential zones.
Long Island City, Queens  
Bordering hip Astoria, Long Island City enjoys proximity to Manhattan without as high of rents. Studios average around $1,800. One-bedroom rent for $2,200-$2,400. If you want to indulge in culture, this is your new hood — major attractions include MoMA PS1's contemporary art museum, Socrates Sculpture Park and the Noguchi Museum. Gantry Plaza State Park hugs the East River with beautiful skyline views. Young professionals flock to LIC for the art galleries, microbreweries and dining scene. Several subway lines offer easy commutes.
Harlem, Manhattan
Think of Harlem and you may envision premium rents. But if you venture east of Morningside Park, deals emerge around $1,700 for studios and $2,000 for one-bedrooms. Striking architecture and historic churches line the streets. Marcus Garvey Park hosts jazz concerts in the summer. Grab the most delicious soul food at stalwarts like Sylvia's Restaurant or visit the Apollo Theater's Amateur Night. Newer additions include craft cocktail lounges and cafes. Hop the subway via several lines or take Metro North down to Midtown.
Washington Heights, Manhattan
At the northern tip of Manhattan, Washington Heights offers studio rents averaging around $2,000. One-bedrooms go for $2,200-$2,800. The prime location provides amazing views of the Hudson River and easy access to the A train. Enjoy scenic Fort Tryon Park, home to The Cloisters medieval art museum. Shop for bargains along Overlook Terrace or dine at local Dominican eateries. The neighborhood hosts cultural events like the Dominican Day Parade. 
Jamaica, Queens
Jamaica boasts studio rents from $1,300 and one-bedrooms under $1,600. This central Queens hub provides easy airport access and abundant transit options via LIRR, subway and bus lines. Jamaica Center serves as a major shopping and entertainment destination. Families appreciate kid-friendly attractions like King Manor Museum and Queens County Farm Museum. Dining ranges from Jamaican jerk chicken to Indian roti flatbreads. Green spaces, like Rufus King Park and Cunningham Park, offer room to relax.
East Flatbush, Brooklyn
East Flatbush emerges as an affordable Brooklyn option with rents around $1,400 for studios and $1,600 for one-bedrooms. Local Caribbean culture shines through in the diverse community. Shop Caribbean grocery stores and dine at West Indian restaurants. Prospect Park lies minutes away, with recreational facilities and summer concerts. Commuting is simple with the 2 and 5 trains plus convenient LIRR access. The Brooklyn Children's Museum and Kings Theatre provide family-friendly entertainment. 
More From GOBankingRates