The 7 Most Stressful US Cities for Homebuyers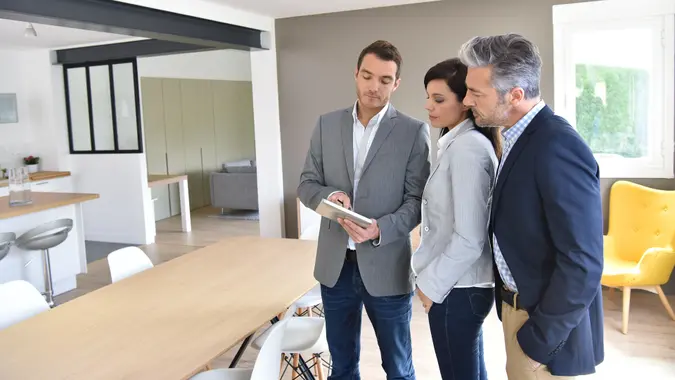 goodluz / Shutterstock.com
No matter where you live, buying a home is sure to create a certain level of stress. From viewings and inspections to seemingly endless paperwork, chances are high that you'll find yourself frustrated at some point during the home buying process.
Advice: 20 Home Renovations That Will Hurt Your Home's Value
More: 8 Insider Tips to Get Rich in Real Estate
But every city and state is different, and some places are much worse than others due to rapid population growth, fierce competition and rising prices. In order to find out which U.S. cities create the highest stress levels, I asked the experts for the inside scoop. Here are seven spots that could cause homebuyers to hit a boiling point.
Providence, Rhode Island
Providence is a very stressful place to buy a home right now, especially as buyers flock to places with more affordable homes. Melissa Perrille of Premier Realty Group says an increase in prices in Providence is to be expected. "Providence, Rhode Island is expected to see some of the most growth in the U.S. and that can be incredibly stressful for buyers who are looking to purchase a home in the area," she says.
According to Perrille, there's a lot to like about Providence, and it isn't limited to being close to New York (though that certainly doesn't hurt). "There are just so many things that make living in Providence appealing — its proximity to New York and Boston, a strong hospital and university system and an emerging art and dining scene that is beginning to explode," says Perrille.
Housing Market: Home Prices Surged 18.8% in November — and That's Actually a Slowdown
Bangor, Maine
A small city in the middle of Maine, one may not expect Bangor to be particularly stressful for homebuyers. However, competition for homes is fierce in the city at the moment, says George Beatty, founder of Problem Property Pals. Beatty says that realtors there are witnessing homes get snapped up very quickly, and the increased demand is driving up prices considerably.
"Experts point out that Bangor is a stressful city to buy a home primarily because of its low absorption rate," Beatty says. "The absorption rate refers to how many months it would take to sell listings in a market based on the current rate of sales." In other words, homes in Bangor are purchased very quickly after being listed, which can be stressful for buyers.
See: What To Expect With Property Values in 2022 — And How You Should Respond
Seattle, Washington
Home to Amazon and other large companies, Seattle has been an incredibly stressful place to buy a home for quite some time now. Daniella Flores, founder of the finance and side hustle blog iliketodabble.com, says they and their wife moved to Washington last year and found the process incredibly stressful and challenging.
"The quality of houses in Tacoma and Seattle are just horrible for the prices," says Flores. "We had to move up to the peninsula to look at better quality houses for a more reasonable price." Flores says their real estate broker told them that the number of affordable and decent quality homes declines every year due to a lack of new construction in the area.
New Orleans, Louisiana
New Orleans is always a popular destionation for tourists, but the city can also be a stressful place to buy a home. "With a culture like New Orleans, houses will always be in demand, particularly in historical neighborhoods in Uptown and near the French Quarter," says Daniel Osman, head of sales at Balance Homes.
"Short-term rental companies, outside the market, have bought up whole streets in popular neighborhoods, which have driven prices even higher." Osman also mentions that despite the popularity of New Orleans, the city is six feet below sea level, making it constantly under threat of flooding. Of course, that threat raises stress levels for residents and buyers alike.
Find: Should You Keep Your Money in the Bank or Invest In Real Estate?
San Francisco, California
Although some people have fled ares like San Francisco in search of lower prices, buying in the city remains highly stressful. As Mike Gregor, realtor at Cohen Agency SiM, LLC points out, the high cost of living in San Francisco is still a stress factor for homebuyers. "San Francisco has a very high cost of living, which is a staggering 52% higher than the national average," Gregor says.
And according to Gregor, there are other reasons San Franciscans are stressed, including how dense the population is. "Another stressing factor is the population density, which is at no. 2 in the ranking. Such conditions make things miserable for people who live there, and less profitable for people who invest in some kind of real estate property."
Washington, D.C.
It's no surprise that the nation's capital and its surrounding areas is one of the most stressful parts of the country to buy a home. That will inevitably make it a draw for all kinds of buyers, and that inevitably leads to intense competition and stressful situations. One problem in the D.C. area is the lack of entry-level homes, says Katie Wethman of The Wethman Group at Keller Williams. Wethman is licensed in VA, DC and MD, and has some insights about the situation in D.C.
"The biggest pressure point is 'entry level priced' townhouses and single family homes i.e., those consistent with the convention conforming loan limit for high cost areas like ours," Wethman says. "In just the past two weeks we've had clients competing against 20+ offers after just two days on market."
Learn: Buyers Say These Are the Most Important Factors When Deciding Where To Move
New York City, New York
The biggest city in the country continues to be one of the most desirable places in the country for large swaths of people, and that means buying a home there can be stressful. One of the problems buyers face in New York is the unique set of challenges posed by condos and co-ops, says Gina Baker, real estate analyst at Fit Small Business.
"Most buildings are condominiums (condos) or cooperatives (co-ops) so they require a board package. Board packages can be 30 pages or 100 pages, and some places also require an interview before agreeing to sell," Baker says. "Many co-ops also have strict rules about pets, how much money you must have in reserves, and other financial requirements. In addition, the pricing is very high for the amount of space you are getting for the price."
All of that adds up to one thing for certain: a whole lotta stress.
More From GOBankingRates