Housing Market 2023: 5 Options If You Regret Buying a Home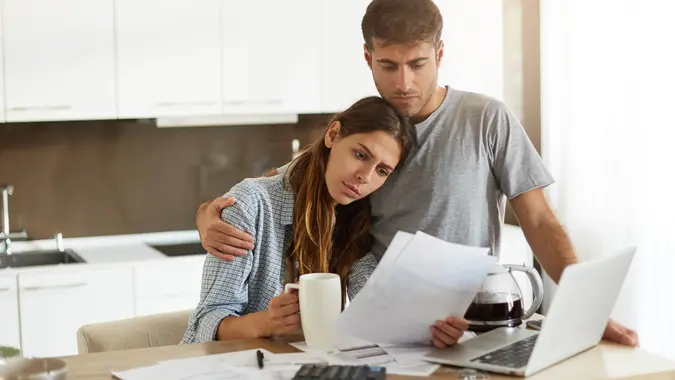 ©iStock.com
According to a recent survey conducted by Clever Real Estate, over 90% of homebuyers have regrets in 2023. Most of the homebuyers (93%) state that they compromised on their priorities when purchasing a home this year, and over half said they ended up with a "higher-than-desired interest rate."
The realities are that the 2023 housing market is not ideal for most buyers. High interest rates and limited supplies are making purchasing a house more expensive than ever. Many homeowners who bought a property only a few years ago have record-low mortgage rates and are unwilling to part with their homes, keeping the market limited. The Clever Real Estate report shows that many recent buyers had to go into an uncomfortable financial situation in order to afford their homes. 
Luckily, there are options if you are one of the many people who regret buying a home. If you are experiencing buyer's remorse, consider these five things you can do to make your mortgage a little less painful each month. 
Refinance
If it has been at least six months since you bought your home, you might be eligible for a refinance. Refinancing your mortgage can help you secure a lower rate, making your payments a little more manageable each month. 
It is a good idea to speak with your lender to determine when you are eligible to refinance and just how much it will save you. It is important to remember that there may be fees associated with refinancing, but these fees can usually be rolled into your mortgage.
Sell or Rent
If your home has become a money pit or you simply can't imagine living in it another minute, it might be time to sell or rent your property. Supply is still low in many areas, meaning that home prices remain high.
However, if you just bought this year, you might struggle to break even when you sell. Renting is always an option, too. There are numerous pros and cons to each of these options, but they are worth considering if you really are miserable with your purchase.
Renovate
If the house you bought is in a great neighborhood and has good bones, you can always invest some money into it. Construction costs have come down significantly this year, making it more affordable to renovate your home. While updating your home can be a headache, it can also be a great way to turn it into something you love.
Renovations don't have to be huge projects. Often a small change can make a huge impact. Think about something that really drives you nuts about your home and change it.
The updates that are the best to address are the ones that will enhance your daily life. If there is little to no light throughout the home, get bids for recessed lighting. If your home is always cold, consider weather-sealing doors and windows. There are several things you can do to improve your home without breaking the bank.
Change Your Lifestyle
If the primary reason for your buyer's remorse is financial, then you may want to think about altering your lifestyle to accommodate your budget. Living paycheck-to-paycheck is unsettling and can cause a substantial amount of stress. Restructuring your finances and living within your means can help you feel happier about your home.
After all, you purchased the house for a reason. Write down all of the reasons why you wanted to buy a home. It may help you feel better about the purchase and make it easier to reconfigure your spending.
Fill It Up
Buying a home is a momentous occasion — celebrate with family and friends! Fill your home with things that make you happy, and you may start to regret your decision a little less.
The more content you feel in your space, the more likely you will be able to look past things like interest rates and outdated fixtures. Create memories in your new home and work towards setting it up just the way you want it. Think about the benefits of homeownership and be proud of your accomplishment. 
More From GOBankingRates