Did You Overpay for Your House? 4 Ways It Will Pay You Back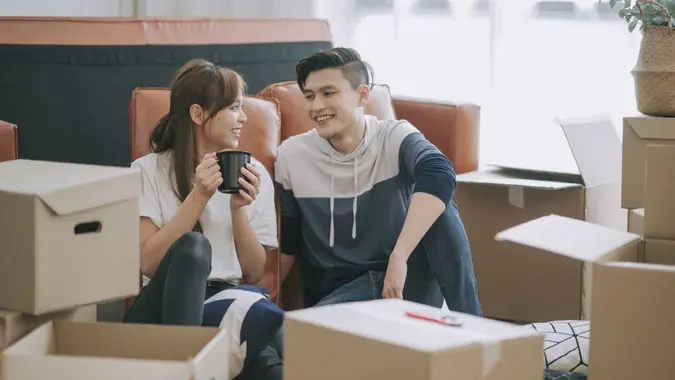 Edwin Tan / Getty Images
Your house was a hot commodity, but you won the bidding war. There's a good chance you had to go overbudget or at least make sacrifices on the home — and now you're wondering if it was worth it.
As of June 2023, the median sale price in the U.S. was at a near-peak — at least in recent years — of $426,000, according to Redfin. This is slightly higher than the median sale price of $432,000 in May 2022, and much more than the median sale price of $377,000 in May 2021 and $299,000 in May 2020.
It's understandable if you're feeling a little nervous. Buying a home is the largest investment most people ever make.
If you're thinking of putting it back on the market, because you feel like you made a bad investment, that's probably not the best move. While it might feel like you paid too much for the property right now, it will very likely pay you back.
GOBankingRates spoke with two experts to find out what you have to gain from the purchase of your home — even if the initial price you paid was on the higher side. Here's a look at four benefits you'll likely reap from your decision to purchase this home.
Get a Return on Investment
The national average for home appreciation is 3% per year, according to Freddie Mac.
Not all investments appreciate in value over time, but Maureen McDermut, a real estate agent at Sotheby's International Realty, based in Santa Barbara, Californiasaid homes typically do.
"The more important note is that the home value appreciation has continued to outpace mortgage rate increases, which means an investment in real estate now will show an ROI when it comes time to sell the home in a few years," she said.
Chris Birk, vice president of mortgage insight and director of education for Veterans United Home Loans agreed.
"Homeownership can also serve as a hedge against inflation," he said. "Generally, as prices rise, so does the value of the property, especially in expensive markets."
However, he noted that rising prices and equity gains aren't guaranteed with the purchase of real estate.
"Buying a home is a personal financial decision with unique considerations for every consumer," he said. "Over the last few decades, owning a home has proved to be a solid investment when it comes to building equity."
He said everyone's situation is different, so it's best to discuss your options with a trusted lender.
Build Equity
When you own a home, at least part of your monthly mortgage allows you to build equity in the property, whereas a rent check goes entirely to your landlord.
"The unique nature of a home as an investment also gives those that do buy a home this year the opportunity to build equity over time, which opens up other financial opportunities," McDermut said.
If you eventually decide to sell, this could majorly pay off, as Birk noted that potential sale prices tend to appreciate with property values
"This equity accumulation can be particularly rapid in expensive markets, where home values often rise," he said. "The increase in equity can provide access to better financing options such as home equity loans or other refinancing options that could help homeowners make home improvements or even consolidate high-interest debts."
Enjoy Financial Predictability
"In today's economic climate, would-be buyers are factoring in the rising cost of rent," Birk said. "These substantial annual increases can put a financial strain on renters, especially in more expensive markets."
However, he said buying a home with a fixed-rate mortgage allows you to know exactly how much you'll owe for housing each month, until the loan is paid off.
"Homeowners can secure their housing costs for the life of their loan, eliminating the uncertainty of escalating rental prices — which helps them to save money long-term," he said. "This allows homeowners to budget effectively, knowing their principal and interest payments will stay the same, regardless of market changes."
Unless they're living in a rent-controlled building, renters don't get this benefit.
For example, in the second quarter of 2023, the median asking rent for vacant units in the U.S. was $1,445 per month, according to the U.S. Census. This is approximately 24% more than the median gross rent from 2017-2021, which was $1,163 per month.
Gain Financial Security
Even in an expensive market, Birk said buying a home still comes with advantages.
"Despite fluctuations common to other investments, such as stocks, property in these markets tend to maintain its value — even during economic downturns," he said. "This can provide homeowners with a sense of financial security."
As long as you keep up with your mortgage payments, no one can take your home away, which offers a feeling of contentment.
Maybe you used most of your cash for a large down payment or perhaps you're nervous you seriously overestimated the value of your house. These concerns are understandable, as buying a home is always at least somewhat of a gamble.
However, there's a very good chance this investment will come with a serious payoff. Hopefully the feedback from the experts above eased your mind and helped you realize what a smart move you made by purchasing your home.
Instead of stressing about what your property value will be years down the road, keep making your mortgage payments on time and putting money aside in your emergency fund. It's also important to sit back, relax and enjoy the home you loved so much, that you decided to pay top-dollar for it.
More From GOBankingRates