I'm a Real Estate Agent: These 10 States Offer the Best Perks for First-Time Homebuyers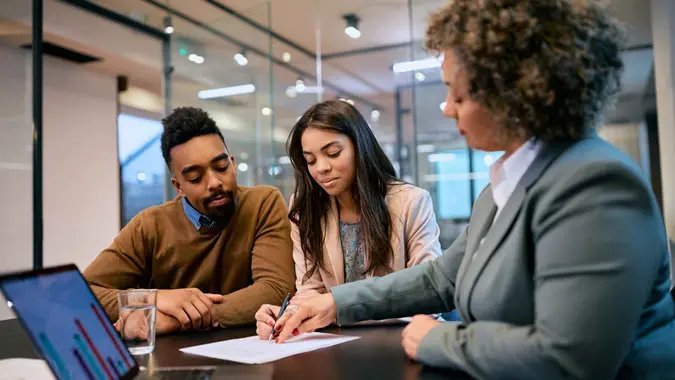 Drazen Zigic / Getty Images
There are a lot of costs first-time buyers need to factor in when purchasing a home. Fortunately, the state where you're buying a house may provide financial benefits to help alleviate some of these expenses.
What kinds of incentives should you consider? GOBankingRates spoke to Mark Buskuhl, founder and CEO at Ninebird Properties, and Minhao 'Mike' Qiu, owner of Good As Sold Home Buyers, to see which states have the most attractive incentives. 
In alphabetical order, these 10 states offer the best perks for first-time homebuyers. 
California
In the state of California, there are a range of programs offered by the California Housing Finance Agency (CalHFA) for eligible first-time homebuyers. Some of these programs include down payment assistance, low-interest loans and mortgage credit certificates. 
Qiu highlights the Mortgage Credit Certificate (MCC) initiative as a notable program. "This can yield a federal income tax credit, reducing the amount of federal income tax you are required to pay."
Colorado
First-time homebuyers are recommended by Qiu to reach out to the Colorado Housing and Finance Authority (CHFA). 
The CHFA furnishes down payment assistance and competitive mortgage loans and provides education courses to help buyers navigate the complexities of the homebuying process.
Georgia
"Georgia boasts the Georgia Dream Homeownership Program, which extends affordable mortgage financing bundled with down payment assistance and reduced mortgage insurance costs targeted at first-time homebuyers," said Qiu.
Maryland
Those purchasing a home in Maryland should look into the Maryland Mortgage Program. This program has several home loan offerings which encompass down payment assistance. These offerings have the potential to cover closing costs for eligible buyers. 
In addition to exploring the Maryland Mortgage Program, Qiu recommends checking out their mortgage credit certificate program. This can help reduce federal income tax liability.
Massachusetts
First-time homebuyers are recommended by Buskuhl to explore the ONE Mortgage Program. 
This program, administered by the Massachusetts Housing Finance Agency, provides low-interest mortgages for eligible first-time homebuyers. 
Minnesota
Buying a home in Minnesota? Look into the first-time homebuyer programs provided by the Minnesota Housing Finance Agency (MHFA). 
Qiu said these programs include down payment and closing cost assistance along with affordable fixed-rate mortgage loans.
New York
Do you have a low to moderate income and are planning to buy a home in New York? 
Qiu recommends exploring the low-interest mortgage loans and down payment assistance specifically tailored for qualified buyers through the State of New York Mortgage Agency (SONYMA).
Ohio
"The Ohio Housing Finance Agency administers several loan programs which offer low-interest rates, no down payment or PMI requirements, and competitive closing costs," said Buskuhl. 
Ohio also offers qualifying buyers of newly built homes property tax credits.
Pennsylvania
First-time homebuyers may look into the Keystone Home Loan program administered by the Pennsylvania Housing Finance Agency. Buskuhl said this program provides low-interest loans with no down payment or PMI requirements. 
Eligible homeowners may also look into the property tax/rent rebate program offered by the state of Pennsylvania. Those who qualify may receive up to $650 in rebates.
Texas
First-time homebuyers can explore many incentive options in Texas like grants for down payments and closing costs and programs to assist with PMI costs and low down payments. 
One program Buskuhl recommends looking into is the My First Texas Home program administered by the Texas Department of Housing and Community Affairs. The My First Texas Home program offers low-interest loans to eligible first-time homebuyers. There's also a property tax credit program to explore which helps reduce property taxes for buyers who purchase newly built homes.
More From GOBankingRates