I'm a Real Estate Agent: Here Are 7 Steps That Make Your Home Easier To Sell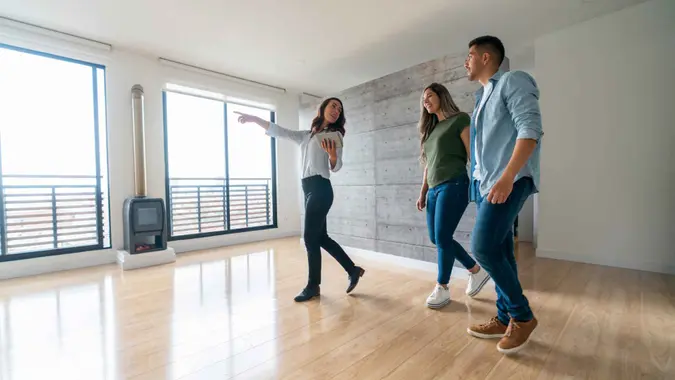 Hispanolistic / Getty Images
In the scorching-hot seller's market of the pandemic, many homes fetched well beyond asking price with little to no effort on the part of the sellers.
Today's market remains seller-friendly, with inventory down and prices up. But sellers should expect to work harder and make more improvements than earlier in the decade, experts say.
"During the pandemic, people were coming in and buying homes — they didn't care what was wrong," said Larry Nooe (rhymes with "snowy"), a broker with RE/MAX in the sizzling Charlotte, N.C., market. "It was kind of sad in a way. The sellers were sort of taking advantage of the buyers."
Clare Trapasso, who covers the industry nationwide as Realtor.com's executive news editor, experienced the pandemic market first-hand. She agrees that it's still a seller's market, just not THAT much of a seller's market.
"I bought a house during the pandemic," Trapasso said. "People weren't even bothering to clean. You can't really do that anymore.
"The change is that right now sellers have to put in more work. Contingencies are back. … They (buyers) want to see something cute, with curb appeal. It should smell good. It should look good."
If you're ready to put your home on the market, here are seven important steps to take.
Clean It Up and Make at Least Light Improvements
Nooe shared that few things can turn potential buyers off more quickly than a disorganized, unkempt home.
"You need to keep it clean, just like it's a model home," he said. "If you don't, some people will come in and then walk right out."
When it comes to improvements, a little can go a long way — assuming that your house is in reasonable condition to start.
"We tell them (sellers) to make some improvements but not spend a lot of money," Nooe said. "Maybe change the paint colors. Paint that trim, and they're likely to give you more money."
"You don't necessarily need to remodel the whole kitchen," Trapasso added. "But maybe paint the cabinets."
Declutter
If you're getting your home ready to sell, clutter is your enemy. Experts say it's worth the effort to clear things out, even if temporary storage space is needed.
"When people go into a cluttered home, it looks smaller," Nooe said. "It's overwhelming for people sometimes. Try to keep it simple. If you've got a lot of things, maybe put some of them in the attic."
De-Personalize and Be Careful Not To Offend Anyone
It's tougher for potential buyers to visualize themselves in your home if there are signs of the current residents everywhere. Consider removing things that are uniquely "you," such as family photos. Experts also caution against leaving items that are potentially controversial.
"If you have a giant Trump flag or a giant Biden flag in your yard, possibly half the population could be offended," Trapasso said.
You also may want to stash that 10-foot-by-10-foot Michigan Wolverines tapestry or repaint the den you redid in Las Vegas Raiders silver and black.
"Even your favorite sports team," Trapasso said. "Maybe leave that behind."
Boost Your Curb Appeal
Those moments when potential buyers first drive up to your house are crucial. The view from outside has to deliver.
Nooe said, "I've had people drive up and say, 'This yard is a fiasco. When I see that, it makes me wonder if they aren't taking care of the house either.'"
Make sure the lawn is mowed and edged. Consider planting some flowers and painting exterior trim.
On the other hand, be wary of replicating the Gardens of Versailles. If things look too intricate or perfect, your potential buyers may have visions of spending all of their time maintaining the yard, Nooe warned.
Consider Professional Photographs and a 3-D Tour
If you have any doubts about your photo skills or equipment, consider professional help for your listing photos, if you can afford it.
"If they don't have that edge to know how to take pictures with the right angles, they need a professional photographer," Nooe said. "I've had people rule homes out just because the pictures weren't good."
Trapasso also emphasizes the importance of strong imagery for attracting serious buyers and for getting higher offers.
"Most of us can take a decent iPhone photo, but professionals can light it right, stage it right," Trapasso said. "People are having to shell out a lot of money with high prices and high rates. Give them the justification to spend that money."
Tours of homes in 3-D have risen in popularity and are often considered a must for more expensive homes, Nooe added.
When It Comes to Showings, Be Accommodating
This one is pretty straightforward. Getting your home to sell for the price you want is all about increasing your odds. When you turn down showings because the timing is inconvenient for you, those odds get longer.
"Clean out the clutter, get the house in tip-top shape and be flexible with your schedule," Trapasso said. "The more people who see your house, the better."
Set the Correct Price
When it comes to making your house sellable, Trapasso said, nothing is more important than setting the right price. Go too low, and you sell yourself short. Go too high, and you risk the home sitting on the market for too long and making potential buyers wonder why.
"You really need a good strategy (on price)," Trapasso said. "Look at the comps. Talk to your agent. The longer it sits on the market, people may think there's something wrong with it."
Then again, depending on where you're selling, inventory sitting around for long may not be an issue. A house two doors down from Nooe's residence in the Charlotte area recently went on the market, received 11 offers and went for $150,000 over asking price — all within 24 hours.
"It's all changed from what it was like years ago, when I started," Nooe said, reflecting on 36 years in the business. "Back then, there was more supply than demand.
"If you sold a house in three months, that was pretty good. Now, in Charlotte, if it takes more than three days, you're wondering what's going on."
More From GOBankingRates