I'm a Real Estate Agent: This Is What Gen Z and Millennials Are Up Against in the Housing Market — and What They Can Do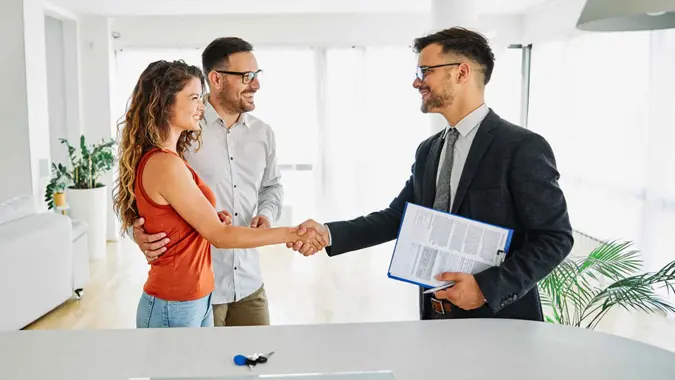 Paperkites / Getty Images/iStockphoto
Half a century ago, a baby boomer couple in their early 30s could easily buy a forever home. But Gen Zers and millennials looking to forge the same path are running up against major hurdles.
Suddenly, it feels like buying a home is an impossible goal. Below are a few common obstacles young homebuyers face and expert advice on how to overcome them. 
High Prices
Anyone who loves to peruse Redfin and Zillow knows that home prices have risen over the last few years. Add in a mortgage loan interest rate hovering at 8% and you need quite a chunk of change to even consider affording any house, let alone your dream home.
One way to combat high prices is to ditch the idea of a forever home. Instead, look for a house that fits your budget now. This may mean settling for a smaller starter home that needs some love. Real estate always appreciates. Buying something smaller now means you could sell it down the road in order to afford something bigger. 
Widen the scope of where you want to live, said Neha Gharpande, a real estate agent with Elite Properties New York. Rather than looking to buy in the most popular places, look for a house in up-and-coming neighborhoods. If you can work from anywhere, consider buying a house in a cheaper city.
If you're dead set on location, Mike Gregor, a Connecticut realtor, suggested looking into alternatives like government programs, subsidized houses or shared ownership schemes. For instance, co-owning a house with a family member or friend will alleviate some of the financial burdens of both the initial purchase price and the mortgage. It also allows you to potentially get a better house.
No Savings
Baby boomers were lucky enough to come of age in an economy where they could find steady jobs straight out of high school and college. Saving for a home was easy back then. Many Gen Zers and millennials are trapped working in a gig economy, living paycheck to paycheck while also saddled with student loan debt. With these constraints, saving for a downpayment on a home can seem like a huge undertaking, but it's not impossible.
"Cut unnecessary expenses, create a budget, and automate savings contributions to build a down payment fund," Gregor said. He also suggested seeking out professionals to help improve your understanding of personal finance and homeownership. 
Gharpande advised tackling student loan debt while you're trying to save by creating a comprehensive plan to manage your debt. Don't be afraid to explore using income-driven repayment options, loan forgiveness programs or even looking into refinancing your loan to lower your interest rates and reduce your monthly payments. If you're open to changing jobs, she also suggested looking for an employer that offers student loan repayment assistance as part of their benefits package.
Don't Qualify For a Loan
Paying all cash for a house is an impossibility for most first-time buyers. But what happens if you also don't qualify for a loan? If you have poor credit history or insufficient income, you may find it hard to secure a home loan. In fact, according to a 2022 study done by the Consumer Financial Protection Bureau, between about 6% and 16% of applicants were denied a loan (percentages varied based on race). 
If bad credit is your issue, Gharpande suggested that you improve your credit score in preparation for buying a home "by paying bills on time, reducing debt, and maintaining a low credit utilization ratio." She also mentioned that saving for a higher down payment could improve your chances of getting a mortgage because the size of the loan will be smaller.
Another way to up your chances of getting a loan is to look for steady employment. "Lenders prefer borrowers with a consistent employment history, so avoid frequent job changes," Gregor stated. If all else fails, Gregor advised looking into government-backed FHA loans which have more lenient requirements.
Wanderlust
Scroll through social media and you'll find many Gen Zers and millennials attending big music festivals, experimenting with van life or spending time as a digital nomad abroad. Yes, this generation, more so than others, values experiences above all else. But marrying wanderlust and homeownership can be tough — especially on a limited budget. Gregor suggested taking stock of whether homeownership is right for you. Does it align with your long-term goals? If it doesn't, that's OK. Gregor advised those unwilling to give up big-budget experiences should seek alternative housing options like renting or co-ownership. 
More From GOBankingRates