Real Estate Agents: Put an Offer on a House If It Has Any of These 10 Features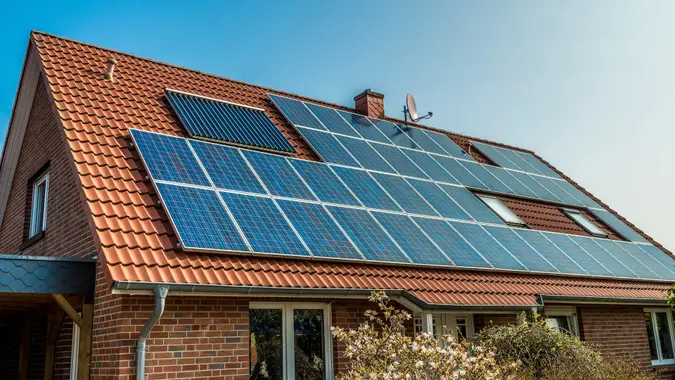 ©Shutterstock.com
If you're in the market for purchasing a home, you've likely created a checklist in your head of what you're looking for. While the real estate market has seen prices skyrocket over the last few years as inventory remains tight, there are still some features that you should look out for when house shopping.
Here are 10 features that make a home attractive enough to put an offer in immediately. 
Also see Dave Ramsey's advice on how to choose the best offer if you are selling your home.
Minimal Work Needed To Be Completed
"I'm never certain of what particular feature someone will love, but I find that homes with less work to do have less trouble selling," said Chris Craddock, a real estate agent in Toronto.
Craddock shared with us how challenging it can be to find a property that's ready upon viewing since many sellers know that the market demand is high right now. 
When the real estate market is competitive, you want to make an offer when you notice that a house doesn't need much work. This will save you money in the long run because you don't want to invest your life savings into a home that will require additional capital investments. 
Energy-Efficient Features
"An energy-efficient home with green features — like great insulation, solar panels or energy-efficient appliances — is extremely attractive right now," said Elphi Bolombo, a real estate agent in Toronto.
With the world slowly transitioning toward greener energy sources and with electricity costs going up, many home buyers are looking for ways to embrace energy-efficient products. 
Aja McClanahan, a financial writer and real estate agent from Space Coast Move HQ, echoed this sentiment.
"Since there's been an increase in home prices and interest rates," she said, "homebuyers are looking to get the most value out of their home purchases. The goal is to optimize space and minimize costs. This might mean looking for energy-efficient features like windows or appliances."
If you find a listing with energy-efficient features, you will want to put an offer in. You'll save money in the long run with a home that relies on more efficient energy sources. 
Additional Living Space 
"Properties that can accommodate multiple families or house guests in a separate unit do well," McClanahan said when discussing what features her clients look for. "Accessory dwelling units (ADUs) or extra space that can be converted into a mother-in-law suite or can make homes more attractive to buyers looking to accommodate multi-generational homes or add income potential to their home purchase."
With the opportunity to bring in some extra money, making an offer on a property with a bonus living space makes sense. The additional space also could be helpful if you plan on entertaining company or you have older relatives who need somewhere to stay. 
Finished Basement
"A home with a rental aspect to it, like a finished basement with a separate entrance, is definitely a feature to look out for," Bolombo said.
This feature is in demand because the finished basement could be used for rental income — via long-term tenants or from short-term rental platforms like Airbnb. You also would save money since you don't have to spend more on finishing the space in the future. 
Swimming Pool
"Since the pandemic, pools are now seen as a premium feature, and you might have to pay an extra $100,000 for a home with a pool," according to Bart Druzba, a real estate agent with Nova Realty Group.
While a swimming pool hasn't always been attractive due to the maintenance costs, there has been an increased demand for them as more people turn their backyards into retreat-like spaces. If you find a functioning pool, you should consider putting an offer in because they're getting more expensive. 
Ideal Location
Realtors often have praised the value of location, and this feature certainly can't be ignored. The ideal location will depend on what you're looking for, as your stage in life will play a role here. However, if you find a property listing in your ideal location, you're going to want to make an offer so the property doesn't slip away. 
Here are a few points to consider when it comes to location:
The safety of the community
The property taxes
Access to grocery stores and schools
Commute to work
Beautiful Garden/Attractive Landscaping  
Many homebuyers are looking for a garden because that's where they'll spend most of their time. If you find a property with a garden that has proper landscaping and plenty of space, you will want to make an offer.
You're likely going to be spending a significant amount of time outdoors, so you want to ensure that the landscaping has been completed so you don't have to spend additional funds on this.
Home Inspection Done  
All of the real estate agents we spoke with agreed on the importance of a home inspection. While there was once a time when most people wouldn't purchase a property without a thorough home inspection, the bidding wars during the last few years have led many buyers to forgo proper inspections. 
If you can find a property that has had a home inspection done on the seller's side, you will want to make an offer. You could save money because you'll know exactly what you're purchasing instead of finding out a few months later that you must spend thousands on structural issues. 
Garage Storage Space
Chances are that you will want space for all of your items. If you find a house with noticeable garage storage space, you're going to want to make an offer because you won't have to spend money on purchasing a shed or renting out a storage locker. 
Open Layout
Craddock stressed the importance of open concepts with natural lighting. This means that you're going to want to see the property during the day so you can observe how the lighting is. You can save money with natural lighting, and your home could feel more spacious. 
Closing Thoughts
Even though the real estate market has been through a few interesting years, some features should entice you to make an offer on a home. As always, you should have your finances in order before bidding on a property so you don't waste your time. You're also going to want to ensure you can afford the down payment and the monthly mortgage payments.
More From GOBankingRates