Real Estate: Mortgage Rates Finally Drop — Will It Be Better To Buy a House at Thanksgiving or Christmas?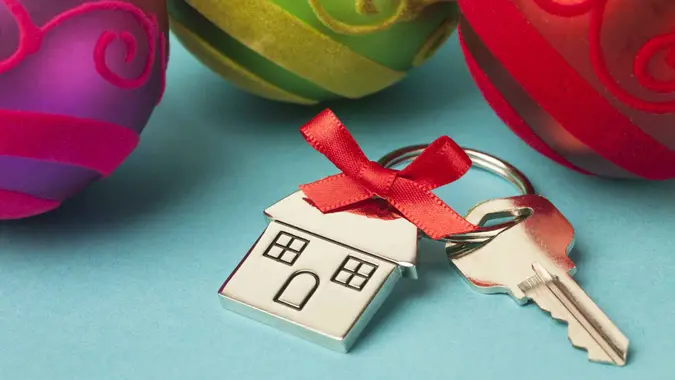 MarsBars / Getty Images
Pleasing most would-be homebuyers, mortgage rates finally dropped earlier this week. The 30-year fixed mortgage rate dropped by 25 basis points to 7.61% from 7.86%, the largest single-week decline since July 2022, according to the Mortgage Bankers Association (MBA). This comes after weeks of the 30-year rate hovering around 8% and follows the Federal Reserve rate hike pause on Nov.1, which was likely a driver of the mortgage rate decrease.
But does this mean that now is a good time to buy a house? And if so, should homebuyers take the leap of faith at Thanksgiving or Christmas?
Strike While the Iron Is Hot
"The rule of thumb for home buying is to strike when the iron is hot, meaning as soon as you can afford to buy, buy," said Dan Mugge, chief operating officer for Calque. "There is no return on renting, so even with home prices still strong and interest rates still high, homebuying remains favorable to paying even one extra month to your landlord instead of to your property investment."
Indeed, the combination of high prices, low inventory — partly due to homeowners who'd rather stay put due to the low mortgages they secured a few years ago — and exploding mortgage rates have left many homebuyers on the sidelines.
Jason Sorens, senior research faculty for the American Institute for Economic Research, echoed the above sentiment, saying that while "economists are notoriously bad at predicting the future," if he were buying a home, he'd jump on the decline in rates. There's a chance current rates don't hold up if future inflation numbers come in higher than expected, he indicated.
"Also, inventory typically declines around Christmas and January, so you might have a bit more choice out there right now. But we could still have a recession next year, in which case rates will probably fall a lot then," he added.
Also: The Average American Spends This Much on Rent — See How You Stack Up
Cautious Optimism — Beware of Potential Price Increases
As Realtor.com senior economic research analyst Hannah Jones explained, mortgage rates softened in response to the Fed's second consecutive pause earlier this month. However, they will continue to be influenced by incoming inflation data and the Fed's policy decision at the December Federal Open Market Committee (FOMC) meeting, she suggested.
Jones added that while falling mortgage rates spell opportunity for home shoppers who have been discouraged by the climbing cost of homeownership, housing competition is "fierce" in many areas as housing demand outstrips for-sale inventory.
"If more buyers respond to falling mortgage rates than sellers, this dynamic could worsen, applying more upward pressure to home prices and eliminating the benefit of lower rates," she said. "Buyers should keep a close eye on this dynamic as they evaluate the timing of a home purchase this winter."
More From GOBankingRates