The Average American Spends This Much on Rent — See How You Stack Up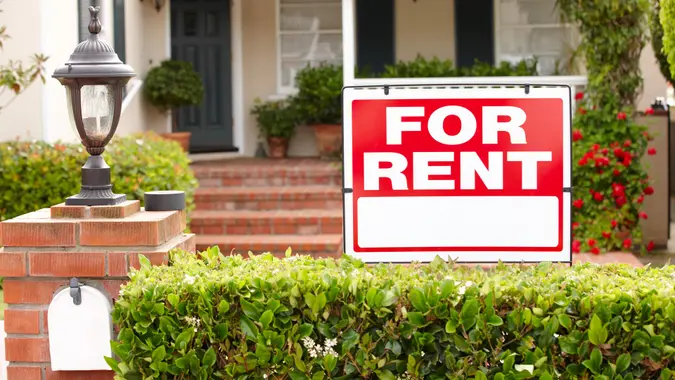 monkeybusinessimages / iStock.com
In the ever-changing landscape of personal finance, few metrics are as revealing as the amount one spends on rent.
It's not merely a figure on a monthly bill; it's a reflection of individual financial strategies, regional disparities and broader economic trends. In August 2023, GOBankingRates conducted an illuminating survey, canvassing the financial habits of 1,091 Americans aged 18 and older from diverse corners of the nation.
The survey's fascinating insights are a key to understanding how your rent stacks up against the broader landscape. Let's dive in.
A Lot of People Are Paying $500 or Less
The survey shows that a good chunk, about 21%, of renters are paying $500 or less for their monthly rent. However, it's not the same for everyone. More women, around 24%, are in this lower-rent group compared to men at about 17%.
This means that women, on average, might have less money coming in than men, making it harder for them to afford higher rent. It could also have to do with where people choose to live or if they share their living space with others.
So, while a good number of renters are paying less for their homes, it's important to recognize that not everyone's situation is the same, especially when it comes to gender. This information highlights the need to address these differences and make sure everyone can find affordable housing.
The Other End of the Spectrum
Another interesting finding emerged: Approximately 2% of renters are paying rent exceeding $4,000 each month. When we break down this data by gender, we discover that 1.4% of women and nearly 3% of men fall into this high-rent category.
Make Your Money Work for You
This observation sheds light on the diversity within the housing market, showcasing a range of income levels and housing preferences. The disparity between men and women in this category implies possible income differences, where men may, on average, earn more, affording them the ability to rent higher-priced properties.
Moreover, this trend may be more prominent in urban centers, where the cost of living tends to be higher, leading to increased demand for luxury apartments or high-end rentals. It also suggests that some individuals willingly allocate a significant portion of their income to rent in exchange for specific amenities, locations or lifestyle choices offered by more upscale properties.
But What's the Most Common?
The survey shows that a lot of people, around 32%, pay rent in the range of $501 to $1,000 every month. When we look at it by gender, 30% of women and 34.5% of men fall into this category.
So, if you're in this group, you're in good company with many Americans who are also managing their housing expenses in this range. It's a common choice that accommodates a wide range of people with different budgets and needs in the housing market.
Jodi Thornton-O'Connell contributed to the reporting for this article.
GOBankingRates surveyed 1,091 Americans aged 18 and older from across the country between Aug. 14 and Aug. 16, 2023, asking twenty different questions: (1) Have you had trouble paying your utility (gas, electric, heat, internet, etc.) bills in the last 6-12 months?; (2) Which of the following bills/expenses has been the hardest to keep up with over the past year?; (3) Have you bought a car/truck in the last 6-12 months?; (4) Have you ever been on food stamps?; (5) Have you or would you use artificial intelligence (AI) to earn a passive income?; (6) Where do you shop for the best deals on groceries?; (7) What is your current annual income?; (8) How much were you able to contribute to your savings this year?; (9) How much have your savings/investments decreased over the past year?; (10) Next year's (2024) Social Security Cost of Living Adjustment (COLA) will be 3% instead of the 8.7% it saw in 2023. Will this affect you?; (11) What assets do you have in your retirement portfolio? (select all that apply); (12) How much money do you currently have saved for retirement?; (13) How much personal savings do you currently have?; (14) What's the first step you would take if you were starting a small business?; (15) If given the choice between your current job and starting your own business, which would you choose?; (16) If you have any plans to start a small business, what is the timeline?; (17) How much do you currently spend on rent?; (18) How much do you currently pay monthly on your mortgage?; (19) How much has your housing (rent, mortgage, etc.) gone up over the past year?; and (20) How long do you believe it will take you to save, in order to buy a house?. GOBankingRates used PureSpectrum's survey platform to conduct the poll.
Make Your Money Work for You
More From GOBankingRates