Real Estate Woes Continue as Only 21% of Americans Say Now Is a Good Time To Buy a House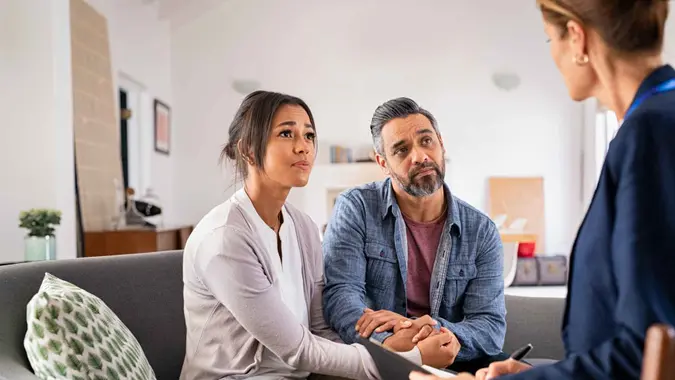 Ridofranz / Getty Images/iStockphoto
The path to homeownership has been an arduous one for many Americans in recent months. Soaring mortgage and interest rates, inflation and low supply represent some of the culprits.
And while home prices seem to cool down, Americans' sentiment toward buying a house has reached a new low. Only 21% say that now is a good time to buy a house, new Gallup research found.
This year and last are the only years during which less than half of Americans have perceived the housing market as being good for buyers since Gallup began recording the trend in 1978.
"In the past two years, as housing prices have soared and the Federal Reserve has raised interest rates to try to tame inflation, houses have become less affordable for many Americans, and views of the housing market have tumbled," the survey noted.
What's more, these views are similar across all major subgroups — including by region, urbanicity, homeownership status, income, education and party identification. These attitudes may keep many prospective homebuyers out of the market, Gallup noted.
"For many U.S. consumers, the volatility of the housing market between 2007 and 2011 is still very fresh in their minds," said Peter C. Earle, economist at the American Institute for Economic Research. "If they themselves didn't purchase at ridiculously high prices or sell at prices that proved far too low in retrospect, they've watched others do so — and no doubt seen or heard horror stories about foreclosures during that time period."
U.S. Consumer Still Spooked By COVID-19 Economic Hangover
Another factor in the reticence to enter the housing market, Earle said, is the lingering economic uncertainty and weakness post-Covid, coupled with a slowing economy. Inflation and rising interest rates from the Fed attempt to subdue the rise in prices.
"Undertaking a major purchase (as well as monthly payments) under all of these conditions seems particularly ill-advised," said Earle, adding that peripheral factors — such as higher gas prices and credit tightening — are playing a role as well.
"With the inflation-driven price levels and the spike in gas prices after the Russian invasion of Ukraine last year, buyers are less likely to purchase a home that brings with it a substantial increase in their commute. And between the Fed hiking rates 5% over the last sixteen months and the collapse of Silicon Valley Bank and a handful of other regionals, mortgages are less accessible today than they were as recently as six months ago," he added.
Median Home Sale Price Increases
The median home sales price was $436,800 in the first quarter of 2023, according to the Federal Reserve Bank of St. Louis, an increase from the $433,100 in the first quarter of 2022. This figure, however, also represents a decrease from the $479,500 median price in the fourth quarter of 2022.
Yet, many Americans still view real estate as the best long-term investment compared to stocks and gold, for example. However, only 34% of Americans chose real estate this year, down sharply from last year's record-high of 45%, according to an earlier Gallup poll.
Finally, the Gallup research found that 19% of Americans expect home prices to decrease in the coming year.
In a bit of good news, the research also noted that any stabilizing or downward pressure on home prices could make houses more affordable for Americans, particularly if interest rates also stabilize or decline in the coming years.
More From GOBankingRates