The 11 Safest Places To Retire in Texas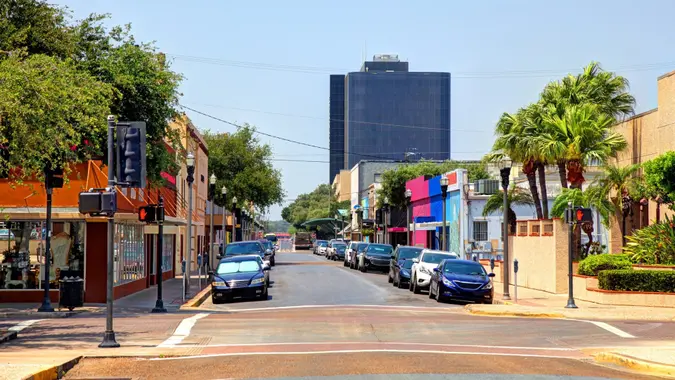 DenisTangneyJr / Getty Images/iStockphoto
With its warm weather, no state income tax, and a low cost of living, Texas is an ideal place to retire. Of course, when thinking about a retirement destination, safety is a top concern. Knowing this, GOBankingRates compiled a list of the 11 safest places to retire in Texas. 
Horizon City
Horizon City is a suburb of El Paso located in east El Paso County. With a population of over 23,000, Horizon City has very low crime rates. In fact, violent crime rates are 77% lower than the Texas average. The cost of living is reasonable, with housing prices averaging around $210,000 according to Redfin. The climate is mild year-round, with over 300 sunny days per year. Horizon City offers a peaceful suburban lifestyle with easy access to El Paso's amenities.
Fulshear 
Fulshear is a Houston suburb in Fort Bend County. This small town of around 25,000 residents has very low crime rates, with violent crime 18% below the state average. Fulshear is considered one of the safest places in the U.S. Housing is a little steeper than in some parts of Texas, costing around $581,000 on average, according to Redfin. Fulshear has a classic Texas small-town vibe, with community parks, hiking trails and recreation centers. The mild climate and proximity to Houston make Fulshear an excellent retirement option.
Colleyville
Located in the Dallas-Fort Worth metro area, Colleyville has around 26,000 residents. This charming Dallas suburb is extremely safe, with violent crime rates 74% below the state average. Colleyville has highly-rated schools and over 20 city parks. The historic downtown area features boutiques, restaurants and seasonal festivals.  
Fairview
Fairview is a town in Collin County with a population of around 11,000. Crime rates in Fairview are very low, with violent crime 66% less than the Texas average. Property crime is also minimal. Housing costs average around $965,000 according to Redfin. Fairview offers a small-town feel with easy access to jobs and amenities in the Dallas metro area. Education, healthcare facilities, and public services are excellent. Fairview frequently tops lists of the best Dallas suburbs for families and retirees.
Elgin 
Located just east of Austin, Elgin has about 10,500 residents. It's a safe, affordable town with charming historic neighborhoods. The city is about 88% safer than most U.S. cities. Housing costs are very affordable, averaging $325,000 according to Redfin. Elgin is known for its annual sausage festival, wineries, antique shops, and restored 19th-century architecture. The temperate climate and proximity to Austin make Elgin a great choice.
Kerrville
Nestled in the Texas Hill Country, Kerrville offers gorgeous scenery and small town charm. The population is around 23,000. Impressively, violent crime rates are 47% lower than the average for U.S. cities. Kerrville is considered one of the top retirement towns in Texas, with median housing rates hovering just around $400,000 according to Redfin. Outdoor recreation like hunting, fishing, and hiking is plentiful. Kerrville has its own quality healthcare and is just an hour from San Antonio's healthcare facilities.
Friendswood
Friendswood is located in the Greater Houston area, right near Galveston Bay. The city has exceptionally low crime rates, with only .63 violent crimes and 5.93 property crimes per 1,000 residents. Friendswood offers small town appeal along with big city conveniences thanks to its proximity to Houston. Retirees can enjoy its walkable neighborhoods, parks, golf courses and waterfront views. 
Sugar Land
Nestled in Fort Bend County, Sugar Land stands out as one of the safest cities in Texas. This mid-sized suburban community boasts exceptionally low crime rates compared to other urban areas across the state and country. Violent crime occurs at a rate of only 12.28 incidents per 1,000 residents — 49% less than the average for Texas. Sugar Land's high marks for public safety make it one of the most secure cities not only in the Lone Star State but the entire USA. Recreational amenities also abound, with new hot restaurants constantly popping up and a vibrant nightlife scene. For those seeking an urban oasis with small town charms, Sugar Land is a choice destination.
Johnson City
Also located in the scenic Hill Country, Johnson City has around 1,800 residents. It is the smallest town to make this list but don't let the size fool you. The violent crime rate in Johnson City is 10.3%, which is much lower than the U.S. average of 22.7%. Housing is more expensive compared to some other towns, averaging $414,000 according to Redfin. Johnson City is best known as former President Lyndon B. Johnson's hometown and boasts the LBJ National Historical Park. The area is also renowned for wineries, shopping, and outdoor recreation. The natural beauty and safety make Johnson City ideal for retirees.
McAllen
McAllen is located in the Rio Grande Valley along the southern tip of Texas. With approximately 143,000 residents, McAllen is the third-ranked safest city in the country for 2023 according to SmartAsset.com's Top 10 Safest Cities list. Property crime is also lower than average. Housing is also affordable, costing around $285,000 on average according to Redfin. McAllen offers a unique blend of Tex-Mex culture, food and entertainment. The temperate weather and proximity to Mexico make McAllen an appealing retirement destination.
Memorial Villages
Composed of six distinct villages — Spring Valley, Hillshire, Hedwig, Bunker Hill, Hunters Creek, and Piney Point — Memorial Villages represents one of the safest communities in Texas. Nestled in the pine forests near Houston, these affluent small villages united to form a dense urban cluster. With a minuscule violent crime rate of just 0.08 incidents per 1,000 residents, Memorial Villages registers over 99% lower crime than the state average. Its unique structure and modest total population contribute to Memorial's reputation as an exceptionally secure area. Yet residents also treasure the region for its abundant greenery, critically acclaimed eateries, and high-end boutiques scattered throughout the villages.
Deciding where to retire in Texas comes down to your preferences. These cities and towns ranked highest for low crime rates coupled with comfortable amenities and affordable housing. From small towns to metro suburbs, there are many safe havens to consider when planning your Texas retirement. Do your research to find the right community for your needs and start enjoying your golden years in the Lone Star State.
More From GOBankingRates