Should You Rent a House or an Apartment? Which Is Really Better for Your Budget?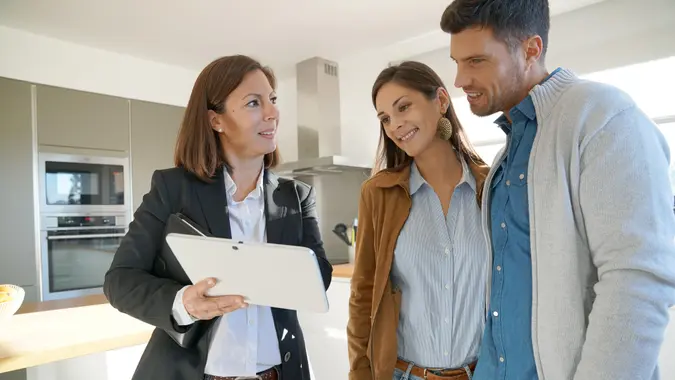 goodluz / Shutterstock.com
Let's say you're in the market to rent a new place to live but you're not sure what type you want. Both apartments and houses come with unique pros and cons, so it's up to you to figure out the best fit for both your lifestyle and budget.
GOBankingrates asked Kendall Meade, a financial planner at SoFi, what consumers should consider when deciding whether to rent an apartment or a house.
Assess Your Needs
Ultimately, the decision will depend on your unique situation, said Meade. Gather as much information as you can about the property you're interested in to know if it's truly right for you.
"For example, those with kids and/or dogs may prefer a house with a yard, whereas a single person or couple with no pets or kids may prefer an apartment or condo for less upkeep," she said.
She pointed out that it can be more expensive to rent a house than an apartment, but not always.
"It is important to speak with your landlord to understand what costs they will cover versus what you may have to pay for," she said. "Some landlords may cover yard maintenance, others will require you to do so."
It's also important to consider the cost of utilities. "Depending on the size of the home you rent, other bills such as electric or gas can be higher as well, but again it is important to know who covers these bills," she said.
For reference, the average American household has a monthly electric bill of $121.01, according to the U.S. Energy Administration. Similarly, while the average cost of a gas bill tends to fluctuate throughout the year, it evens out to be around $100 per month, according to Inspire Clean Energy.
Gather all the details about the property to assess it before you decide if you want to rent there.
Average Value of Apartment Amenities
If you're interested in amenities, Meade noted that many apartment buildings come with features such as a pool, gym and clubhouse. "For some people that may be important, but others may not use it," she said.
Therefore, you'll need to take the time to consider how often you'll actually use the amenities that come with the building. Here's a look at some common apartment amenities and their average price on their own:
Pool membership: Approximately $800 per swim season (or annually) for a family and $450 per swim season for individuals
Gym membership: Approximately $50 per month
It's also important to note that many apartments also include some utilities in the rent — like trash or water — which can also make your monthly living expenses more affordable. However, you might also be charged a monthly rate for features such as parking and pet rent, while having to pay to do laundry in shared facilities, which could add up fast.
Added Costs of Renting a House
Renting a house may come with added responsibilities, some of which might cost you money. "The extra responsibilities of renting a house can be worth it if you want a yard or more space," Meade said. "Common reasons for this include having kids or pets."
She can relate to this on a personal level. "Prior to adopting my dog, I preferred [renting] a condo because I didn't have to maintain a yard and had less to clean," she said. "However, once I had my dog I preferred a backyard to allow her to run around in."
As she noted, any added expenses you'll face when renting a house can vary largely by landlord. Here's a look at a few costs you might have to pay with a house that you probably won't with an apartment, according to Angi and HomeAdvisor:
General Landscaping: Plan to spend $50 to $250 per visit for lawn mowing. Add another $125 to $450 per visit for any additional maintenance.
Pest Control: The national average cost is $172 per visit.
Security System: Prices vary greatly, but range from $280 to $2,000 for installation and $10 to $65 for monthly monitoring.
Garbage Pickup: Residential garbage collection costs around $25 to $100 per month.
While there may be extra expenses with a house, some other common add-ons of living in an apartment — i.e., paying extra for parking, having to do laundry in shared facilities (and pay extra for it) and pet rent — will likely be non-existent when renting a house.
Housing Costs Vary Greatly Across the Country
Since housing costs vary greatly across the U.S., the area in which you live will likely play a major factor in whether an apartment or house fits your rental budget.
For example, the average monthly rent in California is $1,930, but a much more affordable $1,098 in Minnesota, according to a GOBankingRates study. Therefore, even people with the same housing budget living in different states or cities might find a house fits one person's budget, but the other can only afford an apartment.
Before signing a lease on any type of dwelling, make sure to read the fine print. The last thing you want is to rent a home you think you can afford, only to later realize you're expected to pay additional expenses or fees that don't fit your budget.
More From GOBankingRates