5 Best States To Buy Property in the Next 5 Years, According to Real Estate Agents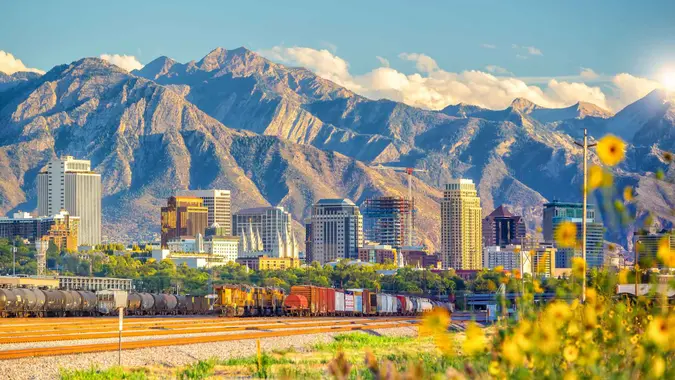 f11photo / Getty Images/iStockphoto
As any house hunter knows, where you buy is just as important as what you buy. Finding that perfect alchemy of affordable housing in an area that offers a good job market, great public schools, the right weather and a political and social climate that reflects your values can seem like an impossible task. This is especially true in our current real estate market which boasts not only high prices but even higher mortgage rates. 
But what about five years down the road?  According to U.S. New and World Report, we're in for a bumpy ride thanks to the aftereffects of the COVID-19 pandemic, climate change and housing shortages. To help you with your future housing search, we've compiled a short list of states that are ripe to buy in the next five years.  
Idaho
According to Ryan Fitzgerald, realtor and owner of Raleigh Realty, Idaho is one of the fastest growing states thanks to a low cost of living and property prices that are known to substantiate over time. In fact, Idaho's home values are rising faster than any other state — having almost doubled in the last five years. 
Fitzgerald also pointed out that, "Boise, the state's capital, is famed for its safe neighborhoods and commendable school systems."  Add to that a job market that's expected to grow 1.5% a year until 2030 and you can understand why it's a top place to consider setting down roots.
Utah
Utah is dubbed the "Silicon Slopes" thanks to its booming tech industry. But according to Fitzgerald, that's not the only plus Utah has to offer. The beehive state also boasts a robust economy, vibrant outdoor life, low unemployment rates and a thriving real estate market that's shown consistent appreciation over time.   
Colorado
If you're an environmentally conscious buyer, Neha Gharpande of Elite Properties NY, suggested Colorado thanks to its commitment to sustainability, renewable energy and green living. She also stated Colorado has seen significant job growth, particularly in the areas of technology, aerospace and healthcare. "The state's strong economy translates into increased housing demand," Gharpande said, "Also, the potential appreciation for property values." Like Utah and Idaho, Colorado boasts a stunning landscape and plenty of opportunity for year-round activities that, Gharpande noted, attract tourists and residents, which in turn adds to its real estate market's desirability.
North Carolina
According to Gharpande, North Carolina's affordable housing market makes it an attractive choice for first-time homebuyers as well as those seeking a cost-effective lifestyle. In fact, the state offers a lower cost of living than many states in the same region of the country. Depending on what city you're in, the cost of living is anywhere from 4%-11% below the national average.
Fitzgerald had North Carolina on his list thanks to the Research Triangle Park which has been a magnet for pharmaceutical and tech firms. "This influx has stimulated a healthy job market, and housing remains relatively affordable," he said.
Fitzgerald also thought North Carolina was set to flourish because of its blend of city living and beautiful outdoor spaces. While Gharpande touted its numerous cultural and outdoor activities as appealing to families and individuals looking for a "well-rounded living experience."
Texas
The lone star state has seen a boom in interest since the pandemic, and according to our real estate experts that isn't slowing down anytime soon. "Over recent years, I've noticed a noteworthy influx of tech companies gravitating to this state, with Austin acting as a significant tech hub," Fitzgerald said, "This migration has introduced high-earning jobs and elevated housing demand. Coupled with an affordable cost of living and a pulsating cultural scene, Texas presents an appealing opportunity."
Gharpande had a similar take but added that a lower cost of living coupled with an affordable housing market attracts both first-time buyers and investors interested in attractive rental markets. She also said, "Texas boasts a pro-business climate, with favorable tax policies and fewer regulations." This kind of environment, Gharpande added, fosters economic growth which in turn positively impacts property values.
More From GOBankingRates