I'm a Real Estate Agent: 5 Suburbs the Rich Love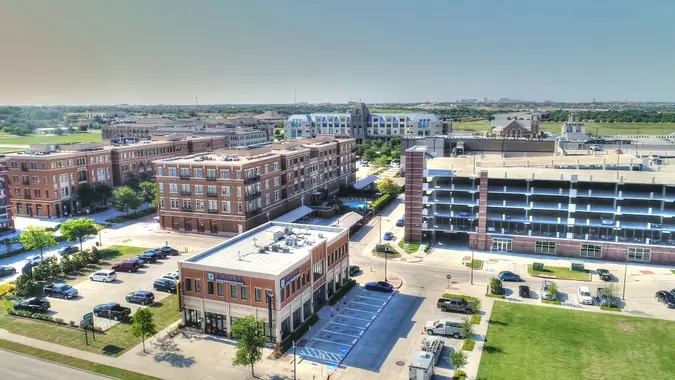 Andrew Fuller / Shutterstock.com
Major hubs like New York City, San Francisco, Los Angeles and Honolulu have some of the highest real estate prices in the country. But while only wealthy individuals can comfortably afford to buy property in these big cities, that doesn't mean they always want to. For those who are looking for more wide open spaces, less traffic, and more privacy — among other things — a suburban lifestyle is far more appealing than an urban one.
If you're curious about some of the top U.S. suburbs that attract the wealthy, you're in the right place. Real estate experts Melissa Zimbelman, Lisa Rutkowski, and Zach Steinberg weighed in. Here's what they said.
Summerlin, Nevada
According to Melissa Zimbelman, Realtor and property manager at LUXE International Realty & Property Management, Nevada has several attractive, expensive suburbs.
"In the Las Vegas area market, we have a well-known west-side 'suburb' that is owned/run by the Howard Hughes Corporation. While still technically part of Las Vegas, it is a master-planned community called Summerlin. It has been voted the top master-planned community in the nation for many of the last 33 years it has existed," said Zimbelman.
Summerlin also "features some of the best rated public and private schools in our area, has over 230 community parks, has over 200 miles of walking/biking trails, as well as convenient access to high-end retail/shopping centers, celebrity-run restaurants, and a variety of luxury home options." She added, "The highest priced home listed there currently is $23,500,000."
Along with excellent amenities and high-end real estate, other factors that draw in wealthy individuals include convenient access to an array of services, activities, restaurants and high-end brands. Security and privacy are also key factors.
Winter Park, Florida
Located in Central Florida is Winter Park, another suburban area that tends to attract the rich. This is due to many reasons, not least of which include the available amenities and exclusivity of this high-end community.
"Winter Park is considered a destination town. Just north of the city of Orlando, you'll find residents walking their dogs and driving down Park Avenue in custom Mokes and golf carts," said Lisa Rutkowski, real estate advisor with Premier Sotheby's International Realty.
"Park Avenue is lined with fantastic restaurants and boutiques, most with water bowls at the front door as this is a very pet-friendly community," Rutkowski added. "For those who choose to live in Winter Park, from all walks of life, you can expect a range of price points and available amenities to include estate homes along the Winter Park Chain of Lakes, golf course properties, and luxury condos. The highest sale in the last 6 months in Winter Park closed at $6 million."
Windermere, Florida
Right up there with Winter Park is Windermere.
"Some of Central Florida's most expensive, exclusive homes are located within Windermere and Winter Park," said Rutkowski. "While the average price per square foot for real estate in each of these communities is approximately $330, the square footage and features that homeowners desire here are impressive!"
As a suburban area, Windermere also offers a slower pace, which appeals to many. The community also has plenty to offer.
"At the heart of this affluent community is a quaint town center that hosts a Friday morning farmer's market. This feels like old Florida, with only a few small shops, restaurants, and a brewery. If you just happened to drive down Main Street, you would never guess that you could find some of the most spectacular Central Florida properties here," said Rutkowski.
She added, "Following the sand/dirt roads that are a passionately community-kept charm, you'll find beautiful, gated estate homes with lakefront docks. The most exclusive homes, some belonging to celebrities, are within the guarded gates of Isleworth. This is where you will find the home that in the last 6 months, sold for $12 million."
MacDonald Highlands and Seven Hills, Nevada
Macdonald Highlands and Seven Hills are both suburbs located near Las Vegas, ones that often attract the affluent.
"On the southeast side of the Las Vegas Valley, in Henderson, are Seven Hills and MacDonald Highlands, which also feature amazing luxury homes and high-end retail and restaurants," said Zimbelman. "Tucked into the hills and surrounded by stunning golf courses, many of these areas/homes also have gorgeous Las Vegas Strip/city views. The highest price listing in MacDonald Highlands is $29,900,000."
As for what makes these specific locations attractive, here's what Zimbelman said: "Access to high-end retail, restaurants, services, and entertainment is typically what our most discerning clientele are looking for. Privacy, security, and convenience are key, as well. Easy access to the airport and freeways/parkways is also top criteria for our high-end clients."
Frisco, Texas
Located in Collin County, Frisco, Texas is another high-end suburban area for the wealthy.
"We are seeing continued demand for properties in Frisco and most parts of Collin County (just north of Dallas County)," said Zach Steinberg, senior general manager at New Western's Dallas (Fort Worth office).
This community has enough to attract not only the wealthy but also those looking for a new home for their family.
"People from the coasts continue to move to Collin County due to the strong employment, great schools, and more affordable housing based on where they are moving from," said Steinberg. "Frisco has many amenities that wealthier residents enjoy. New major developments with lots of entertainment options (PGA, Universal Studios, The Star, Shops at Legacy)… high end dining, shopping, sports and concerts — all within a short drive."
More From GOBankingRates