Suze Orman's Signs You're Not Ready To Buy a Home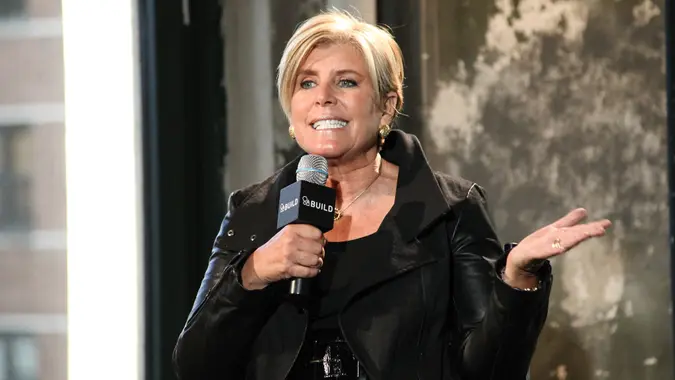 Mediapunch/Shutterstock / Shutterstock.com
For many Americans, homeownership is an important part of living the American Dream. Not only does it feel like an important step in being a financially responsible adult, but for most Americans, a home ends up being the single biggest contributor to family net worth.
Even if your lifelong dream is to buy a home of your own, there are times when it makes financial sense and times when it doesn't, according to famed personal finance expert Suze Orman. Here are the famed author and podcaster's signs that you might not quite be ready to buy a house.
You Still Have Credit Card Debt
Credit card debt is a homebuying killer for a number of reasons. For starters, if you're carrying debt when you apply for a mortgage, this will work against you in terms of the size of the mortgage you can get. This is because most lenders don't want to see more than 35% of your income going toward debt payments.
For example, if you earn $6,000 per month, your lender will want to see that you're paying less than $2,100 per month toward debt. If your new mortgage will cost $2,000 per month and you are already paying $300 per month in credit card payments, you likely won't qualify. Some lenders stretch the debt-to-income ratio to 43%, but 35% is generally considered the industry standard.
Beyond these qualification standards, having credit card debt often means you're outspending your income. If you take on yet another financial obligation — especially a major one, like a home mortgage — your cash flow will get even tighter, making it harder both to pay off your debt and to manage your mortgage payments. Orman stresses that if you're carrying credit card debt and it's impeding your ability to save, you're not ready to buy a home yet.
You Can't Afford a Down Payment
Most financial commentators, including Orman herself, draw a line in the sand saying that if you can't afford a 20% down payment — or at the very least, 10% — you're in no position to buy a home.
With a 20% down payment, you can avoid paying private mortgage insurance, which typically runs 0.1% to 2% of your loan amount every single year. That's money that you're just giving away to the insurance company, with none of it going to your home equity. While some lenders do allow you to put down less than 10% on a home, you're risking owing more on your mortgage than your home is worth with just the slightest downtick in the housing market.
You Don't Plan on Sticking Around
Housing in most markets tends to slowly rise over time. Since there are so many fees involved with buying and selling a home, from closing costs to real estate commissions, it will take some time for you to build real equity in your house. For that reason, if you don't plan to stick with your house for more than a few years, Orman says you may want to hold off on buying.
The very act of buying and selling your house may eat up 10% or more of its value. This means that during a normal housing market, you're likely to take a loss — or at best break even — if you sell your home within the first few years after you buy it, even if on paper it has risen in value.
You Can't Afford the Upkeep
An often-overlooked aspect of buying a house is the ongoing cost of maintenance. If it will take every last dollar of your monthly budget to make your mortgage payments, there won't be room left over to make ongoing repairs.
Experts typically suggest that you should set aside 1% of a home's value every year for maintenance costs — and this doesn't even factor in other ongoing expenses, such as property taxes or home association dues. If you'd be stretching yourself thin — or even worse, going into debt — every time you need to make a home repair, you're not ready to buy a house. 
When Renting Is a Better Option for You
The age-old debate in the housing market is whether it's better to buy or to rent. While in the minds of many Americans the answer is that it's always better to have equity in a home, that's not always true. For example, if you like moving from place to place quite often, homeownership may not be the best option for you. The same is true if you have a great deal on rent in a location you love, or if you just don't want the hassle and responsibility of owning a home.
Remember, in addition to paying your mortgage, you'll have to worry about property taxes, maintenance, insurance and liability if you buy a home. These are things you don't have to worry about — or pay for — by simply renting.
More From GOBankingRates