Buying Your First House? Here's a Step-by-Step Mortgage Checklist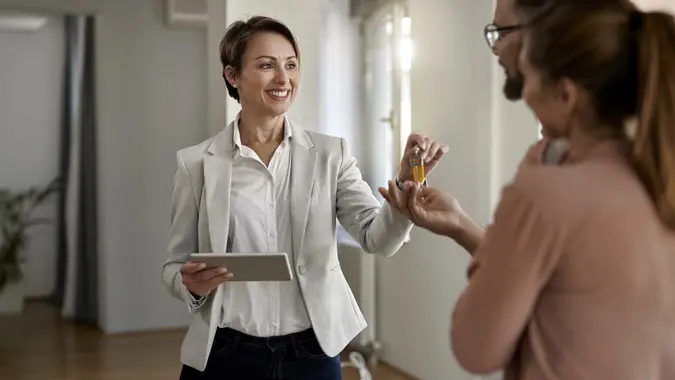 Drazen Zigic / iStock.com
For many people, buying a home is the biggest purchase they will ever make. While a little time spent doing research online and a few visits to some stores would most likely get you a great deal on a new flat-screen TV, finding the right mortgage to finance your home purchase is a bit more involved.
To help you through the process, GOBankingRates has compiled a handy homebuyer checklist of all the things you need to know when shopping for a new house and mortgage.
Run Your Ratios
When it comes to getting approved for a mortgage, it's all about the numbers. Lenders want to issue as many loans as possible, but to protect themselves from default they have to screen out applicants that have riskier financial profiles. One of the most commonly used metrics in the industry is the debt-to-income ratio, or DTI. There are two types of DTI, the front-end DTI and the back-end DTI. In terms of getting approved for your mortgage, the back-end DTI is far more important. However, your front-end DTI may also play a role — and it's a great tool for you to check how much of a loan you can really afford. 
Back-End DTI
Your back-end DTI will give a potential lender a complete picture of your financial situation. You can calculate your back-end DTI by adding together all of your minimum required monthly debts and dividing that figure by your monthly income. This includes the minimum monthly payment for your auto loans, student loans, credit cards and personal loans. 
For example, imagine that you earn $6,000 per month on a pretax basis. You have an auto loan that you pay $525 per month on, and the total of all of your credit card minimum payments is $325 per month. You also have $250 per month in minimum student loan payments. In this case, your minimum debt payments total $1,100, while your monthly income is $6,000, resulting in a back-end DTI of 18.3%. 
Generally speaking, lenders want to see a back-end DTI of 36% or less, and certainly less than 50%. However, this calculation doesn't yet factor in your new housing costs. If you add in a potential mortgage of $2,000 per month, property taxes of $400 per month and homeowners insurance of $125 per month, your monthly expenditures are actually $3,625. This brings your back-end DTI up to 60%, which is almost assuredly too high for you to qualify for a mortgage. 
Front-End DTI
Your front-end DTI only incorporates your housing expenses, not any other debt payments you may have. In the example above, your total monthly housing expenses of $2,525 divided by your monthly income of $6,000 results in a front-end DTI of 42%. For front-end DTI, lenders prefer to see ratios of under 28%.
Check Your Credit Score
While your DTI can help determine whether or not you'll qualify for a mortgage at all, your credit score will affect how much you'll pay for it. Only those with a top-tier credit score of at least 700 (some lenders prefer 740) will get the lowest mortgage interest rates. If your score is 50-100 points lower, you'll pay a significantly higher percentage rate.
While a few percentage points might not seem like much, over the course of a 30-year mortgage, it could translate to hundreds of thousands of dollars in extra interest. If you took out a $300,000 mortgage for 30 years at 6.25%, for example, you'd pay about $365,000 in interest. But if your interest rate was 8.50% instead, you'd pay more than $530,000 in interest.
Choose the Most Appropriate Type of Mortgage
The vast majority of mortgages have fixed rates and a maturity of 30 years. But this traditional mortgage may or may not be the most appropriate for your needs. If you have room in your budget for a much larger monthly payment and want to save tens of thousands on interest, you might consider a 15-year mortgage instead. If you feel rates will be lower in the future, an adjustable-rate mortgage might better suit your needs. This is one area where a mortgage broker can prove their value, by fully explaining your options and matching a solution to your needs.
Comparison Shop for Lenders
Not all mortgage lenders are alike. Some pride themselves on customer service and customer-friendly websites and mobile apps, while others may offer no frills but the lowest interest rates in town. Fee structures can also vary widely from lender to lender. Sometimes you may be able to score a better deal with a bank or credit union you already have a relationship with, so be sure to ask.
Get Preapproved
Preapproval is a certification you get from your lender that you're authorized to take out a mortgage loan of a certain amount. Preapproval will require some extra effort on your part, but it's definitely worth it. In fact, some sellers won't even entertain an offer if you haven't already been pre-approved. 
To get preapproved, you'll have to provide your lender with your complete financial picture. This usually means two years of tax returns, W2s and/or pay stubs, at least two months of bank statements and a list of your liabilities. If you're self-employed, you'll also likely need to provide at least one full year of your profit and loss statements. 
The Bottom Line
Applying for a mortgage can seem daunting for a first-time homebuyer, but it really doesn't have to be. Since things can move fast in the housing market, it pays to plan as far in advance as possible in terms of getting your financial affairs in order. By following this checklist, you should have all of your ducks in a row when it's finally time to apply for your mortgage. 
More From GOBankingRates