9 Things I Learned Buying a Home Sight Unseen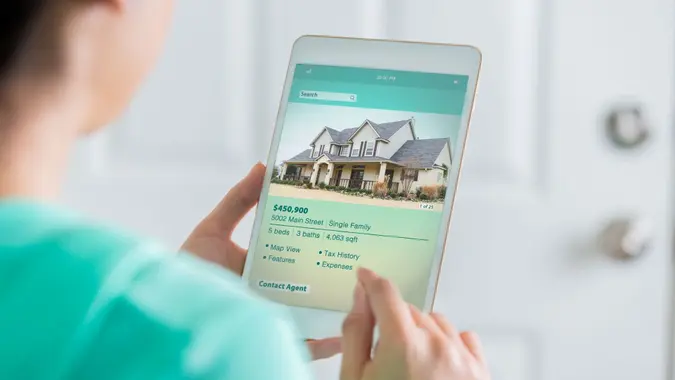 On the popular Netflix reality show "Love Is Blind," folks get engaged to people without ever seeing them. It's a preposterous concept, but sometimes it works out for the couples. A far less risky, but still intimidating, journey is purchasing a home sight unseen.
Mortgage Interest Rate Forecast for 2023: When Will Rates Go Down?
Learn: 3 Things You Must Do When Your Savings Reach $50,000
Since the onset of the pandemic, buying a home without setting foot in it has become, while far from traditional, far less weird or rare than it was previously. Still, it's not without its risks. Prospective buyers are embarking on a process that requires checking off a lot of boxes that may not be necessary were they purchasing a home in person.
To shed light on what buying a home sight unseen entails — and how to do it successfully — GOBankingRates sat down with Angelika Erickson. A couple of years ago, she and her husband purchased their home in Vancouver, British Columbia, without ever setting foot in it.
"We had been looking for several months, but the inventory was just not there for what we wanted," Erickson said. "At the same time, we had previously planned to spend some time in Toronto while I was on maternity leave with our son. So it wasn't a matter of choice so much as this property came up on our search while we were in Toronto. At that time, it was also the only property we were really interested in, and we did not want to pass up the opportunity to see it and perhaps bid on it if we liked it enough."
See six steps to take before buying a house.
Connect With a Trusted Realtor
When Erickson and her husband began their journey of buying their next home sight unseen, they reconnected with the Realtor who had helped them find their previous home.
"She got us onto her Realtor app which feeds you properties in accordance with some preset criteria like budget and minimum number of bedrooms," Erickson said. "We did all the reviewing of those properties ourselves and just told her which ones we were actually interested in seeing."
Take Our Poll: Are You Planning To Buy or Sell a House This Year?
Use a Real Estate Search App You Love
Midway through the process of buying a home sight unseen, Erickson and her husband switched agents but continued using an app that they found helpful for searching properties. In their case, that app was Realtor.ca — the U.S. equivalent is Realtor.com.
Other popular U.S. apps include Zillow, Redfin, Homes.com and Estately.
Do Your Homework
As is the case buying any property, thoroughly researching the areas you're considering is paramount.
"Definitely do your homework and know the neighborhood you are buying in," Erickson said.
View the Property More Than Once
Even if only through Zoom or FaceTime, aim to view the homes you're interested in more than once.
"We only had one virtual walk-through," Erickson said, "and in hindsight, it would have been good to do more than one, although not absolutely crucial." 
See the Home With Furniture
Most properties are shown without furniture, which can make it difficult to visualize where your furniture will go, and even whether there is adequate room for it.
If the home is unfurnished, Erickson said, "you may have to do some additional work to get your Realtor to show you the boundaries of say a queen-size bed in a particular bedroom."
Assume Rooms Are Smaller Than They Appear
In the world of real estate, spaciousness is a big selling point. Sometimes Realtors will go out of their way with camera angles to make a home seem bigger than it is, to attract more interest.
"I would say that what appears on camera can appear roomier than it is in person, and if the house is staged, it will be staged to appear roomier," Erickson said. "It's just something to keep in mind: Assume rooms are a bit smaller than what you see in the walk-through. Make sure you have a copy of the floor plan with measurements."
Research the Home's Renovation History
"If the home was renovated, make sure you do any background checking into permits, or have that covered off in your purchase agreement — i.e., that the renos comply with all applicable bylaws and there is nothing outstanding," Erickson said. "We ran into this issue, and it was a bit of a fiasco as our upper balcony turned out to have been built without a permit. The issue has since been resolved, but it was momentarily frightening, to say the least, and not something you want to be dealing with immediately while you're moving into your new home."
Get a Home Inspection
As is the case with buying any home, make sure you obtain a home inspection.
"I think this is even more important if you're buying a house sight unseen," Erickson said.
Be Emotionally Prepared for Setbacks
Hopefully, you won't have any setbacks in your virtual homebuying process; but, just in case, be emotionally prepared for one or more.
"[Setbacks] can happen and, if you are not emotionally prepared, it can just hit you that much harder, particularly when you are making such an expensive purchase," Erickson said. "Go into it expecting that maybe not everything will go 100% according to plan and issues may pop up after you purchase the property that you hadn't thought of or discovered yet. It's normal, part of the process and you just deal with it, and hopefully have some very tight clauses in your purchase agreement that cover any major issues.
"A knowledgeable Realtor can make a huge difference in this respect as he/she will hopefully not only advise you on what clauses to include based on issues they've noticed before in that particular neighborhood/city, they can also hopefully recommend any additional background checking you need to do, again, based on the neighborhood/city (e.g., archaeological/engineering check if you're purchasing in an area where this could be an issue)."
More From GOBankingRates