15 Things You Must Do Before Buying Your Second Home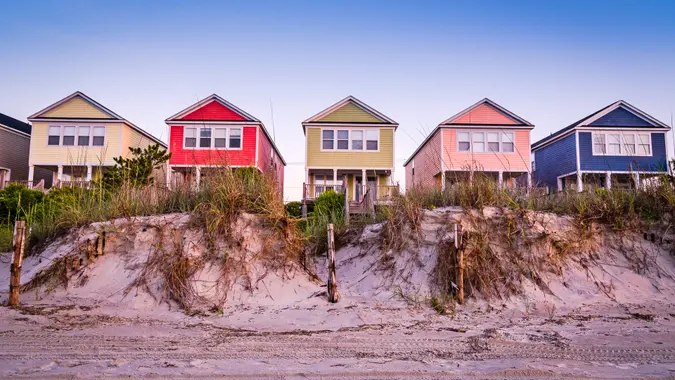 wbritten / Getty Images/iStockphoto
Purchasing a vacation home or secondary residence often seems like a dream come true. But before getting carried away in fantasyland, prudent buyers should take care to diligently complete these 15 essential steps. Doing so helps ensure your vacation home purchase is a wise investment that stands the test of time.
Here are 15 things you must do before buying your second home.
Define Your Purpose
Take time to clearly delineate your motivation for buying another home. This isn't an incredibly fun task — but it's still a necessary one. Are you primarily seeking an idyllic getaway spot for your family to enjoy leisurely vacations bobbing in the surf or skiing powdery slopes? Or is generating rental income paramount? Perhaps having a turnkey retirement abode in your favorite location is the goal?
Defining your purpose for buying is step one, as it will inform other critical decisions in the process. Don't make the mistake of falling in love with a picturesque cabin only to learn later it falls outside parameters for rental income potential.
Test Drive the Locale
Especially if you're venturing into unfamiliar territory, it's important to experience the location at different times of year before tying the knot. It's a good idea to rent in your potential spot during both peak crowds and off-season. Spend time chatting up locals to garner on-the-ground intelligence no internet search can provide.
Only by living like a local can you discern if the area truly suits your lifestyle and purposes in both the sunny June days and snowy January weeks before you commit for the long haul.
Crunch the Numbers
Conduct a deep dive into market conditions and price history in the vicinity. Peruse recent sales data to determine if it is currently a buyer's or seller's market. Study pricing trends to ascertain if values are declining, rising or holding steady. This provides critical context to inform what price makes prudent sense when constructing offers.
You want to avoid overpaying if supply is plentiful or miss out on negotiating power in a skimpy inventory scenario. Doing number crunching homework arms you with what you need to drive the best bargain.
Investigate Local Regulations
As with any real estate transaction, you must comply fully with local laws and ordinances. Use your research time to delve into regulations governing issues of importance based on your plans for the property.
If generating rental income is key, investigate any limits on days per year allowed for short term rentals, along with any other pertinent rules. If you simply plan personal getaways, suss out parking restrictions, noise curfews, occupancy maximums and any complex rules governing beach access. Even small HOAs can be difficult and frustrating to navigate. Only by understanding the lay of the legal landscape can you make an informed buy.
Solicit Insider Opinions
Speaking with locals who know the area's nuances offers rare insight you cannot glean from Zillow listings alone. Search review sites like NextDoor to find homeowners willing to provide unvarnished guidance. Reach out to any contacts you have in the region to connect you with trusted residents.
Locals can clue you into everything from their preferred contractors to hidden neighborhoods offering sounder investments.
Call in the Experts
As when buying your primary residence, you want assurances you're purchasing a property without latent defects or encumbrances.
Hire inspectors to provide an objective analysis of current condition and likely renovation costs. Verify title work and zoning classification to confirmation everything is straightforward. An attorney can help navigate any complexities that do arise.
Though fees for these services do add up, they provide invaluable peace of mind and prevent larger issues down the road. Consider their cost just another line item rolled into the overall investment.
Evaluate Property Management Options
Will you take on the task of fielding rental inquiries, managing bookings and arranging deep cleans between guests? Or would you rather pay a professional management company to handle all those logistics for you while you collect passive income checks?
Make sure to research the going rate for such management services in that market, typically 10%-15% of rental revenue. While expensive, for remote owners or those with limited time, the cost may prove justified, especially if it yields happier guests and better reviews.
Crunch the Numbers (Again)
If generating rental income is key, take time to realistically project potential revenue and expenses. Research historical occupancy rates and average nightly rates in that locality. Be sure to account for seasonal variability and vacancies between bookings. Calculate the management fees you researched and factor in recurring costs for cleaning, maintenance, utilities and HOA dues. Crunch these numbers to create a projected profit/loss statement.
This allows you to make sound judgements on what price is justified. It also helps secure financing by proving income potential to lenders.
Learn Tax Implications
Ideally, consult a tax professional familiar with the area to grasp how local and state taxes apply to vacation homes. Generally, mortgage interest, property taxes, insurance, maintenance and other direct costs can be deducted from rental income when applicable. But additional taxes may apply for out-of-state owners, along with capital gains taxes when selling in some situations.
The tax picture can get murky, so having an expert assist provides clarity and potentially substantial savings.
Map Out a Budget
Work with your financial advisor or accountant to blueprint a comprehensive budget tallying carrying costs, renovations, recurring expenses and more. Include mortgage payments, property taxes, insurance, projected utilities, maintenance, renovations, furnishings and management fees, if applicable.
Ensure your current finances and projected rental income can sustain all anticipated costs year after year. Budgeting helps you avoid being cash trapped and forced to sell at a loss.
Fortify Your Finances
Lenders will scrutinize your finances to be sure you can shoulder the burden of another mortgage. Prepare for requirements like a 20% down payment, credit score of 720 or higher, and reserves to cover 6-12 months of costs. Also assess if it makes sense to take equity out of your current home to finance the next. If your current leverage is modest, it may be prudent to tap it to spur your next chapter rather than eroding your savings.
Compare Financing Options
Just because you qualified for your primary home loan doesn't mean you'll get the same terms on a vacation property used as a rental, even just partially. Educate yourself on the differences in rates, requirements and costs when financing a second home versus an investment property before submitting applications. Having context for comparison helps you get optimal approvals with the best structure.
Take the Long View
When falling for charming cobblestone streets and sun-drenched vistas, it's easy to forget priorities can morph. Ensure the home you have your sights set on holds appeal for your changing needs down the road. Will proximity to the hip downtown art scene matter as much in your 70s? Consider futurescape factors like walkability, access to quality healthcare and community engagement.
Choosing a property with long-term viability protects your interests over decades to come.
Game Out Worst-Case Scenarios
Realize that even in peak health, the unexpected can transpire. Consider downside risks, like extended inability to rent during an economic downturn or natural disaster. If your plan depends on rental revenue, make sure you have adequate reserves or insurance to withstand worst-case scenarios. While these things might be unlikely, it pays to prepare for storms ahead.
Decide Your Timeline
As a final step, reflect on whether the moment is optimal in the trajectory of both market conditions and your personal financial life stage to take the plunge on a second home. Be ready to wait for the right intersection of factors like the current housing cycle, mortgage rates, your income, career stage, retirement timing and more. Moving too soon or late on any one factor can spell disappointment.
Be strategic in taking the leap only once all lights flash green.
More From GOBankingRates