10 Things You Must Do Before You Put a Down Payment on a House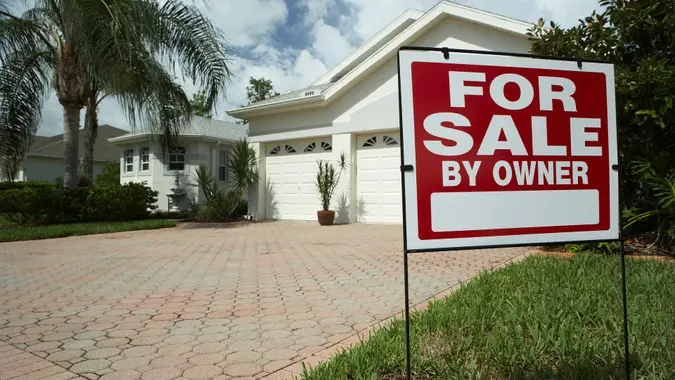 nycshooter / iStock.com
If you're thinking about buying a home, you want to do it the right way. Whether you plan to live there for only a few years or put down roots for decades, you surely understand the magnitude of this purchase.
As of the second quarter of 2023, the average sale price of a home in the U.S. was $495,100, according to the Federal Reserve Bank of St. Louis. This is a major financial commitment, so you should be focused on taking all the necessary steps before making a down payment.
GOBankingRates talked with several financial experts to find out what you need to do before becoming a homeowner.
Make Sure You Can Put Down 20%
"If you can put a 20% down payment on the house you are buying, you will be able to save the cost of private mortgage insurance," said Vida Jatulis, CFP, a financial planner with MainStreet Financial Planning. "Lenders will require PMI insurance if your down payment is lower than 20%, because they will consider the loan as riskier."
This can add a notable amount to your monthly mortgage payment.
"The cost of PMI is typically between 0.5% and 2.25% of the mortgage loan amount and it is added to your monthly mortgage payment," she said.
If you don't have enough money for a 20% down payment, she said, it's best to take your situation on a case-by-case basis.
"Perhaps you delay your purchase or save aggressively to have a 20% down payment and avoid PMI," she said. "But if rates are rising then delaying your purchase could wipe out any savings of having a higher down payment."
Boost Your Credit Score
Your credit score has a direct impact on the mortgage rate lenders will offer you, Jatulis said.
"Having a credit score in the 700s is where you can expect to be eligible for the lowest mortgage rate," she said. "Having a credit score below 700 can cost you thousands of dollars in additional interest payments."
If your credit score isn't great, she suggested working to improve it prior to applying for a mortgage.
"Make payments on rent, loans and credit cards on time, keep your spending to below 30% of your credit limit, pay off balances to free up credit and check your credit report for errors," she said.
Consider Buying Discount Points
As you're certainly aware, interest rates aren't great right now. As of Aug. 31, the average interest rate for a 30-year fixed-rate mortgage was 7.18%; it was 6.55% for a 15-year fixed-rate mortgage.
If you want to trim the interest rate on your mortgage loan, Jatulis said you can pay a lump sum to your lender for discount points.
"You need to have additional savings beyond your down payment to take advantage of this," she said. "Each point costs 1% of the mortgage amount and reduces the interest rate by 0.25%."
She said this can be a good idea in some cases, but not worth the money in others.
"If you plan on staying in the home you are buying for a long time, then this might make sense," she said. "But you also could potentially refinance your mortgage if interest rates go down and discount points would then be less valuable."
Decide Your Loan Term
A 30-year mortgage is the most common loan term, but it's not the only one.
"You can choose the number of years you have to pay off your mortgage," Jatulis said. "The term can impact your interest rate and your monthly payment."
She said a 30-year mortgage will have a higher interest rate than a 15-year mortgage — as noted above — but a 15-year mortgage will have a higher monthly payment.
"Choosing a shorter term for your mortgage can save you thousands of dollars," she said. "If you can work the higher monthly payment into your budget, this is a great way to save money over the long run."
Choose Your Loan Type
In addition to choosing your loan term, you'll also need to decide whether you want a fixed-rate mortgage or an adjustable-rate mortgage.
"A fixed-rate mortgage has an interest rate that is permanent for the life of the loan," Jatulis said. "An adjustable-rate mortgage offers a very low rate for a set number of years at the start of the loan, then the rate becomes variable for the rest of the loan term."
Consider your unique situation when making your decision.
"The adjustable-rate could be the right choice if you know you will sell your home before the variable rate kicks in, or interest rates are going to be lower when the variable rate starts," she said.
Research First-Time Homebuyer Programs
If you're a first-time homebuyer, find out whether you're eligible for any programs that might provide some type of assistance.
"No matter where you live, there are many first-time homebuyer programs available at the city and county level," said Christopher Stroup, MBA, CFP, a financial advisor at Abacus Wealth Partners. "Each is different, so it's important to shop around and learn your options."
For example, eligible first-time homebuyers in Philadelphia can receive a grant of up to $10,000 — or 6% of the purchase price, whichever is less — as part of the Philly First Home Program.
Be Patient and Stay on Budget
Buying a new home takes time, so don't rush the process. It takes an average of 4.5 months to shop for a home, then another 30-45 days to close, according to Zillow.
"The homebuying process is daunting and exhausting, especially in expensive areas like Los Angeles," Stroup said. "Be sure to hold out for the right property."
Build an Emergency Fund
Generally speaking, experts recommend having three to six months' worth of expenses put aside in an emergency fund. This is always important but becomes even more crucial when you buy a home, because you'll no longer have a landlord to pay for repairs.
"The emergency fund [is] your financial lifeboat," said Khwan Hathai, CFP, CFT, founder and financial therapist at Epiphany Financial Therapy. "This isn't just prudent planning. It's a cornerstone of a healthy money mindset that grants you peace of mind."
Get Pre-Approved
"Pre-approval for a loan is almost like dating before marriage," Hathai said. "It helps you set realistic expectations about what you can afford so you don't end up window- shopping in a neighborhood that's out of your league."
She said getting pre-approved will help you avoid a potential disappointment if your budget doesn't align with your expectations.
"Nobody wants to fall in love with a dream home only to face the heartbreak of realizing it's unattainable," she said.
Save for Other Home-Buying Expenses
"Many first-time buyers get so fixated on the down payment that they overlook the hidden guests at the homeownership party," Hathai said.
She said some of these include closing costs, home inspections and repairs.
"Anticipating these costs means you won't be blindsided, which is a crucial money mindset shift," she said.
Buying a home is quite likely the largest purchases you'll ever make. Taking the right steps before making a down payment will increase the chances you'll make the right move for your financial future.
More From GOBankingRates