What's the Top City To Buy Property If You Want To Get Rich? Real Estate Agents Weigh In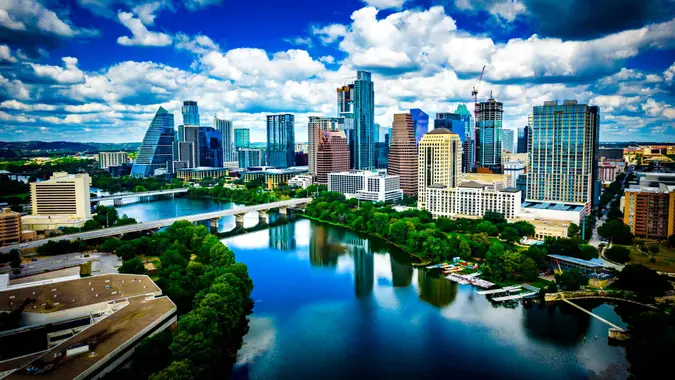 RoschetzkyIstockPhoto / Getty Images
If you want to become wealthy, there are many ways to go about it — one of which is to invest in real estate. Many people who've purchased real estate — either commercial or residential — have seen positive returns on their investments.
But, like anything else, real estate investing comes with its own risks and benefits.
For example, home values have fluctuated over the years — though they've historically gone up since 1963, according to the Federal Reserve Bank of St. Louis. Additionally, the median sales price of a house is $416,100 right now, so the gate of entry is relatively high, especially for first-time buyers. Property prices are also higher in certain markets than others.
Despite this, there are still several cities where both the price and the market are right for those in position to buy or invest in real estate. GOBankingRates reached out to several real estate agents and investors to get their thoughts on where they suggest buying a home if you're looking to build wealth.
Here's what they said.
Austin, Texas
Gagan Saini, a real estate investor and director of acquisitions at JiT Home Buyers, said his top pick on where to buy real estate if you want to be wealthy is Austin.
"If you aim to build wealth through real estate, I'd put my money on Austin, Texas," Saini said. "Its booming tech industry, rich culture and rapid population growth promise property appreciation and thriving rental opportunities. Austin isn't just a home; it's an investment in tomorrow."
Tampa, Florida
While Austin is Saini's No. 1 choice, he also suggested Tampa for those looking for something a little farther south.
"Tampa, Florida — driven by its expanding job market in tech and healthcare — is quietly becoming a spot for real estate growth," Saini said. "It's not just the welcoming climate that draws people in; it's the promise of new career opportunities and a growing urban core. Entering Tampa's real estate market now is full of potential, making it a wise investment for the near future."
Rogers Park, Illinois
For those looking for new homes or investment opportunities in the Midwest, Rogers Park is a great place to start.
"Rogers Park is a neighborhood in Chicago where investors can flourish," said Alex Caras, Realtor at Magellan Realty LLC. "The area is walkable and has plenty of older homes that need updating. For those looking to flip a home, this is an excellent area. The other option in Rogers Park is to buy a property and turn it into a rental. With plenty of multi-family units, it can be a great source of long-term income due to the relatively low price points."
Charlotte or Raleigh, North Carolina
"I would keep my eye on South Carolina and North Carolina. That is where I would start investing to build wealth," said Erin Hybart, a real estate agent based in Louisiana. "Both are for similar reasons like average cost of living, good jobs, great weather, laid-back atmosphere and the proximity to diverse outdoor activities.
"If you look at many top-10 lists of where people are moving, these two states are on it. … If I had to choose between the two states and highlight cities, it would be Charlotte and Raleigh, N.C."
Both Raleigh and Charlotte are good cities for purchasing homes, especially for residential use.
"Raleigh and Charlotte are great places to be close to the beach and the mountains — the outdoors and natural beauty that people have craved so much since remote work and the pandemic," Hybart said. "It's a tough decision between Raleigh and Charlotte, so either area will be a solid choice. Each area has a slightly different offering regarding amenities, access to outdoor activities and overall energy and feel."
Houston
Another prime location in Texas for those looking to build wealth through real estate is Houston.
"One of the best places to purchase real estate if one wants to be wealthy is Houston," said Sebastian Jania, owner of Ontario Property Buyers. "The biggest reason for selecting Houston is that it has some of the largest net migration in all of the USA. What this means [is] that there is a catalyst for people to move to Houston and the city is in high demand.
"Further, while it is not the highest net migration city, it has some of the least expensive real estate in the top net migration cities. This means that there is a lot more growth potential and properties make a lot more sense for wealth generation."
Things To Consider When Investing in Real Estate
While choosing the right location is a good way to get started with investing or building wealth, there are other factors to consider as well. Here are some of the big ones:
Neighborhood: Although a specific city might provide a great real estate investment opportunity, it's important to look at different neighborhoods as well. See how close it is to major highways, green spaces and other amenities or recreational activities. Check for statistics on things like safety, crime, education and walkability.
Home values: Check the typical home values in different communities in your chosen city. Look beyond the current values and see how they've changed over time.
Home type and purpose: From multi-family apartment buildings to single-story residential homes to condos, there are many types of properties out there. Figure out which type of property best fits your goals and needs. Also, ask yourself whether you want to build wealth through commercial real estate or whether you're looking for a place to call home while becoming wealthy through other means.
Budget: Before you buy, make sure you have a clear budget in mind. This will help you figure out the types of properties you can afford and help prevent you from spending too much.
Expected returns: Different types of real estate experience different returns, so be aware of this.
Overall market: Pay attention to current housing market conditions, such as home prices, time on the market, foreclosure rates, new constructions and home interest rates. All of these factors could impact whether now's the right time to buy and your potential returns.
More From GOBankingRates