Vacation Property: Where To Invest Now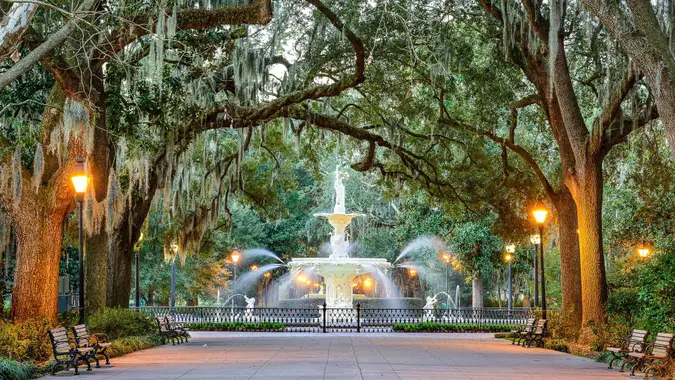 Sean Pavone / Shutterstock.com
The housing market has made headlines for the past two years, as prices first dropped dramatically during the pandemic, then rose sharply on the back of record-low mortgage rates, and are now rolling over once again thanks to 2022's skyrocketing interest rates. But behind all the noise is the simple fact that vacation property in well-located areas can be a sound, profitable investment. 
Tips: 9 Bills You Should Never Put on Autopay
Find Out: Should You Still Buy a Home in Today's Market?
To help identify areas where you can invest now in revenue-generating vacation property, GOBankingRates culled data from Evolve regarding the potential earnings and "cap rates" in various areas of the country. When it comes to vacation property, "cap rate" refers to the ratio between a property's net income and its market value, which according to Evolve is a key indicator for return on investment. When looking at potential investment properties, you should always consult with a financial advisor and/or real estate expert to ensure that a given property matches your investment needs and risk tolerance. But with these caveats in mind, here are some standout potential locations for a vacation property investment.
Wisconsin Dells, Wisconsin
Wisconsin Dells is well-known to Midwesterners as the "Waterpark Capital of the World" for its plethora of family-friendly, wet n' wild attractions. In addition to actual water parks, Wisconsin Dells has plenty of other attractions as well, from boat cruises and live entertainment to nature hikes and scenic riversides. From a vacation property perspective, the town offers some of the highest rental revenue available to go with its extraordinarily high cap rate. 
Median rental revenue: $42,438
Median list price: $229,497
Example cap rate: 12.9%
Take Our Poll: Do You Believe in Quiet Quitting?
Windham, New York
The median listing price of homes in Windham, New York, is pushing toward $300,000, but for the revenue income the town generates, it's likely worth the investment. Median rental revenue in Windham is a whopping $38,325, befitting its nickname of the "Gem of the Catskills." The sophisticated mountain resort offers everything from art galleries and world-class skiing to wine bars and a historic downtown. If you don't want to plunk down the kind of money you'll need for an investment in the Hamptons, Windham could be a profitable alternative.
Median rental revenue: $38,325
Median list price: $290,295
Example cap rate: 9.2%
Savannah, Georgia
Savannah is one of the undisputed gems of the South, with its moss-covered oak trees, charming town squares and local seafood. A required stop on any tourist's itinerary, rental properties in the town dubbed the "Hostess City of the South" can generate big revenue as well, averaging $35,693 per year. List prices remain affordable, with a median list price well below $300,000.
Median rental revenue: $35,693
Median list price: $278,598
Example cap rate: 9.0%
The Poconos, Pennsylvania
Just about everyone in America has heard of the Poconos, even if they can't always locate it on a map. But the all-season mountain resort area sits in Pennsylvania just about two hours outside of Manhattan and offers everything from freshwater lakes and waterfalls to forests and even ski areas. Although median-level properties can generate significant income, data from Evolve suggests that larger, more expensive rentals in the area can pull in exponentially more. 
Median rental revenue: $26,048
Median list price: $271,985
Example cap rate: 6.7%
Branson, Missouri
Branson, Missouri, is the type of family-friendly destination that tends to get repeat visitors year after year. This helps make rental income in the area more predictable, even though the median annual revenue of $19,710 is lower than in some other towns. List prices are among the lowest of any vacation destination in America, at under $240,000.
Median rental revenue: $19,710
Median list price: $237,371
Example cap rate: 5.8%
More From GOBankingRates