What Happens When Your Home Stays on the Market Too Long?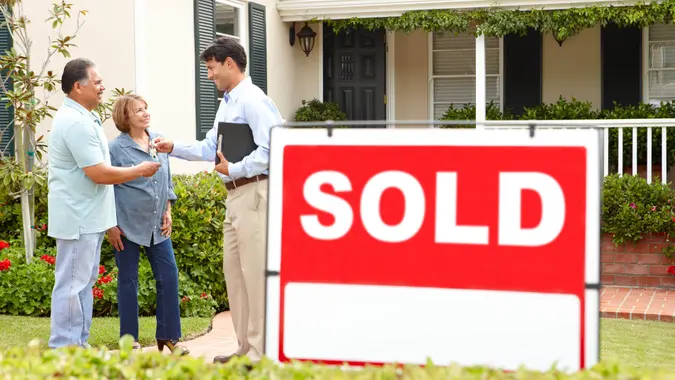 monkeybusinessimages / iStock.com
If you're looking to sell your house, you might be wondering how long it should be on the market before it sells. As of May, homes spent an average of 43 days on the market before they sold, according to the St. Louis Fed.
However, this can fluctuate depending on where you live.
Impact of Days on Market
The number of days on the market is the time between a house being listed and the house going under contract with a buyer. The days on the market will vary greatly depending on a variety of factors. It also does not account for the time preparing to put a home on the market and the time from when you receive an offer to the closing date. Each of these could add another month to the process.
Days on the market can have a big impact on the sale price of the home. If a home is on the market for too long, prospective buyers might become suspicious that something's wrong with the home.
What Affects the Days on Market
There are multiple factors that can affect how long a home stays on the market. Two of the biggest are interest rates and inventory.
Interest rates
Interest rates can influence whether a buyer may be more eager to put in an offer on a house or willing to wait for the right house. If interest rates are low, a buyer might want to close on a house quickly in order to secure the low rates. 
However, if interest rates are high or stable, a buyer might not feel as much pressure to move quickly. The person might decide to wait and see whether interest rates drop, or the person might want to explore the market to find the perfect home.
Inventory
Inventory can have a large impact on the length of time that a house is on the market. When there is low inventory, especially if there are a lot of prospective buyers, houses tend not to stay on the market for long. 
If interest rates are low — and therefore probably more people are looking to buy homes — and inventory is low, houses likely will not stay on the market for long. 
On the flip side, when inventory is plentiful and interest rates are high, it may take longer to sell your home.
Why Your Home Might Stay on the Market Longer
There are several reasons a home might stay on the market longer than expected. Some reasons are avoidable, while others are not. 
Listing Price
If your home is not selling, one of the first things you may want to consider is whether you have it priced too high. If you're not receiving any offers or you're receiving offers that are significantly under the listing price, it might be a sign that your listing price is too high. 
"You may have an ideal price that you want to command, but if that price doesn't line up with similar homes that have sold nearby you, buyers will see your home as overpriced and unrealistic," says Bethany Stalder, owner of Fidelis Property Group. "Then your home sits on the market and, over time, buyers start to wonder: What's wrong with this place?" 
To make sure you're pricing your home correctly, look at comparable home prices and recent sales. Some websites will also come up with an estimated value for your home. A good real estate agent can help you with this as well.
Condition of the Home
Your home could be harder to sell if it is not in good condition. If there are multiple repairs that need to be done, especially large repairs, it may turn off potential buyers. To make the process of selling your home go smoother, you might want to do the large repairs before listing the house or lower the price to accommodate the expense of the repairs for the future owner. 
However, there's a difference between repairs and renovations. Spending too much money on renovations does not always give the same return on investment as spending money on repairs. Be sure to research before you spend too much money on repairs or upgrades.
Curb Appeal of the Home
Curb appeal is essential for selling a home. A potential buyer's first impression comes from the street. If your home looks like it is in bad condition on the outside, buyers might simply assume the inside is in a similar shape or has hidden issues. Landscaping and paint are easy ways to improve the curb appeal of your home.
Neighborhood
The location of your home is something you can't change, but it certainly can impact your ability to sell fast. If your home is located in an undesirable neighborhood, it might be harder to sell. 
"The location of a home is one of the most important factors that affect its sale price and time on the market," said Troy Robillard, Realtor with Premiere Plus Realty, Co. "Homes in desirable locations, such as near schools, parks or shopping, tend to sell more quickly and for a higher price than homes in less desirable locations."
Undesirable neighborhoods could be areas with high crime rates, near railroad tracks or a highway, in a bad school district, or in a location that's far from amenities. If your home is located in a less desirable neighborhood, make sure to price it accordingly.
Marketing
Marketing plays an important role in how long your home stays on the market. How the home is portrayed through photos and descriptions can influence whether a buyer wants to even see the house at all. How your agent is reaching potential buyers is also part of marketing. It's important that the agent knows how best to portray and advertise your home.
The Bottom Line
Before listing your home, be sure to research what you can do to help prevent your home from sitting on the market for longer than it should. Some things may be out of your control, but there are things you can do to help your home sell.
More From GOBankingRates