Home Prices Are Breaking Records Again: Is Now the Time To Sell?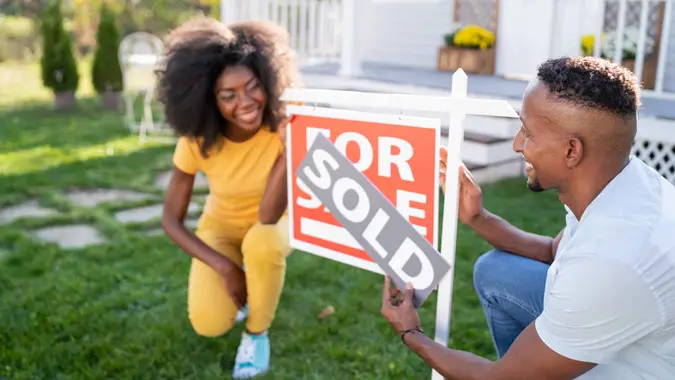 valentinrussanov / Getty Images
Bad news for home buyers — prices probably aren't coming down anytime soon. But is it a good time to sell?
Home prices hit an all-time high in June, according to Black Knight's Home Price Index, on both seasonally adjusted and unadjusted levels. Approximately 30 out of 50 major markets experienced rises in annual growth rates.
"We've been noting for some months that the recent rate of home price gains would have a lagging, but significant, impact on the annual rate of appreciation. Well, June marked that inflection point… Not only has the Black Knight HPI reached a new record high — on both seasonally adjusted and non-adjusted bases — but 60% of major markets have done so as well," said Black Knight exec Andy Walden.
Home affordability is at its worst point in 37 years, reported Black Knight, largely thanks to rising home prices and mortgage interest rates. The national median single-family existing-home price is $402,600, according to the National Association of Realtors, and the monthly mortgage payment on a typical home with a 20% down payment is $2,051, up 10% from the first quarter. 
Mortgage rates hover around 7% for a 30-year fixed-rate mortgage. While this certainly presents challenges for buyers, it's also difficult for sellers considering a move, according to Jessica Lautz, the NAR's deputy chief economist. "Affordability challenges will continue for buyers if new inventory is not brought to the market and rates do not abate," said Lautz.
Not only will it be difficult for sellers to find an affordable home once they move, but they're also reluctant to give up a low interest rate. According to a Realtor.com survey, 82% of those looking to buy and sell a home feel "locked-in" by their low mortgage rates. More than half of those planning to sell in the next 12 months said they are waiting for rates to come down.
The good news is that sellers have a lot of equity in their current homes. Realtor.com reported that 85% of potential sellers are happy with the amount of equity they have in their home — and 74% estimate that they have more than $100,000 in home equity, while 20% that number is over $300,000.
According to Black Knight, the average mortgage holder has $199,000 in available equity. This is slightly down from historic highs in 2022, but still a historically large amount.
More From GOBankingRates