The Biggest Homebuying Trends From 2021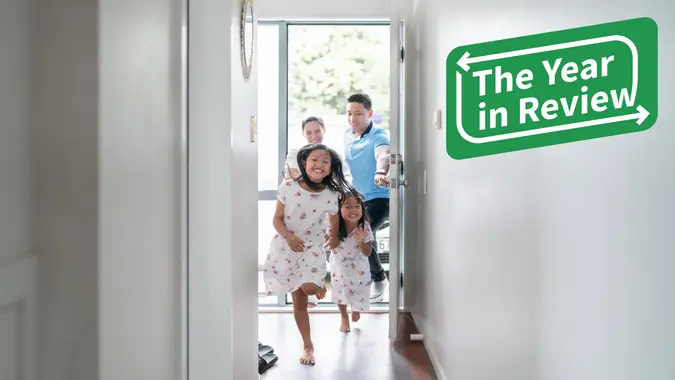 For the second year straight, the real estate market has been nothing short of unprecedented. Historically low interest rates, combined with minimal inventory and an influx in demand, has made 2021 an unforgettable year for buyers, sellers and their realtors.
The ever-changing real estate industry kept even the most seasoned real estate agents on their toes this year, with several new trends to follow.
Read: Craziest Things That Kill Your Home's Value
Home Improvement: 20 Home Renovations That Will Hurt Your Home's Value
For example, Lindsey Fenton, a real estate agent with Douglas Elliman in Austin, Texas, noticed a change in buyer needs due to the increased number of people working remotely.
"This year, I found that many people were looking for two home offices, or at least an extra bedroom that could be used as an additional office," she said. "Many builders started developing plans to include two home offices due to the increased work from home opportunities."
Now that people are relying on virtual communications more than ever, Sean Woolley, founder and director of real estate agency Cloud Nine Spain, said buyers are now expecting real estate agents to use digital tools when working with them.
"They requested virtual tours, video and interaction at a previously unseen level," he said. "After all, if they can work from home effectively with people on the other side of the world, surely it's not too much to ask of a realtor to be able to hook up to a Zoom call or to include a client on a video viewing of a property in real time."
Learn More: 20 Insider Tips To Save Money on Every Part of Your Home
He expects this trend to stay, so he said real estate agents need to incorporate it into their service model.
Erin Stumpf, a real estate agent with Coldwell Banker, based in Sacramento, California, said the pandemic has created a surge in demand for multiple living spaces.
"While open concept is still appreciated, COVID-19 living has elevated a desire for homeowners to have separate living spaces for home offices, home gyms, etc.," she said.
Additionally, she's also noticed more buyers are searching for homes that are move-in ready.
"With supply chain issues and demands of building products, current homebuyers are most certainly wanting and desiring move-in ready homes — and are prepared to pay for it," she said.
Find Out: 50 Cities With the Most Overpriced Homes
Continuing the trend of digital technology, Christopher Brown, co-founder of Next New Homes and Next Real Estate Group, said mobile and online closings were on the rise in 2021.
"For example, many home transactions are using electronic signature apps and remote online notarization to streamline the process," he said. "In other words, there's a chance you can buy or sell a house this year without getting out of your car or ever changing out of your bathrobe and slippers."
Additionally, another trend he saw this year was an influx of online real estate companies like Opendoor getting into the homebuying business.
"They buy it from you, pump some money into it to resell at a higher price, handle all the home processing stuff like inspections, repairs and home showings and then charge you pretty much the same as an agent commission for selling costs — plus, some of these companies include an additional service fee, [which is] icing on their cake," he said. "They promise less hassle, but it may mean less profit for you than working with a top-notch agent who could sell your home for more money."
A trend made popular by the pandemic, Alison Bernstein, founder and president of Suburban Jungle, said more people are engaging in sight-unseen homebuying.
"Tech is here to make the buying process more efficient, and with agents here to provide virtual home and neighborhood tours — the experience can be just about seamless," she said. "The whole thing becomes overall less emotional, and in an era of bidding wars, there is nothing like finding something you love, negotiating for days — and ultimately losing out."
Read More: Americans Are Moving Into Larger, More Affordable Homes, According To Zillow
She said climate change also played a role in many 2021 buyers' decisions.
"We often encounter clients that have very specific fears," she said. "Many of these fears are a result of potential hazards due to climate change, as well as other natural disasters."
For example, Bernstein said her company's Bay Area clients are increasingly concerned about fire, rising, sea levels and earthquakes.
"For these clients, we provide them links to state and federal government websites, maps and trusted newspaper articles," she said. "We also suggest they call a few insurance companies about a particular property to learn of all the potential hazards they may face."
Of course, another trend she noticed was the well-publicized bidding wars of 2021.
"Homebuying has become very competitive, with those who win-out often forced to compete with an unprecedented number of other offers," she said. "In the end, they will have to pay for it."
Learn: 20 Great Cities With Shockingly Cheap Real Estate
Bernstein also noted that many of her clients also set out for the suburbs.
"COVID has inspired a mass exodus from major cities, increasing the value of suburban properties and inspiring a plethora of bidding wars," she said. "Furthermore, people are unafraid to move a little further out than their predecessors, as many are planning to work from home and are seeking lifestyle over commute convenience."
While some buyers were still set on relocating to the suburbs, Erin Sykes, chief economist at Nest Seekers International, said others were ready to move back into the city.
"Whereas 2020 was all about moves to the suburbs, 2021 saw an influx into large metro areas like New York and Miami, as well as smaller metro areas like Austin, Sacramento and Houston," said Sykes, who is also a licensed real estate agent in Florida and New York.
Additionally, she said all-cash offers and those funded by Bitcoin surged in popularity.
"The amount of transactions without mortgage contingencies hit an all-time high, as buyers faced stiff competition for prime property," she said. "Also, we saw a substantial number of transactions involving cryptocurrency, including a $22.5 million penthouse at Arte Surfside in Miami in May 2021 and the launch of first pre-construction condo that accepts crypto — The Waldorf Astoria Residences Miami."
Many of these trends will likely continue to be prevalent in 2022, along with a new set sure to keep the fast-paced real estate industry moving forward.
More From GOBankingRates