Young Baby Boomers Are Most Likely To Think They Won't Ever Be Able To Buy a Home: Here's Why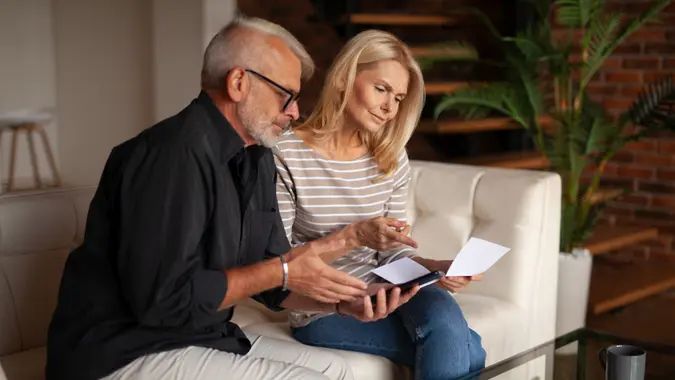 Andrii Zastrozhnov / Getty Images/iStockphoto
Buying a home and settling into retirement sounds nice, but you might not be sure if that's in the cards. If a lack of certainty around homeownership sounds familiar, you're not alone.
Specifically, 20% of people ages 55-64 don't think they'll ever be able to buy a home, according to a recent GOBankingRates survey. Older baby boomers are notably more hopeful with only 12% of respondents ages 65 and up sharing this sentiment.
"I deal with older homeowners almost daily and they do have a lot of preconceived notions about why they can't purchase a home," said Julie Upton, a realtor with Compass in Marin County, California.
No doubt, you also have your reasons for feeling like you'll never be able to purchase a home. Keep reading to find out if others in the same situation share the same beliefs.
High Home Prices
As of the second quarter of 2023, the average sale price of a home in the U.S. was $495,100, according to the Federal Reserve Bank of St. Louis. In the second quarter of 2003, this number was just $241,000 — less than half the sale price of a home today.
"Home prices have increased steadily over time" Upton said. "Adults in their 50s, may not have bought a home in 10 or 20 years, and they may have sticker shock."
However, she noted if you currently own a property, you will likely be able to realize gains if you opt to sell.
Desire To Be Near Family, but a Lack of Affordability
If you're thinking about moving to a new area to live close to family, you might be discouraged by its higher cost of living. Upton proposed a solution for this.
"Another way older Americans can find a housing option is to look at building an Accessory Dwelling Unit on the property of a family member — possibly a child," she said. "I have had many clients work on building an ADU with their adult children so that they are close by but not too close."
Concerns About Qualifying For a Traditional Mortgage
The average 30-year fixed-rate mortgage was 7.18%, as of Aug. 31, 2023. This is the highest interest rates have been since the early 2000s.
If you will need a mortgage to buy a new home, it makes sense that you might be a bit worried about securing a mortgage. However, it's important to fully research your options.
"People in their 50s also have other mortgage options available to them compared to younger adults in their prime working years," Upton said. "There are mortgages that cross-collateralize on their current residence to purchase a new property."
She said there are also mortgages that allow older buyers to qualify based solely on their assets, instead of a monthly income.
"Older homebuyers can also look at the newer lifestyle mortgages which offer many benefits," she said. "These mortgages require a significant down payment then there are no mortgage payments."
Financial Constraints
It can be hard to think about taking on a mortgage when living on a fixed income — or plan to retire soon — with a variety of other expenses to worry about.
"Many individuals in the 55-plus age bracket face financial limitations due to factors such as fixed retirement income, unexpected medical expenses and potential loss of regular employment income," said Rick Gruebele, owner/broker at Visions First Realty, based in Washburn, Wisconsin. "These financial challenges can create doubts about their ability to afford the costs associated with homebuying."
Economic Uncertainties
Over the past few years, the economy has been a bit of a rollercoaster ride. Therefore, it's understandable if you're concerned about putting a lot of your savings into a home purchase.
"Economic downturns or recessions can have a disproportionate impact on older adults who may have fewer years to recover financially," he said. "The memory of past economic crises can lead to caution about making significant financial commitments, including home purchases."
Market Volatility
Maybe you lost money on a home purchase in the past or know someone who did. This might make you leery about buying what will likely be the largest asset you own.
"Real estate markets can experience fluctuations in property values and individuals aged 55-plus might worry about the stability of their investment over the long term," he said. "Concerns about potential depreciation or instability in the housing market can erode confidence in homebuying."
Maintenance Apprehensions
One of the best things about renting is not having to worry about home maintenance. Instead, your landlord is responsible for handling and paying for repairs and other issues.
"Older individuals may worry about the ongoing maintenance and upkeep that homeownership requires," Gruebele said. "The physical demands of property maintenance can deter them from taking the plunge into homeownership, as they may prefer the convenience of renting."
Health and Mobility Considerations
"Aging often brings about health-related considerations," he said. "Some older adults might be hesitant to commit to homeownership due to concerns about their ability to maintain a property as their health and mobility change over time."
This can especially be the case if you plan to handle a lot of maintenance on your own, instead of hiring someone to do it for you. The added expense can put a lot of strain on a fixed income.
Social and Family Dynamics
If you've been renting the same home for years, the thought of moving might feel overwhelming.
"Life events such as the passing of a spouse or children leaving home can lead to a desire to relocate or downsize," he said. "However, emotional attachments to their current home or the desire to remain close to family and friends can create conflicting emotions that impact their homebuying confidence."
If you have a strong desire to become a homeowner, consider meeting with a trusted financial professional. They can review your financial situation and help you decide if buying a home is a good idea and if so, the best way to go about it.
Methodology: GOBankingRates surveyed 1,091 Americans aged 18 and older from across the country between August 14 and August 16, 2023, asking twenty different questions: (1) Have you had trouble paying your utility (gas, electric, heat, internet, etc.) bills in the last 6-12 months?; (2) Which of the following bills/expenses has been the hardest to keep up with over the past year?; (3) Have you bought a car/truck in the last 6-12 months?; (4) Have you ever been on food stamps?; (5) Have you or would you use artificial intelligence (AI) to earn a passive income?; (6) Where do you shop for the best deals on groceries?; (7) What is your current annual income?; (8) How much were you able to contribute to your savings this year?; (9) How much have your savings/investments decreased over the past year?; (10) Next year's (2024) Social Security Cost of Living Adjustment (COLA) will be 3% instead of the 8.7% it saw in 2023. Will this affect you?; (11) What assets do you have in your retirement portfolio? (select all that apply); (12) How much money do you currently have saved for retirement?; (13) How much personal savings do you currently have?; (14) What's the first step you would take if you were starting a small business?; (15) If given the choice between your current job and starting your own business, which would you choose?; (16) If you have any plans to start a small business, what is the timeline?; (17) How much do you currently spend on rent?; (18) How much do you currently pay monthly on your mortgage?; (19) How much has your housing (rent, mortgage, etc.) gone up over the past year?; and (20) How long do you believe it will take you to save, in order to buy a house?. GOBankingRates used PureSpectrum's survey platform to conduct the poll.
More From GOBankingRates