AI Boom: Is It Too Late or Still a Prime Time To Invest?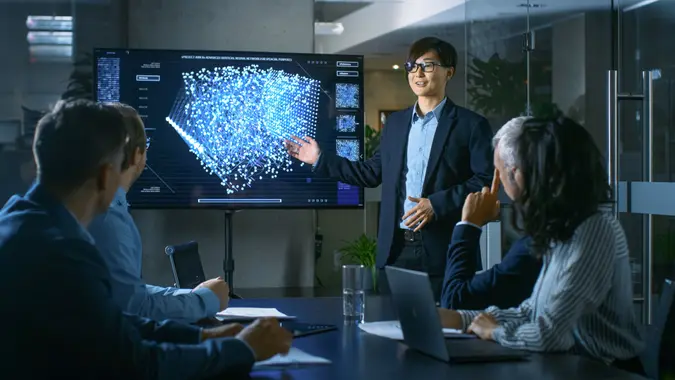 gorodenkoff / Getty Images/iStockphoto
There's an old saying in Wall Street circles that "the best time to invest in the stock market was yesterday, and the second-best time is today." While that may be true for an investor looking to earn long-term gains in the market as a whole, the wisdom doesn't apply as directly to the purchase of individual stocks.
This is particularly true when it comes to the AI-related stocks that have dominated the market thus far in 2023. While the time to buy names like Nvidia and Meta Platforms was clearly "yesterday" — as those stocks are up 190% and 145% thus far in 2023, respectively — the next-best time may not be today.
So, how is an investor to approach AI stocks in general as the rest of 2023 unfolds? Here's a look at some potential answers.
Be Cautious With Big Winners — But Don't Necessarily Avoid Them
It may not be the best idea to put all your money into Nvidia right now, as the stock has nearly tripled in just half of a year. But this doesn't necessarily mean you should completely avoid it.
Although there is no doubt a bit of a speculative fervor in the stock, the reason for its rapid runup is sound. The semiconductor company is the leading creator of the processors that power countless artificial intelligence applications, making it the poster child for the future success of AI.
If AI is indeed going to dominate our world in short order, Nvidia is best positioned to benefit the most — hence all the enthusiasm. If you're a believer in AI, Nvidia is a great way to play it.
Think Long-Term
If AI is really to become a world-changing investment trend, it's going to last for the long term. What this means is that even when the current frenzy driving AI stocks subsides, there will still be plenty of opportunities to invest in the sector for the long run.
If you're bullish on the sector for the long term, one investment strategy would be to dip your toe in now, in case the current run continues. Then, you can add to your positions if the AI sector falls prey to profit-taking, which is inevitable at some point.
Ask Yourself: Are Nvidia and Meta Platforms in a Bubble?
While it's easy to say that stocks like Nvidia and Meta Platforms have reached bubble status during their stratospheric runs in 2023, that's not necessarily true. For perspective, it helps to remember that these two stocks in particular got absolutely clobbered in 2022, falling 50.31% and 64.22%, respectively.
In other words, the first 100% or so of Nvidia's 2023 gain just brought it back to where it was at the start of 2022. Meta Platforms is actually still below its price at the start of 2022. That stock will still have to gain another 33% to reach the all-time high it set in 2021. For investors that are still carrying big losses in Meta Platforms, it certainly doesn't feel like the stock is in a bubble.
Watch Out for Signs of a True Bubble
Some analysts are quick to point out that while big, well-known tech names are running straight up in 2023, plenty of other stocks are lagging behind. One of the hallmark signs of a true bubble is when even previously unknown companies — often without any earnings or notable products — enjoy skyrocketing stock prices, mimicking and even outperforming the big-name market leaders.
If Wall Street starts creating lots of AI-related products, like ETFs, and small-name companies rocket to stratospheric highs on little-to-no real news, those could be signs of an AI bubble.
As reported by CNN's "Before the Bell" news program, Matt Bartolini, head of SPDR Americas research at State Street Global Advisors, said, "I don't think from a stock perspective we've reached a full scale bubble."
Suggestion: Invest in Companies, Not Concepts
One of the biggest ways to get yourself into trouble when it comes to investing is to put your money behind companies that are just concepts, rather than actual businesses. Plenty of entrepreneurial young companies have big dreams of how they're going to change the world, but no company can survive over the long run without actual revenues and profits.
If you're looking to invest in AI companies, there's still plenty of time to pick those with long-term viability. Companies that simply change their name to include the letters "AI" might get a quick bump in the stock market but are just as likely to get completely wiped out over the long run.
More From GOBankingRates