Watches, Whiskey and Other Unexpectedly Worthwhile Investments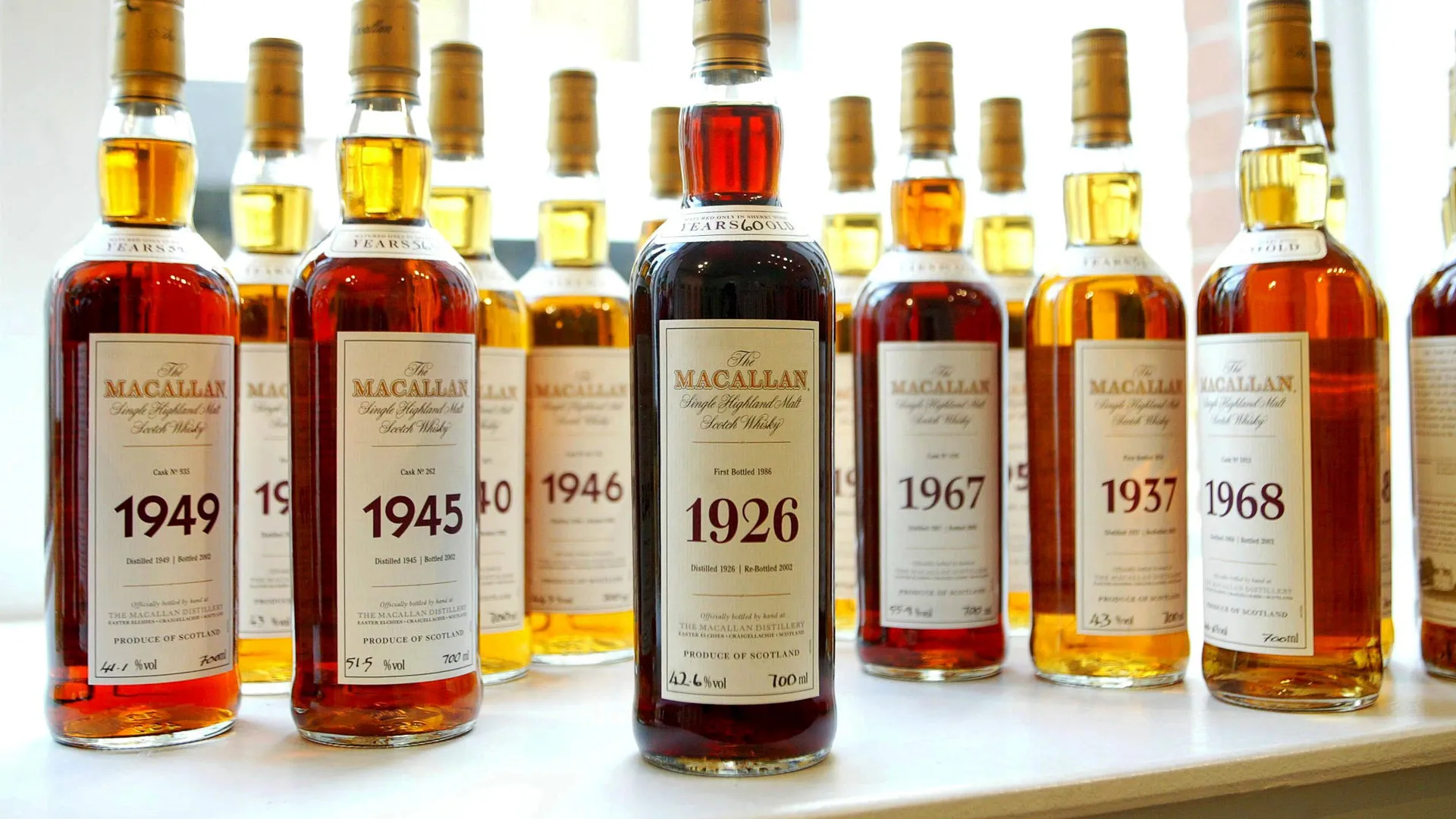 When you think of things to invest in, you probably think of stocks, bonds, mutual funds and real estate. But there are plenty of other commodities and alternative investments that could be worth investing your money in, from luxury goods to alcohol. If you're looking to grow your bank account, find out which unusual investments are actually worth your money.
Accessories
In what is surely a boon to fashionistas everywhere, a 2017 study from Baghunter– a luxury online retail platform — suggested that certain purses can outperform the returns of both stocks and gold.
Baghunter contended that Hermes Birkin bags — one of the ultimate status symbols — consistently increased in value over the last 35 years, with an annual average return of 16 percent. Limited edition and bicolor bags offer an even higher average return of 20 percent.
It's unclear from the study how wear and tear impacted those returns. But for people willing to buy a bag and put it in the closet forever, a Birkin bag could be a good investment.
Art
If you want to invest in art, it's important to take the time to do your research into what is and what isn't worth buying, art advisor Erica Samuels told CNN. And the art you buy should ideally be something you love, so you don't mind holding onto it while you wait for its value to increase.
"Because of the subjectivity and lack of liquidity, you have to buy something you love and that you can live with," David Schrader, head of private sales for contemporary art at Sotheby's, told CNN. "But it is possible to have the best of both worlds: a beautiful piece that also appreciates and is a store of wealth."
Expect to spend $250,000 or more if you want to make big bucks off your creative investments. If you pick the right piece, it could end up being worth millions. In 2017, Leonardo da Vinci's "Salvator Mundi" was sold for $450 million to a Saudi prince, making it the most expensive painting ever sold at auction.
Books and Manuscripts
Most books aren't worth more than the cover price, but if you purchase an ancient book or manuscript, a first-edition book by a popular author or a truly rare book, you might be able to cash in later.
A handwritten copy of "The Tales of Beedle the Bard" by J.K. Rowling sold for $3.8 million, while an original copy of "The Canterbury Tales" sold for 4.6 million pounds ($6.1 million), Reader's Digest reported.
Cars
Classic cars are the best performing asset class in the Knight Frank Luxury Investment Index, with record-breaking sales over the past decade. According to the latest available index, the value of classic cars increased 334 percent over the past 10 years.
Although the car market took a dip following a peak in 2014, it is now on the rise again, classic car insurance and research firm Hagerty reported. In 2018, a Ferrari 250 GTO was sold at RM Sotheby's for a record-breaking $48.4 million, CNBC reported. But you don't need to spend millions to invest in a classic car. Alain Squindo, chief operating officer at Sotheby's, told U.S. News & World Report that you can buy an investment-worthy vehicle for $20,000 or less.
It's critical to buy the right car and keep it in the right condition. But smart investors might find a lot of value sitting in their own garage.
Ceramics
Chinese ceramics are a popular type of alternative investment — and if you get your hands on the right one, it could be worth millions. Famously, a Chinese bowl that was purchased for $3 at a yard sale later sold for $2.2 million at auction in 2013, CNN reported. Although experts said that incidents like this are the exception rather than the rule, Chinese ceramics could be a worthwhile investment.
But you have to know what you're looking for. Famed auction house Christie's advises familiarizing yourself with the look and feel of genuine Chinese ceramics, talking to specialists, gaining an understanding of the different palettes and glazes used, and checking all parts of the item — including the bottom — before making any purchases.
Coins
Investing in coins has long been a popular hobby. But it might be on the verge of becoming a common investment too, according to some experts.
The value of a coin collection is often closely linked to gold prices. However, truly rare and sought-after coins are valuable not for their gold content, but for the rarity and desirability of the coin itself.
The Knight Frank Luxury Investment Index found that the value of collectible coins increased 182 percent over a 10-year period. But before you invest, be sure to do your research to understand how coins are graded, and ensure you're buying the coins from a trustworthy dealer.
Don't Miss: 30 Strange Facts You Never Knew About Your Money
Colored Diamonds
Forget about the setting — all you need is the rock itself to make for a good investment. Colored diamonds, in particular, are a rare commodity and can increase in value over time. The Knight Frank Luxury Investment Index found that the value of colored diamonds increased 70 percent over a 10-year period.
The most expensive diamond ever sold was The Pink Star, a 59.6-carat fancy vivid pink diamond that sold for $71.2 million at auction in 2017, CNBC reported. The value of diamonds depends on their size and rarity, so keep that in mind when choosing your sparkly investment.
Furniture
When shopping for antique furniture as an investment, check for dovetails on the sides of the drawers to help determine its age, and inspect the hardware for its condition, as well to help you evaluate how old the piece is. Also, be sure to check the piece for any signs of damage that could detract from its value. Once you purchase the piece, be patient, as its value will likely ebb and flow over time.
"Value can fluctuate just like stocks and bonds," expert furniture appraiser Andrew Holter told Curbed. "Just because these are antiques and they are old does not mean the value will constantly increase."
But if you get the right piece, you may be able to cash in big time. In 2004, an 18th-century Florentine ebony chest known as the Badminton Cabinet was sold at auction for $36 million, Time reported.
Instruments
When it comes to musical instruments, invest based on rarity and quality. Stradivarius violins — which are extremely rare — have sold for millions.
But you don't need to get a Stradivarius to make a smart and unique investment. Rare stringed instruments can increase in value by up to 20 percent annually, boutique dealer Carpenter Fine Violins told Yahoo! Finance.
Unlike other assets, instruments can provide stable returns that are not affected by market dips and inflation. But be prepared to make a large initial investment.
"To get an investment-grade piece of fine musical instrument, you generally have to start at $100,000, or $150,000 and it goes all the way up to the millions," Lauren Carpenter, COO of Carpenter Fine Violins told Yahoo! Finance.
Jewelry
Jewelry can sell for millions at auction houses. In 2018, a Harry Winston pink diamond ring was sold for $50.4 million at a Christie's auction. But that's not to say you can simply walk into a jewelry store and walk out with a ring that will be more valuable in a year. However, it's possible to make a smart investment in jewelry.
As with art, you should choose pieces that you genuinely love so that you can enjoy them while waiting for the value to appreciate. The best pieces to invest in are "rare and signed one-of-a-kind jewelry," Simon Teakle, who formerly ran the jewelry department at Christie's New York, told Huffington Post. Who What Wear reported that the best jewelry brands to invest in 2019 include Cartier and Anito Ko, whose baubles have been in high demand. Both brands' jewelry is typically sold for thousands, but you can buy an Anito Ko ring for as low as $900.
Meteorites
An interest in outer space could be a valuable one. Fragments of meteorites sell at auction for thousands of dollars.
"As the public becomes aware that they can own these things, we are seeing more and more interest," Jim Walker, director of fine minerals for Heritage Auctions, told Popular Mechanics. "It's the romance of having something not of the Earth, first. Second, the oldest thing that you can lay your hands on is a meteorite."
You can purchase meteorites from other collectors or at auction, or you can hunt for them yourself at known meteorite sites across the U.S.
Stamps
Like coins, collecting stamps is another popular hobby that is starting to gain wider attention as stamps become possible investments. In some instances, stamp prices can rival the returns of stocks and bonds. One study by Stanley Gibbons, a U.K.-based alternative investments firm, found that 200 rare investment-grade Chinese stamps returned an average of 11.6 percent over the last 23 years.
The world record price for a stamp at auction was broken in 2014, with the sale of the British Guiana 1-cent "black on magenta" for $9.48 million.
Watches
Watches are not a traditional investment. But for investors who like to own something tangible that will hold its value over time, classic watches can be a good choice.
In particular, Rolexes are the best choice for investors looking for a safe watch investment, said Paul Altieri, a vintage watch dealer and founder of Bob's Watches in Huntington Beach, California. After 20 to 30 years, Rolexes start to appreciate in value, Altieri said.
Altieri and AskMen.com recommend investing in the Rolex Explorer II "40th Anniversary" watch, which currently sells for $6,495 and up.
Weapons
Antique weapons are another alternative investment that has done very well. From swords and knives to flintlock firearms, antique weapons have remained a solid investment, according to Leroy Merz of Merz Antique Firearms in Fergus Falls, Minnesota.
Merz sells rare antique guns for a range of prices, from under $1,000 to $65,000 and up.
Whiskey
Rare whiskeys have become an increasingly popular investment in recent years. The value of bottles sold at auction increased 94 percent from 2016 to 2017, according to Rare Whiskey 101. And the valuation firm found that the number of bottles of single malt Scotch whiskey sold at auction shot up by almost 50 percent, CNBC reported.
"Supply is increasing significantly, but increasing demand continues to push prices higher for the right bottles," Andy Simpson, broker and consultant at Rare Whisky 101, told CNBC.
For the best investment, opt for Japanese brands. In 2017, a bottle of Karuizawa 1960 sold for $128,291, CNBC reported.
Wine
In the list of collectible investments, wine is sparking growing interest among serious aficionados. Studies have shown that investing in wine adds major benefits to an investment portfolio and can help provide diversification and consistency in returns.
The value of fine wine can increase 11 percent in a 12-month period, and the Knight Frank Wealth Report found that fine wine values increased an average of 192 percent over a 10-year period.
Just don't drink your investment in a moment of confusion.
Click through to read about more ways to invest that don't involve the stock market.
More on Investing
We make money easy. Get weekly email updates, including expert advice to help you Live Richer™.
Michael McDonald contributed to the reporting for this article.
Please note some photos are for representational purposes only.

BEFORE YOU GO
See Today's Best
Banking Offers