Top 10 Most Expensive Watches in the World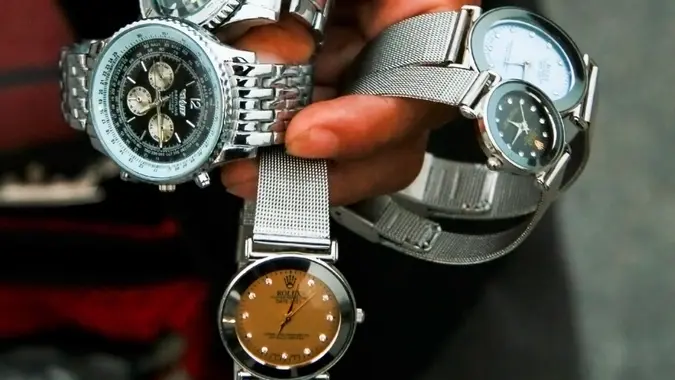 jorisvo / Shutterstock.com
Luxury watches are more than just accessories; they are expertly crafted works of art that carry on the legacy of hundreds of years of horology. Form and function combine to produce the most precise, most long-lasting and most expensive timepieces in the world.
Top 10 Most Expensive Watches in the World
GOBankingRates compiled an inflation-adjusted list of the world's priciest watches. Some of these were sold at auction, while others were simply introduced to the world without a firm cost attached to them. Each entry outlines the designer, its unique story and features, and of course, the price tag.
1. Patek Philippe Stainless Steel Ref. 1518: $12 million
While most luxury pieces that share its heritage are crafted from yellow or rose gold, this one is rare in that each of its examples is one of only four Ref. 1518s to be made of stainless steel. In fact, the fourth of its kind was produced as a case but was never fitted with movement, making this vintage WWII-era timepiece even more unique.
Make Your Money Work Better for You
While it might seem counterintuitive to place such a high value on a watch made of such a common metal, it's exactly because the metal is so simple that makes the steel 1518 special. Most complicated watches are made from precious metals so the rarity combined with the durability of stainless steel both contribute to its high value.
2. Jacob & Co. Billionaire Watch: $18 million
Introduced in 2015, the Jacob & Co. Billionaire is a one-of-a-kind timepiece featuring 290 Ashoka cut white diamonds, which can be made from less than 1% of all rough diamonds. It also includes one rose-cut diamond on the crown and 11 baguette-cut diamonds on the index for good measure.
More than a mere collection of diamonds, each jewel that adorns the surface of this timepiece had to be specially selected for size, color, and clarity so that no stone stood apart from its neighbors. The Billionaire's skeletonized construction features a tourbillon movement, contributing to what is truly a work of mechanical artwork.
3. Rolex Paul Newman Daytona Ref. 6239: $18.7 million
Paul Newman's Rolex Daytona has it all – exceptional design, mythical rarity, and of course, its star-studded provenance. The watch is rare because of its limited initial production, which was so small because it was so unpopular.
Make Your Money Work Better for You
It was thanks to Paul Newman that this particular model, with its "exotic" two-tone dial, ever became popular to begin with. Once it did, the style became so closely associated with the actor as to be given the nickname "Paul Newman." It's no surprise, then, that when Newman's own Paul Newman went up for auction after decades in obscurity, it fetched the highest price of any wristwatch to date.
4. Patek Philippe Henry Graves Supercomplication: $26 million
This enormous and enormously complicated pocket watch has been called "the most important watch on the planet." Construction on this special Patek Philippe commission began in 1925 and continued over the next seven years until it was complete.
With 24 horological complications, this particular instrument is a marvel of ingenuity given that it was designed and built without the aid of anything even resembling what we'd call a computer. As inscribed on the dial itself, it was made for Henry Graves, Jr. — one of, if not the single most, important watch collector in history. This fact is the inspiration for its signature feature: a chart of the night sky above his New York home.
Make Your Money Work Better for You
5. Chopard 201-Carat: $25 million
Only a few people in the world know just why this watch was created, but this list would be incomplete without it. If you can see past the sparkles, you'll notice that the three large diamonds that frame the center are actually shaped like hearts!
It seems more like a piece of artwork than something that someone would wear on their wrist, but because there's a Swiss chronometer obscured by those 872 yellow and white diamonds, it is technically a watch.
6. Jaeger-LeCoultre Joaillerie 101 Manchette: $26 million
If you look closely, you'll notice that this watch features what is probably one of the smallest watch faces you've ever seen. Powered by the Jaeger-LeCoultre Caliber 101 movements, this marvel of micromechanics was crafted as a gift for Queen Elizabeth II to celebrate her 60th year in power.
7. Breguet Grande Complication Marie Antoinette: $30 million
The story of this historic timepiece, crafted of solid gold and precious stones, goes that it was commissioned for a queen in 1783 who was executed before she received it, stolen by thieves centuries later only to mysteriously resurface. Sounds too incredible to be true, doesn't it?
Yet that unique history combined with the fact that this timepiece, with its 23 functions, is still one of the most complicated watches in the world is what allows this marvel of 18th-century horology to be valued at more than $30 million.
8. Patek Philippe Grandmaster Chime Ref. 6300A-010: $31 million
Uniting 20 complications, the grandmaster chime is the most complicated wristwatch in the Patek collection. It features a reversible case that reveals two equally distinguished dials, several acoustic functions and much more.
The reference 6300A-010 is one of a kind in that it's the only Grandmaster Chime to be made of stainless steel. As mentioned previously, stainless steel is a highly unusual metal to use in such a high-end timepiece. It's that rarity combined with the extreme sophistication of this wristwatch that allowed it to command the highest price of any watch — wrist or otherwise — to be sold at auction.
9. Graff Diamonds The Fascination: $40 million
Perhaps you'd be a little reluctant to drop $40 million on a diamond-studded watch. Fair enough. But what if that watch included a removable 38.13-carat D Flawless pear-shaped diamond ring?
Indeed, among the 152.96 carats of white diamonds that cover the surface of this timepiece is a piece of jewelry that stands alone in its exquisite rarity.
10. Graff Diamonds Hallucination: $55 million
As of July 2021, the Hallucination is officially the most expensive watch in the world.
Yes, it tells time, but that's almost a secondary feature. According to Laurence Graff, chairman of Graff Diamonds, the Hallucination is "a celebration of the miracle of colored diamonds." With 110 carats of diamonds in a full spectrum of natural colors, it's hard to argue with a statement like that.
Good To Know

Some watches are valuable because of their unique story, rare materials, or their innovation. Others rocket to the top of the list of highest-valued timepieces out of sheer force of glamour. The watches on this list cover the full range of that spectrum, and if you can get your hands on one of them, it's almost sure to appreciate over time.
Our in-house research team and on-site financial experts work together to create content that's accurate, impartial, and up to date. We fact-check every single statistic, quote and fact using trusted primary resources to make sure the information we provide is correct. You can learn more about GOBankingRates' processes and standards in our editorial policy.
Make Your Money Work Better for You