Mark Cuban Reveals the Missed Investment Opportunity That Cost Him Billions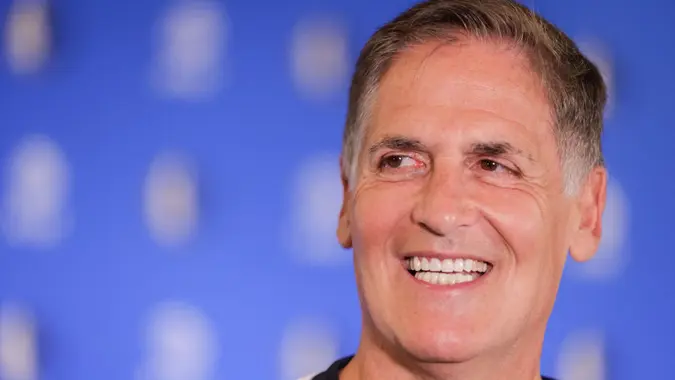 Luka Dakskobler/SOPA Images/Shutterstock / Luka Dakskobler/SOPA Images/Shutterstock
It's fairly common to have financial regrets. Maybe you wish you had started saving in your 401(k) sooner or had not splurged on those expensive shoes you have barely worn. But for most of us, our financial regrets don't involve missing out on investment opportunities that could be worth billions of dollars.
Unfortunately, that's the case for Mark Cuban, who revealed on a recent episode of "Hart to Heart" that he lost out on an opportunity to be an early investor in a popular rideshare service.
Mark Cuban's Big Investing Regret
During the episode, Kevin Hart shared that he missed out on an early opportunity to invest in Uber, and Cuban said that he did, too. Cuban said he had first been an investor in Uber founder Travis Kalanick's previous company, Red Swoosh, a peer-to-peer file-sharing service.
"I was basically saving him because he was running out of money," Cuban said. "His investors came to me. He sold it; we made a little bit of money."
After Kalanick sold Red Swoosh, he approached Cuban for an investment in Uber.
"He comes to me like, 'I've got this thing, it's going to replace taxicabs,'" Cuban recalled. "It was called Uber Cab at the time."
While Cuban said he loved the concept, he felt the $10 million valuation was too high. "I said, 'I'll do it [at a] $5 million valuation,'" Cuban said. "[Kalanick] never came back to me. He got somebody else. Whoops!"
When he looked at the numbers, Cuban said, he believed that Kalanick had underestimated some of the initial costs.
"What I said to him was, 'I like the idea, but you're … going to have to spend a lot more on marketing and dealing with all the taxicab commissions that are going to try to put you out of business, and so that's the challenge that I see for you guys,'" Cuban said. "He was like, 'You're right.' I never heard back."
How Much Cuban's Investment Would Be Worth Now
Uber is now valued at over $95 billion — so Kalanick's $10 million valuation was a steal in retrospect.
"Just think: If I would have given him $250,000 on a $5 million or $10 million valuation, it'd be billions," Cuban said. "I've done OK, but still!"
More From GOBankingRates