Experts: These 6 Misconceptions About Investing Could Be Holding You Back From Building Wealth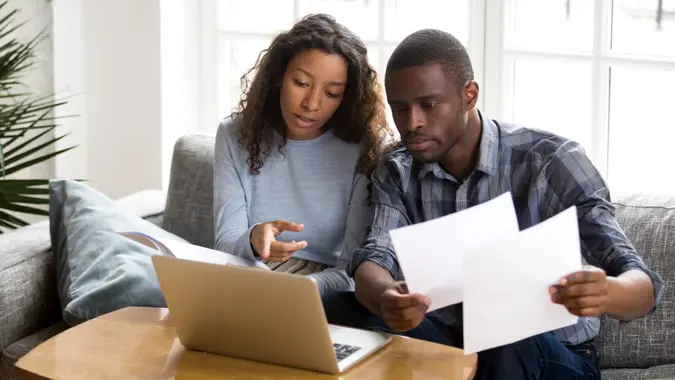 fizkes / Getty Images/iStockphoto
Investing is one of the best ways to build wealth, but many people are hesitant to actually do it. This may be due to a fear of the unknown, a belief that they would be "bad" at it or a general lack of understanding about how it works. But the truth is that anyone can invest — and be successful at it.
GOBankingRates spoke to our Top Money Experts about some of the most common misconceptions about investing, and why they're simply not true. Here's a look at the beliefs that could be holding you back.
Misconception 1: Investing Is Complicated
Personal finance YouTuber Andrei Jikh said that most people believe that investing is more complicated than it is.
"I wish people understood how simple money actually is," he said. "Here is the secret: buy low-cost broad market index funds and ignore the noise. Money should be boring. In a 20-year rolling period, the stock market always made money, but only if you stayed invested. That strategy will beat over 90% of professional hedge fund managers and traders. Ultimately, I try to creatively tie all my videos back to this simple concept."
Misconception 2: Picking Stocks Is the Best Way To Invest
Andrew Aziz, proprietary fund manager at Peak Capital Trading and the author of "How To Day Trade for a Living," said that while some people think of picking individual stocks as the best way to invest, it's actually much better to be diversified.
"Often, people tend to put all their money into a single stock or asset, hoping for a big return. However, this can be risky because if that investment does not perform well, they could end up losing a significant amount of money," he said. "By diversifying your investments across different assets, such as stocks, bonds and real estate, you can help spread out the risk and potentially earn more stable returns over time."
Misconception 3: I Can Wait Until I'm Older To Start Investing
Some people put off investing, believing it's something they can start to think about when they are older. However, when you wait, you miss out on opportunities for compounding interest.
"It is important to understand the concept of compound interest, which allows your investment returns to grow exponentially over time," Aziz said. "By starting to invest early and consistently contributing to your portfolio, you can take advantage of the power of compounding and potentially build significant wealth over the long term."
Misconception 4: You Need To Be Good With Numbers To Be a Successful Investor
Chris Hill, host of the "Motley Fool Money" podcast, said that some people don't invest because they are bad at math and therefore think they won't be good at investing.
"Patience and temperament have much more to do with succeeding at investing than your math skills," he said.
Misconception 5: You Need a Lot of Money To Start Investing
Many people think you need to be rich to invest, but as Jully-Alma Taveras, founder of the Investing Latina website and YouTube channel, explains, that's simply not true.
"It doesn't take a lot of money to get started, which is the biggest misconception," she said. "You can start with just $15!"
Misconception 6: You Need To Work With a Professional To Invest
Liz Claman, host of "The Claman Countdown," said that the biggest misconception about investing is that you need a professional to invest for you.
"In this day and age, brokerages offer not just commission-free trades, but websites jam-packed with education on how to invest and resources for expert advice," she said.
"To that end, I did once ask Warren Buffett the one book he'd recommend for newbies who want to start investing their money. He immediately said, 'Where Are the Customers' Yachts?: or A Good Hard Look at Wall Street' by Fred Schwed. Easy to understand, it's a very funny but insightful look at the 'lunacy at the heart' of the investment business."
More From GOBankingRates