Buffett on the 2008 Crisis: 'It'll Happen Again, but I'm Not Worried'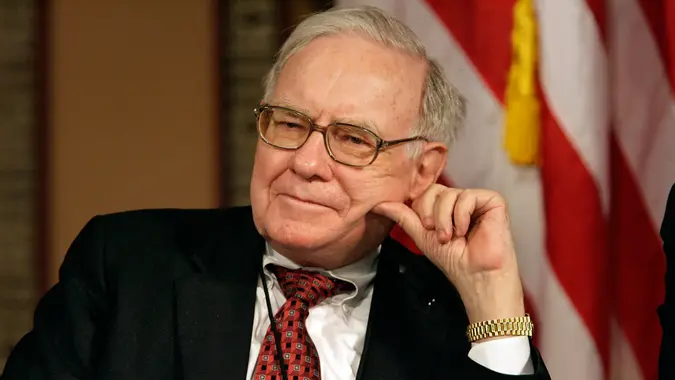 Chip Somodevilla / Getty Images
In a recent sit-down interview with CNBC's Andrew Ross Sorkin, Warren Buffett offered his reflections on the 2008 financial crisis and predictions for the future. Spoiler alert: Berkshire Hathway, Buffett's multibillion-dollar holdings company, will be just fine.
When Sorkin asked Buffett whether he's worried or not about the economy sinking into another financial crisis like the one 10 years ago, Buffett said, "There'll be one sometime, but no, I don't worry about them in the least." Sorkin pressed if Buffett himself was confident about weathering another crisis, and to that, the billionaire said, "Because I conduct myself so if there's another crisis I'll still be around [and] Berkshire will be in good shape."
Click to read more about where Goldman Sachs is now after Buffett invested $5 billion in it during the 2008 crisis.
Berkshire's Record Cash Stockpile Can Help It Ride Out Market Swings
Part of why Buffett might not seem so worried is that he has so much cash on hand to ride economic ups and downs. Berkshire Hathaway has $129.6 billion in cash as of August 2018, reported MarketWatch. It's the largest cash stockpile in the company's history, and could indicate that Buffett and his company view the market as overvalued, according to Business Insider.
To nascent investors who live by Buffett's words, it's probably best not to panic, but wise to keep saving while investing. With some money management strategies, you likely won't achieve the same financial success as Buffett, but you can take measures to safely ride out the storm while maintaining peace of mind.
Related: Warren Buffett Invests $300M in a Digital Wallet. Should You Follow His Lead?
What You Should Do to Prepare for the Next Financial Crisis
Here are some tips to prepare for the future should a financial crisis strike:
Pay down debt: Do your best to pay off debts while the economy is still strong, especially pay down high-interest credit cards. Take further advantage of the strong economy by converting all variable-rate loans into fixed-interest loans.
Emergency fund: Sock away at least three months' worth of expenses and let it sit in a savings account. In the event of an economic downturn, job loss or medical emergency, draw on your emergency fund rather than allowing credit cards to carry your major expenses.
Carry cash: Long gone are the days of uninsured banks, but it doesn't hurt to keep cash on hand should you need it immediately.
Keep investing in the market: It might feel counterintuitive, but think of investing as buying something on sale. If your household can swing it, continue to contribute to market-based retirement accounts and purchase stock shares that are likely to rebound with the economy.
Be Like Buffett: 21 Life Hacks From Warren Buffett That Anyone Can Use
Only time will tell if the Oracle of Omaha has prophesied the future of the economy similar to the way he did prior to the 2008 crash — and where he and his company will be once the market tanks again — but having a cash pile and some smart investments could serve you well, too.

Click through to read more about the companies you would never guess Warren Buffett loves.
More on Investing