Biden's Bold Mortgage Plan Sparks Debate: Will Housing Prices Skyrocket or Plummet?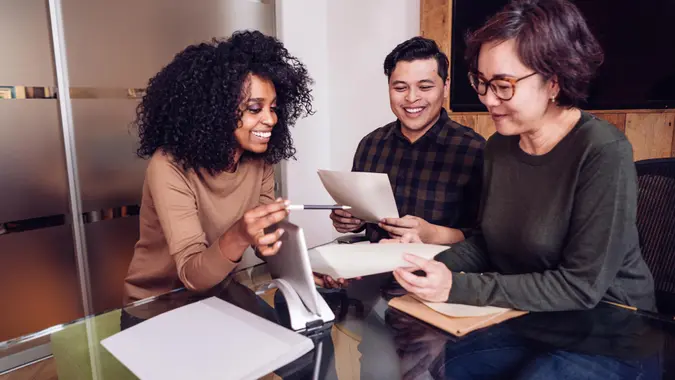 kate_sept2004 / Getty Images
The Federal Housing Finance Agency passed a new rule on Monday, May 1, with the intention of making it more affordable for first-time homebuyers, lower-income borrowers and high-risk borrowers to get a conventional mortgage loan to buy a home. However, the rule could also raise the mortgage payments of some borrowers with good credit by more than $60 per month.
Fannie Mae and Freddie Mac follow a Loan-Level Price Adjustment (LLPA) matrix to set risk-based fees for loans they purchase from lenders. These fees vary based on the buyer's credit score, loan-to-value ratio, type of loan product and other factors, according to the FDIC, and they're typically reflected in interest rates, with higher-risk borrowers paying more.
The newly designed LLPA matrix for single-family homes increases fees across the board, on low-risk and high-risk borrowers alike. However, some borrowers with high credit scores and at least 25% down who previously didn't have to pay any LLPAs will now have to pay if their loan-to-value ratio is less than 60%.
A buyer with a credit score of 750+, for instance, who puts down 25% would pay 0.375% in fees, compared to 0.25% previously. But a buyer with a credit score of 659 in the same example would now pay 1.5% in fees compared to 3% under the old rules.
Some real estate experts believe that making it easier for high-risk borrowers to obtain credit could lead to more foreclosures, a tighter housing market and potentially, a crash.
"This new rule unfairly penalizes Americans for having good credit and rewards those who accrue debt and don't pay their bills with cheaper loans," Rep. Michael Lawler (R-N.Y.) recently told Newsweek.
But will it expand housing access as some hope? It might make it easier for some homebuyers to get a conventional mortgage, which is typically more affordable than the FHA-backed loans already available to less-qualified borrowers. But increased competition for homes, especially in the low- to mid-range markets, could lead to home prices rising as inventory falls.
With the spring buying season at hand and housing inventory tight, it's likely the short-term effect will be an increase in home prices as more buyers compete for the same homes.
However, in the long term, fewer fees and more high-risk buyers could ultimately reduce home prices in some areas.
Some experts foresee a flurry of foreclosures following the new rule. "We learned the hard way [in 2008] that if you can't afford a home, just getting a subsidy one time to get a mortgage, you won't be able to carry it," former National Economic Council director Larry Kudlow told Fox News.
Take Our Poll: Do You Think Bankruptcy Is an Acceptable Way To Escape Student Loan Debt?
If foreclosures occur, as they did in 2008, it would expand the existing home inventory and drive prices down. Lawler shared what, in his opinion, would be a better way to reduce the cost of buying a home and expand access to many Americans who have given up on the dream of home ownership. "The way to expand access to housing isn't to reward bad credit — it's to bring down inflation, reduce property taxes, cut energy costs and invest in critical infrastructure," he told Newsweek.
More From GOBankingRates