Buying a House? Here's How To Get a 4% Mortgage Rate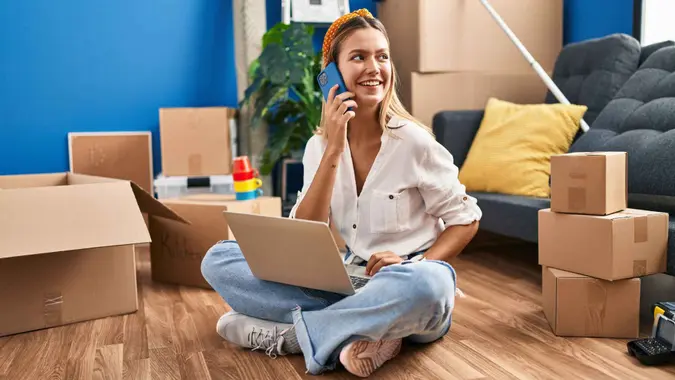 AaronAmat / Getty Images/iStockphoto
Becoming a homeowner has been a very arduous road for many Americans. With 10 consecutive rate hikes, which have translated into higher mortgage rates, many would-be homebuyers have been forced to stay on the sidelines. But a specific type of mortgage could help them lower their rates.
According to Realtor.com, more than 80% of home-shoppers looking to buy and sell a home feel locked in by their current mortgage rate. In turn, buyers are seeing fewer available homes on the market. Realtor.com detailed in a recent report that it expects to see this trend continue as mortgage rates are likely to remain elevated for some time.
And as of July 18, the current average 30-year fixed mortgage interest rate is 7.23%, falling 14 basis points from a week ago. With the Federal Reserve expected to hike rates once again at its next Federal Open Market Committee (FOMC) on July 25-26, mortgage rates will likely increase as well.
That's why several experts say that by turning to so-called assumable mortgages, many buyers could afford a house.
As Rocket Mortgage explained, an assumable mortgage allows the buyer to purchase a home by taking over the seller's mortgage loan.
"One reason buyers decide to buy a home with an assumable mortgage is to take advantage of financing with a lower interest rate if rates have risen since the seller originally purchased the home," according to Rocket Mortgage.
To put this in context, 91.8% of U.S.-mortgaged homeowners have a rate below 6%, down from a record high of 92.9% in the second quarter of 2022. In addition, 82.4% have a rate below 5%, 62% have a rate below 4% and 23.5% an interest rate below 3%, according to Redfin.
This silver lining has limitations for would-be buyers interested in an assumable mortgage. First, as Redfin noted, "Many would-be sellers are staying put rather than listing their home to avoid taking on a much higher mortgage rate when they purchase their next house."
However, not all home loans are assumable — and unfortunately, most conventional mortgages are not assumable, per Rocket Mortgage.
Loans that are insured by the Federal Housing Administration (FHA) or backed by the Department of Veterans Affairs (VA) or United States Department of Agriculture (USDA) are assumable as long as specific requirements are satisfied. But again, as during the past three years, government-backed loans have only accounted for 18% to 26% of residential loan applications, according to CNBC, which makes inventory for these types of mortgages very low.
More From GOBankingRates