Is an FHA Loan a Good Choice for Your Mortgage?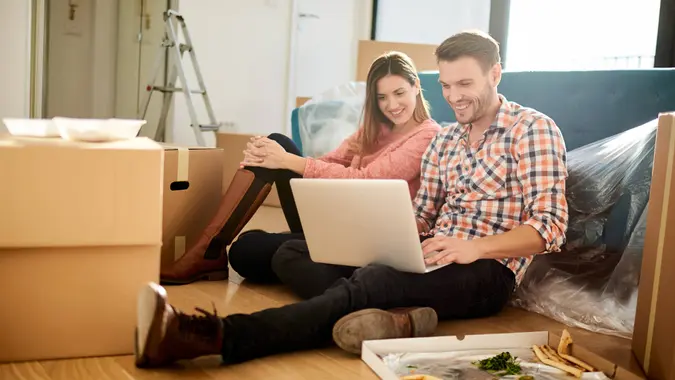 bogdankosanovic / Getty Images
An overwhelming majority of homebuyers agree that homeownership is still the American dream, according to a survey published last year by the National Association of Realtors. However, that dream can be elusive. Difficulty saving up for a down payment and credit-related issues make it difficult for many potential homebuyers to purchase a home. If you're one of them, an FHA loan could be the solution. Compared to standard conventional loans, FHA loans are easier to qualify for and require less money down.
What Is an FHA Loan?
An FHA loan is a mortgage loan insured by the Federal Housing Administration, which is part of the U.S. Department of Housing and Urban Development. Issued through approved lenders, FHA loans make homeownership more accessible to buyers with lower credit scores and/or limited funds for their down payment and closing costs. Because the FHA insures the lenders against losses if the borrower defaults, the lenders can make loans to borrowers who otherwise might not qualify for financing.
About 80% of FHA loans go to first-time homebuyers, according to HousingWire, citing FHA data.
Is an FHA Loan a Good Choice for Your Mortgage?
FHA loans can be very appealing to the right homebuyer, but they're not the best choice for all buyers. Here are the circumstances that could make an FHA loan your best option.
Your Credit Score Is Lower Than 620
Conventional financing requires a minimum credit score of 620. While higher is always better when it comes to applying for a mortgage, it takes time to improve your score if you have limited experience with credit or have had credit problems in the past. With an FHA loan, you might not have to wait. FHA loans reward borrowers with higher scores — they can borrow with less money down and pay less mortgage insurance — but you only need a 500 credit score to qualify.
Your Credit History Is Limited
Your credit history establishes your "credit reputation" for a conventional loan, so the lender wants to see at least three tradelines, or accounts. You do have some leeway — you can provide at least four noncredit tradelines, such as rent and utility payments, or a combination of four credit and noncredit tradelines. Of course, if you're just moving out of your parents' home, you might not have four. An FHA loan is the better choice in this case. There's no minimum tradeline requirement.
You Have Limited Cash
One of the benefits of an FHA loan is that it you can use it to purchase a home with as little as 3.5% down if your credit score is 580 or higher, or 10% down if your score is 500 to 579. Borrowers can use a conventional loan with just 3% down in some circumstances, but their income must fall below certain low- and medium-income standards. FHA loans have no such restriction.
An FHA loan also makes closing costs more affordable for some buyers. Closing costs are the fees you pay when you close your mortgage loan and home purchase. They include things like the appraisal, title insurance, taxes and origination fees, and they typically equal anywhere from 2% to 5% of your loan amount.
In the event you're using gift money for your down payment and closing costs, an FHA loan will give you more leeway about the source of the gift. Whereas both loan types allow gifts, conventional loan guidelines say they have to be from a related person or the trust or estate of a related person. And you need at least a 5% down payment from your own funds.
FHA loans, on the other hand, allow you to also use gift money from your employer or union, a close friend or a charitable organization. Government programs offering homeownership assistance to low-income and first-time buyers can also provide you with gift funds.
Your Debt-to-Income Ratio Is More Than 43%
Your debt-to-income ratio, or DTI, tells lenders how much of your income goes toward debt payments, including your house payment — mortgage, homeowners insurance and taxes. The usual maximum for a conventional loan is 36%, although up to 45% is acceptable in some circumstances. If your house payment will push your DTI higher than that, an FHA loan could be the way to go. It allows up to 50% for borrowers with a credit score of at least 580.
Why an FHA Might Not Be a Good Choice for Your Mortgage
The FHA imposes some rules and limits you should consider before choosing an FHA loan over other loan types.
Mortgage Insurance Premiums Can Be Costlier Than Private Mortgage Insurance
FHA borrowers who put less than 10% down pay a mortgage insurance premium for the life of their loan. With 10% or more down, you pay it for 11 years regardless of how much equity you have.
With a conventional loan, on the other hand, you can request cancellation of your private mortgage insurance once you reach 80% equity. The PMI terminates automatically when you reach 78% equity.
You Want To Borrow More Than $472,600
The 2023 conforming loan limit is $726,200 for conventional loans — that's how much you can borrow for properties outside of specially designated "high-cost areas." The FHA imposes its own limit, and it's just 65% of the conforming limit. So unless you purchase in a high-cost area, you won't be able to borrow more than $472,600.
You Want To Buy a Fixer-Upper As Is
The FHA sets minimum property standards on any home a borrower wants to purchase with an FHA loan. The standards are enforced through a special appraisal process that helps to ensure the home is safe, sound and secure. A fixer-upper typically won't qualify unless the seller agrees to make repairs — unlikely in an as-is sale.
You Qualify for a VA Loan
Eligible veterans are almost always better off with a VA loan, which is a mortgage loan guaranteed by the U.S. Department of Veterans Affairs. Rates are usually lower, and you can buy with no money down. Although VA loans come with a one-time funding fee, it's cheaper overall than the FHA's mortgage insurance premiums.
Is an FHA Loan for You?
If you're ineligible for a VA loan and don't qualify for a standard conventional loan, an FHA loan could be your best option to purchase a home now. They're never a bad choice, per se. They offer many benefits, especially for first-time buyers. But they can be costly in the long run, so weigh the potential drawbacks against the potential benefits of delaying your home purchase until you've built up more savings and boosted your credit.
Our in-house research team and on-site financial experts work together to create content that's accurate, impartial, and up to date. We fact-check every single statistic, quote and fact using trusted primary resources to make sure the information we provide is correct. You can learn more about GOBankingRates' processes and standards in our editorial policy.