Freedom Mortgage Review: For Veterans, Those With Low Credit Scores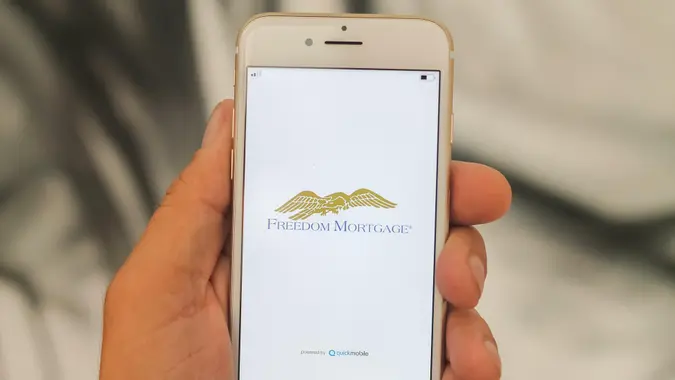 ©GOBankingRates
Freedom Mortgage Corporation is a lender that's been around for more than 25 years and is licensed in all 50 U.S. states, as well as the District of Columbia, Puerto Rico and the Virgin Islands. Freedom doesn't offer a full range of financial products and services, however. Instead, it is a full-service mortgage lender specializing in government-insured lending, and its focus is helping its customers — particularly veterans and those who serve in the military — become homeowners.
Find out what Freedom Mortgage has to offer and whether this lender can help you get one of the best home mortgage rates.
Freedom Mortgage Review
Within its specialized mortgage loan business, Freedom services over 1 million customers. And once you secure and close your loan, Freedom's assistance doesn't stop there: The company has an Eagle Eye pledge to continually strive to help you save money. The company pledges to contact you when mortgage rates drop, the value of your home increases or it determines that there are other special programs or offers that might be right for you
Freedom Mortgage Products and Services
Although Freedom only offers mortgage loan products, it has special expertise in home loans, refinancing and cash-outs related to a variety of government-backed and conventional loans.
Here's what you need to know about Freedom's home mortgage loan offerings:
Conventional Loans
Freedom Mortgage offers conventional loans, which are loans that are not government-insured. Typically, a conventional loan will require a credit score of at least 620, and you will have to purchase private mortgage insurance if you put less than a 20 percent down payment toward your loan. Conventional loans from Freedom are available in 15- or 30-year terms.
Good to Know: What Is Mortgage Insurance?
FHA Loans
FHA loans, which are backed by the government, can be a good choice for borrowers who have lower credit scores and less cash to use for a down payment. FHA loans are subject to less rigid underwriting standards and lower down payment requirements than conventional loans: Prospective borrowers can be approved with a credit score as low as 500. Borrowers must carry private mortgage insurance on the loan, however.
Find Out: How to Get an FHA Loan in 5 Easy Steps
VA Loans
VA loans are guaranteed by the U.S. Department of Veterans Affairs. Under this program, you can finance a home with zero percent down, and no private mortgage insurance is required. Also, rates on VA loans are typically lower than other mortgage products, and you can reuse your benefit to purchase a home as many times as you want. To qualify, a 620 credit score is a typical lender requirement, but Freedom Mortgage is willing to work with veterans who have lower credit scores.
USDA Loans
The United States Department of Agriculture offers low-to-moderate-income borrowers the ability to become homeowners via its Rural Development mortgage program. USDA loans offer zero down payment, fixed interest rates and lower private mortgage insurance costs than required with a conventional loan.
Typically, lenders require a minimum credit score of 640 to qualify for this loan, according to the USDA. Up to 100 percent financing is offered and fees of 3 to 6 percent typically apply.
Check Out: 13 Best First-Time Homebuyer Programs
Freedom Mortgage Pros and Cons
When considering a mortgage lender, it's helpful to examine the pros and cons. Here are some things you should consider before deciding to work with Freedom Mortgage:
Freedom Mortage Pros
Understand all the benefits of working with Freedom Mortgage:
Freedom offers not only conventional loans but also government-insured loans for special groups of borrowers.

You can schedule automatic, recurring 

Freedom mortgage payment

s online.

Freedom is willing to work with veterans who don't meet typical credit score requirements through VA loans.  

Freedom offers an Eagle Eye pledge, which can offer

money-saving tips and assistance for homeowners.
Freedom Mortgage Cons
You should also understand the following drawbacks of Freedom Mortgage:
Freedom is only a mortgage company, so you can't bank there.

Although Freedom services all 50 states, it does not have an abundance of branch locations.

There are numerous customer complaints on the Better Business Bureau website.
Is Freedom Mortgage a Good Choice for You?
Whether or not Freedom Mortgage is a good choice depends on a few factors. First, if you prefer a face-to-face loan experience, Freedom might or might not have a branch location convenient to you. Also, it seems that Freedom specializes in loans for low-to-moderate income earners, so if you earn a higher income, you might want to compare Freedom mortgage rates to other lenders.
Finally, numerous customer service and fee complaints have been registered on the BBB website. In the interest of due diligence, take the time to read existing Freedom Mortgage reviews before committing to Freedom or any other mortgage loan provider.
Up Next: 5 Ways to Get a Mortgage Even if You Don't Meet Income Requirements
More on Mortgages
GOBankingRates is a personal finance and consumer interest rate website owned by ConsumerTrack, Inc., an online marketing company serving top-tier banks, credit unions and other financial services organizations. Some companies mentioned in this article might be clients of ConsumerTrack, Inc., which serves more than 100 national, local and online financial institutions. Rankings and roundups are completely objective, and no institution, client or otherwise, paid for inclusion or specific placement. Any opinions, analyses, reviews or recommendations expressed in this article are those of the author alone and have not been reviewed, approved or otherwise endorsed by the companies included in the article. All fees and rates are subject to change at the issuers' discretion. Some interest rates might be short-term or promotional offers only, and it is possible additional terms and conditions must be met in order to obtain the interest rates listed. Rates and availability might vary by region. Verify terms and conditions before opening an account.