How to Get a SunTrust Mortgage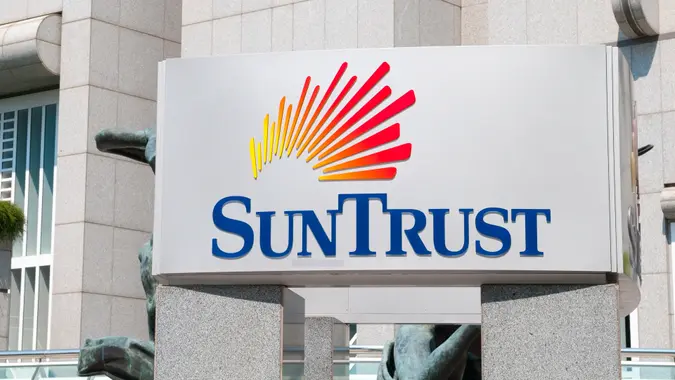 jcarillet / Getty Images
SunTrust Bank offers a variety of mortgage programs you can use to refinance existing home loans or purchase a home for the first time. You can also use SunTrust home loans for a cash-out refinance, which enables you to use your home's equity for a major expenditure or investment opportunity.
Headquartered in Atlanta, SunTrust has branches throughout the Southeast and mid-Atlantic states — and offers customers 24-hour online access to their accounts. To be considered for any SunTrust loans, you can visit a branch location or apply online. Here are the details on how to get a mortgage from SunTrust.
Take Three Steps to Get a SunTrust Mortgage
It's easy to apply for a SunTrust mortgage. Follow these three steps and you'll be on your way to getting your home loan.
Prequalify for your mortgage. Getting prequalified for a mortgage is not mandatory, but it's a smart first step. If you prequalify, you'll know how large of a mortgage you can get, which will enable you to focus on shopping for homes you can afford. Prequalifying also gives you an opportunity to learn about SunTrust's loan application requirements, such as income verification, work history and credit references.
Select a mortgage program. As a national mortgage lender, SunTrust participates in a wide variety of loan programs, including FHA and VA loans, jumbo home mortgage financing and more. To learn how to get a mortgage through one of these programs, review the program requirements, home loan rates, costs and repayment terms on the SunTrust website.
Lock in your interest rate. Mortgage interest rates fluctuate according to market conditions, and mortgage rates today can change quickly. Because it can take 30 days or more from the date you sign your mortgage contract until your loan closes, be safe and lock in your mortgage rate. When you calculated the amount of your SunTrust mortgage payment you used current mortgage rates — so make sure you lock in your rate and get the payment you want. If you don't lock your rate in, the bank will determine it on the date your loan closes — a significant increase in mortgage rates could undermine your mortgage payment planning.
Explore: 7 Tax Breaks Every First-Time Homebuyer Must Know
SunTrust Mortgage Application Criteria
SunTrust — like most mortgage lenders — uses certain criteria to evaluate whether to approve you for a mortgage. Your credit history and credit score are big factors: The lender should show that you have a good record of paying your financial obligations. SunTrust will use your current debt obligations and income to calculate your debt-to-income ratio. The lower your ratio, the better your chances are for mortgage approval.
SunTrust will also verify your income, so be prepared to provide recent pay stubs, tax returns and bank statements. If you're applying for a mortgage program with specific eligibility criteria, such as a VA loan, be ready to provide documented verification of your eligibility.
SunTrust Rates and Offerings
For a list of its current mortgage rates, review the information on SunTrust's website. You'll find information on fixed and adjustable rates, as well as other mortgage program rates. In addition to rate information, you can find out what your estimated mortgage payment will be — depending on your loan amount, rate and term — on the website.
SunTrust makes it easy to figure out how to get a home loan. Its website even provides information on how to find a loan officer who can personally assist you. Working with a loan officer is a good way to get organized before you start the application process — and it can help you maintain reasonable expectations about loan approval requirements.
More On SunTrust