Here's How Much Mortgage Rates Have Fluctuated Over the Past Decade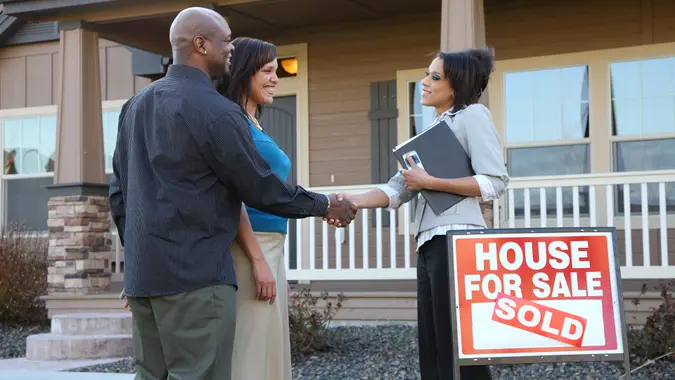 lewkmiller / iStock.com
If you're thinking about buying a new home or refinancing, you're likely at least a bit motivated by the historically low mortgage rates that have held steady throughout the pandemic. While rates are currently more attractive than ever, they've fluctuated a lot over the past decade.
Support Small: Don't Miss Out on Nominating Your Favorite Small Business To Be Featured on GOBankingRates — Ends May 31
This can be confusing if you're not familiar with the reasons behind the variations, but there's a method to it.
"The economy and government financial policy affect mortgage rates," said Robert Barnes, president and CEO of IBC Bank in Austin, Texas. "There are five factors of supply and demand that have the most influence on rates — inflation, economic growth indicators, the monetary policy of the Federal Reserve Bank, the bond market and the housing market."
See: Hidden Obstacles That Keep People From Retirement
To find out just how much mortgage rates have fluctuated over the past decade, GOBankingRates reviewed the 15- and 30-year fixed rate mortgage averages from U.S. Federal Reserve Bank of St. Louis, during the time period of Jan. 2011 to Jan. 2021.
Using this data, we found for each year (2011 -2021): (1) average 15-year fixed mortgage rate; (2) highest 15-year mortgage rate of the year; (3) lowest 15-year mortgage rate of the year; (4) average 30-year fixed mortgage rate: (5) highest 30-year mortgage rate of the year; and (6) lowest 30-year mortgage rate of the year.
More: What You Actually Take Home From a $200,000 Salary in Every State
All data was collected on and up to date as of Jan. 25, 2021.
15-Year Fixed Rate
30-Year Fixed Rate
Year
Average 15-Year Fixed Mortgage Rate (%)
Highest 15-Year Rate of the Year (%)
Lowest 15-Year Rate of the Year (%)
Average 30-Year Fixed Mortgage Rate (%)
Highest 30-Year Rate of the Year (%)
Lowest 30-Year Rate of the Year (%)
2011
3.68
4.29
3.21
4.45
5.05
3.91
2012
2.93
3.30
2.63
3.66
4.08
3.31
2013
3.10
3.60
2.56
3.98
4.58
3.34
2014
3.29
3.56
3.08
4.17
4.53
3.80
2015
3.09
3.25
2.92
3.85
4.09
3.59
2016
2.93
3.55
2.72
3.65
4.32
3.41
2017
3.27
3.50
3.08
3.99
4.30
3.78
2018
4.00
4.36
3.38
4.54
4.94
3.95
2019
3.39
3.99
3.00
3.94
4.51
3.49
2020
2.60
3.16
2.17
3.11
3.72
2.66
2021
2.20
2.23
2.16
2.74
2.79
2.65
A decade ago in 2011, the highest 15-year mortgage rate of the year was 4.29%, which is nearly double the 2.23% for the same category in 2021. Things weren't much different for the highest 30-year mortgage rate of 2011, which totaled 5.05%, compared with 2.79% in 2021.
Average rates for both 15-year and 30-year mortgages dropped significantly in 2012, only to rise again in 2013 and 2014. In 2015, average rates dropped again, only to ramp up again in 2016 and 2017.
Read: Take Advantage of These 15 Commonly Missed Tax Deductions
The peak for the decade came in 2018, when average rates surged to 4% for 15-year mortgages and 4.54% for 30-year mortgages. However, mortgage rates have been on a steady decline since then — and currently show no signs of stopping.
Despite that, Barnes said 2021 could be a volatile year for mortgage rates, as the country starts to come out of the pandemic.
See: Money Can Buy Happiness… So It Seems
"The economy is expected to rebound in the second half of the year, which could result in rising mortgage rates," Barnes said. "That being said, they will still be historically low throughout the year."
So, if you're planning to buy a home or complete a refinance, now is a great time to make your move.
More From GOBankingRates
Last updated: May 20, 2021