Know the Pros and Cons Before Taking on a Second Mortgage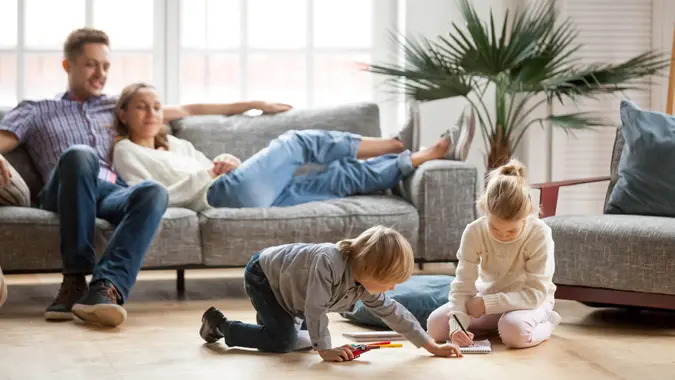 fizkes / Shutterstock.com
If you are a homeowner, you might consider taking out a second mortgage if you are in need of a loan. However, because a second mortgage uses your home as equity, you are literally putting your home on the line with this sort of loan. Before taking out a second mortgage, find out what you should ask your lender so you know exactly how second mortgages work — and the pros and cons of taking one out.
What Is a Second Mortgage?
A second mortgage is a loan that allows you to access the equity in your home, which is the difference between the balance of your original mortgage and the current value of your home. For example, if your mortgage balance is $300,000 and your home is worth $400,000, you have $100,000 in home equity.
Related: How Does a Reverse Mortgage Work?
How Does a Second Mortgage Work?
With any mortgage, the lender files a lien against your home, which means that if you default on the loan, the lender can take possession of your home. With a second mortgage, the new lien is filed in the second position, meaning the new lender is second in line after the original lender to receive proceeds from the sale of your home if you default on the loan payments.
What Are the Types of Second Mortgages?
There are two types of second mortgages: home equity loans and home equity lines of credit, also known as a HELOC. Be sure you understand how these loans work before deciding which one is best for you.
"The home equity line of credit (or HELOC) works a lot like a credit card — you have a specific amount of money available to borrow for a set period of time, often 10 years or more," said Johnna Camarillo, assistant vice president of equity processing and closing at Navy Federal Credit Union. "The home equity loan operates more like a traditional mortgage, where the borrower gets a specific amount of money based on the equity available in their home. There is a set schedule to repay the loan, with specific monthly payments for a specified term."
"Both options offer the borrower their own set of specific benefits," she continued. "If you're looking to remodel your home and you know how much money you need at one time, a home equity loan might be your best option. If you're simply trying to create some financial flexibility and you don't need a large sum of money at once, the HELOC might serve your needs better. For example, the HELOC is a good option for those looking to have a 'rainy day fund' for unexpected expenses, those that are unsure of the potential cost of the renovations or expenses that are spread out over several years, like a college education."
Worth It? I Paid Off My Mortgage With a Credit Card — Here's How
What Are the Pros and Cons of a Second Mortgage?
The main benefit of a second mortgage is that it, "allows you to tap into the equity in your home without going through the large closing costs associated with a first mortgage," said Ralph DiBugnara, president of Home Qualified and VP at Residential Home Funding. "Another pro is if you are buying a home, it is a good way to avoid private mortgage insurance by keeping your first mortgage at 80 percent and taking a second mortgage to make up the remainder of what you need."
According to DiBugnara, the biggest disadvantage is that second mortgage rates are usually higher than interest rates with a first mortgage. To determine how much your second mortgage will cost, you can use an online second mortgage calculator such as Bank of America's Home Equity Line of Credit Payment Calculator.
Other cons include a loss in built-up equity, which reduces your net worth; increased monthly debt obligations; and risk of foreclosure if you are unable to pay, said Randall Yates, founder and CEO of The Lenders Network. 
Know: Advantages and Disadvantages of a Fixed-Rate Mortgage
Who Should Consider Getting a Second Mortgage?
"Homeowners with considerable equity in their home are good candidates for a second mortgage," said DiBugnara. "If you are buying a home and are putting a down payment less than 20 percent, you are also a good candidate."
However, DiBugnara also said that "by taking a second mortgage, you are maxing out the value in your home and using all of the equity, so you are putting yourself at risk if the market is down, and I do not recommend it." It's important to have a good grasp on your financial standing, as well as the market, before deciding to take out a second mortgage.
What Are Common Uses of Second Mortgages?
"Most people will use a second mortgage to take cash out of their home for home improvement projects, or to pay off some other debt outside of their mortgage," said DiBugnara. "They are also commonly used to avoid private mortgage insurance."
Yates only recommends taking out a second mortgage if you plan to reinvest the loan into your home through renovations or improvements such as remodeling a kitchen, adding a pool or putting in new flooring.
"Paying off debt using the equity in your home is a very bad idea," he said. "You are replacing unsecured credit card debt with debt that is secured by your home. If for any reason you cannot afford the payments, you could face foreclosure. I only recommend borrowers using a second mortgage to put the funds back into the home."
How to Get a Second Mortgage
If you decide that getting a second mortgage is the right financial decision for you, spend some time researching lenders. A lender can be a bank, credit union or other financial institution.
"You should ask a lot of questions about their equity products, such as any costs they may incur at closing, and any fees associated with having a HELOC such as monthly fees for low balance accounts or transaction fees," said Camarillo. "That way, you can better understand the cost associated with these loans. You'll also want to make sure your loan isn't offering an ultra-low introductory rate that could increase later. Second mortgages can be great financial tools to manage your finances, but making the best decision starts with understanding your needs, and how repaying the loan will impact your budget."
Click through to read more about how to get a preapproved mortgage.
More on Mortgages
We make money easy. Get weekly email updates, including expert advice to help you Live Richer™.