This Is When You Know It's Time to Switch Mortgage Lenders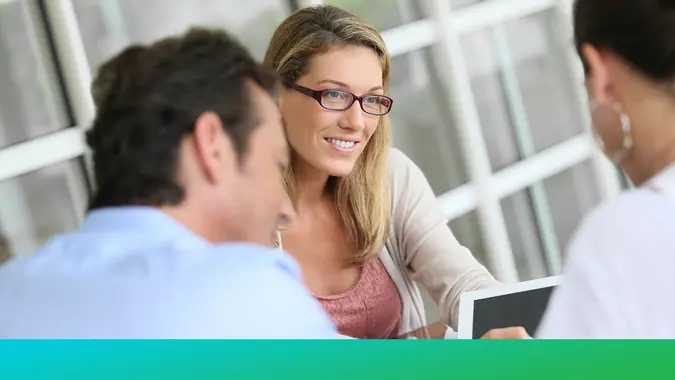 goodluz / Shutterstock.com
Smart buyers compare prices on everything from groceries to TVs, so shopping around before you switch mortgage lenders is a logical choice for many borrowers. Whether you're tempted by an offer to refinance, want to release equity in your home, or don't like the way your homebuying experience is going, weigh your options carefully before you decide to change mortgage companies.
No matter where you are in the homebuying process, be sure the time is right to find a new mortgage provider. Some buyers consider switching mortgage lenders before closing, whereas others want to change mortgage companies after the fact. Or sometimes the buyer wants to refinance an existing loan to lower their interest rate or monthly payment.
Regardless of your motivation or situation, let the numbers guide your decision on whether it's time to find a new mortgage lender.
When to Switch Mortgage Lenders
The company handling your mortgage should be upfront about expenses, loan terms and lending practices. When shopping for a home loan, know that lenders are required to disclose closing costs. You should also feel satisfied with the information you receive about principal prepayment penalties, loan processing time, minimum down payment, interest rate lock-in and details about the various types of home loans the institution offers.
Some mortgage providers practice what's known as predatory lending. These companies seek to profit from inflated home appraisals and can only do so with your cooperation. If you're uncomfortable with anything you're asked to do during the application process, start your search for a new mortgage provider immediately. The following are signs that you're dealing with a predatory lender:
You're asked to falsify information on your loan application, such as how much money you make or the nature of your expenses.
You're approved for a loan that's much more than you can afford.
Fees are applied for services that don't exist, or that serve no purpose.
If a bank or other lender offers a very low rate on home loans, investigate the terms. Many mortgage holders find that the heavily discounted rates they signed up for, also known as teaser rates, skyrocket once the promotional period ends. Understanding the details of your mortgage contract before you sign on the dotted line can help protect your financial future.
Can You Change Mortgage Lenders Risk-Free?
As for how to transfer a mortgage or how to change mortgage companies without incurring penalties or financial loss, you'll need to consider some details. If you're buying a home, consider these factors:
1. Interest rates could rise
In the time it takes to get approved with a new lender, you could end up paying a lot more for your home in added interest.
2. You could lose the house
Delays in the homebuying process could cost you your dream home. Switching mortgage companies before closing could also put you in violation of your contract.
3. Savings could be negated by closing costs
You'll probably be required to pay closing costs on a new home loan. Do the math to prevent losing any savings you achieve by signing on with a new mortgage provider.
4. You could incur prepayment penalties
These common mortgage fees could also wipe out any savings gained by switching lending institutions for a better rate.
How to Change Mortgage Companies Without Losing Money
Changing mortgage companies can be a smart move. Avoid losing out on valuable savings by reading the details of any promotions before you switch lenders. Whether you switch types of mortgage loans from ARM to fixed-rate or change lenders in the middle of the home buying process, a little footwork can net big savings over the life of your loan.
Find Out: 12 Ways to Make Buying Your First Home More Affordable